March for Science: Dispatches from Chicago
The Scientist's Kerry Grens is in Chicago, covering the demonstration designed to celebrate the research enterprise and advocate for evidence-based policymaking.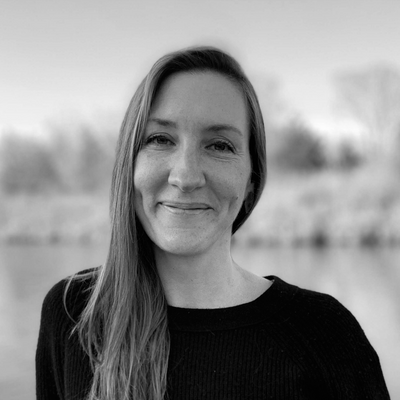 Between the shore of Lake Michigan and the skyline of downtown Chicago, thousands of science supporters gathered for the March for Science. Stretching down Columbus Drive, the crowd was silent during speeches before the planned procession, except for intermittent chants of, "Chicago! Science! Chicago! Science!" led by march organizer Kristian Aloma.
Crowds at the March for Science in Chicago, April 22, 2017 KERRY GRENS
A handful of speakers took the stage before attendees headed south on the march route. Although there was a substantial number of anti-Trump signs among the crowds, speeches stuck to nonpartisan topics: respect for data and the importance of diversity in scientific endeavors. "Science is for everyone and is done by everyone," Garry Cooper, the CEO of Rheaply, a company that helps researchers share resources and find collaborators, told the cheering crowd.
"Science is an opportunity, an opportunity to learn and grow and contribute no matter who you are, no matter where you're from, and no matter what you look like." —Garry Cooper, CEO of Rheaply
Crowds at the March for Science in Chicago, April 22, 2017KERRY GRENS
The science march in Chicago was was a blend of scientists and nonscientists alike. Peggy Mikros, a caterer, came up from the south side of the city because she said she cares about the environment and "science is everything." The event has inspired her to continue to advocate for science.KERRY GRENS
"I've never done this and I am so excited to be here." —Peggy Mikros, caterer from Chicago
Susan McCarthy, a retired industrial engineer, made a pink brain cap out of an old volleyball. She came to the march because she's concerned decisions and policies are not being made based on scientific evidence.KERRY GRENS
"I'm worried about the EPA. . . . I really think that though the EPA is not perfect, it still needs funding and it still needs to exist." —Susan McCarthy, retired industrial engineer
Samuel Stupp (middle, in a black coat) a chemist at Northwestern University, with some of his studentsKERRY GRENS
Samuel Stupp, a chemist who develops biomaterials at Northwestern University, joined the march with several dozen students. Like some other marchers, Stupp said he believes the event would not have happened had Hillary Clinton won the election. He said that in a way the March for Science is a partisan event, but that nonetheless, the subject is a bipartisan cause.
His concern with current political leadership is that policies, including research funding, are being based on opinions and political issues, and not scientific facts, particularly with regard to climate change, alternative energies, and healthcare.
The event in Chicago was a first for Stupp, who said he hopes that by bringing his students it will encourage them to be active in defending in science. "After today I will advocate and do anything I can to make sure that our voice is heard," he said.
"Sometimes in science you feel a bit isolated, but when you're part of a march like this you see that there's many people that really care." —Samuel Stupp, Northwestern University
Signs from the March for Science in Chicago, April 22, 2017KERRY GRENS"Get up! Get down! Chicago is a science town! —Chants during the March for Science
Signs from the March for Science in Chicago, April 22, 2017KERRY GRENS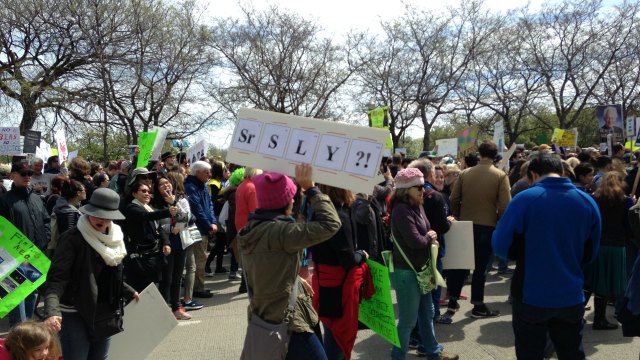 Signs from the March for Science in Chicago, April 22, 2017KERRY GRENS
THUMBNAIL IMAGE: FLICKR, TONY WEBSTER