Federal health officials issued a warning yesterday (August 29), advising pregnant mothers and teens not to use marijuana. The surgeon general cautioned that marijuana use has adverse effects on brain development in teens and fetuses and has also been linked to later alcohol and opioid addiction, according to STAT News.
At a press conference, officials reported that President Donald Trump has donated $100,000 toward a digital campaign to raise awareness of the risks of marijuana use in pregnancy and adolescence, according to the Associated Press.
"No amount of marijuana use during pregnancy or adolescence is safe," says Surgeon General Jerome Adams at a press conference, reports STAT News. "As I like to say, this ain't your mother's marijuana," adds Department of Health and Human Services (HHS) Secretary Alex Azar.
Between 1995 and 2014, the concentration of the psychoactive compound THC in marijuana...
"The higher the THC delivery, the higher the risk," says Adams to NPR. Meanwhile, new delivery products such as vapes, waxes, and liquids make the drug easier to consume.
Medicinal marijuana has been legalized in 33 states and the District of Columbia, and 11 states have legalized the drug's recreational use, according to STAT News. However, no states allow recreational marijuana use by teens, and minors can only use medical marijuana with consent from a legal guardian and certification from a doctor, the AP reports.
Marijuana is the most commonly used illicit drug among pregnant women, according to the 2017 National Survey on Drug Use and Health, with some using the substance to cope with morning sickness. Both the American College of Obstetricians and Gynecologists and the American Academy of Pediatrics strongly advise against this practice, according to the AP. "Taking marijuana for morning sickness has never been shown to be safe and effective," concurs HHS Assistant Secretary for Health Brett Giroir at the press conference.
Mothers who smoke during pregnancy can place their baby at risk of suffering disrupted brain development, smaller birth weight, higher risk of premature birth, and behavioral problems in childhood, reports NPR. Past research also suggests that moms who smoke or ingest marijuana during pregnancy are more like to have kids with depression, hyperactivity, and inattention.
This week, the Drug Enforcement Administration announced it will formulate new guidelines for marijuana growers that supply the plant for biomedical research and afterward begin processing requests by those seeking to cultivate it for science.
The American Medical Association has long recommended that teens, pregnant women, and women who are breastfeeding avoid marijuana use and it fully backs the government's stance, according to the AP. The federal government has issued similar advisory warnings in the past; according to STAT News, in 1982, then-surgeon general C. Everett Coop warned that marijuana use negatively affects prenatal development.
Nicoletta Lanese is an intern at The Scientist. Email her at nlanese@the-scientist.com.
Interested in reading more?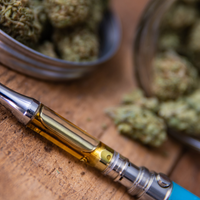 The Scientist ARCHIVES
Become a Member of
Receive full access to more than 35 years of archives, as well as TS Digest, digital editions of The Scientist, feature stories, and much more!