Months after hundreds of African elephants mysteriously dropped dead in one concentrated region in Botswana, puzzling conservationists across the world, government officials say that test results show toxins produced by naturally occurring cyanobacteria caused the animals' demise.
Cyanobacteria can proliferate in standing water, producing lethal cyanotoxins, and can grow into large blue-green algal blooms. "Our latest tests have detected cyanobacterial neurotoxins to be the cause of deaths. These are bacteria found in water," Mmadi Reuben, principal veterinary officer at the Botswana Department of Wildlife and National Parks, said at a news conference on Monday (September 21), according to the The Guardian.
The government in the landlocked southern African country, home to the world's largest elephant population, announced in July it had launched an investigation into the more than 300 deaths, collecting samples from the carcasses to better understand the situation.
Aerial surveys showed...
"Just because cyanobacteria were found in the water that does not prove that the elephants died from exposure to those toxins. Without good samples from dead elephants, all hypotheses are just that: hypotheses," Niall McCann, the director of conservation at UK-based charity National Park Rescue, tells The Guardian.
Except for one horse, the investigation found no other animals that were affected by the toxins.
"One working hypothesis is that, unlike other animals, elephants suck water with their trunks from underneath, so they drink from deeper levels in the waterholes, closer to silt where the anaerobe toxins are contained," Reuben said at the press conference.
Reuben said during the news conference that his team investigated injuries on the carcasses and tested water samples at laboratories in Botswana, South Africa, and the US. He blamed a "combination of neurotoxins" but did not elaborate and declined to say at which institutions tests had been carried out.
Reports in June showed that tusks had not been removed, discrediting poaching as a likely explanation.
Reuben added that he plans to monitor waterholes for algal blooms during the next rainy season to prevent any more deaths.
Conservationists expressed frustration with the government's lengthy investigation, as the death toll steadily rose since officials discovered the first elephant carcasses in May. Speculation swirled that the elephants succumbed to a rodent virus or anthrax.
"This is a mass die-off on a level that hasn't been seen in a very, very long time. Outside of drought, I don't know of a die-off that has been this significant," McCann told The Guardian in July.
Elephant populations have declined in recent years. and the species is classified as vulnerable on the International Union for Conservation of Nature's (IUCN) Red List.
Animosity toward elephants in Botswana has been building, as many blame them for the destruction of cropland, The Washington Post reported in 2019. President Mokgweetsi Masisi campaigned in 2019 on promises to keep the elephant population in check, and his government has reintroduced some elephant hunting licenses, which were banned by his predecessor.
Interested in reading more?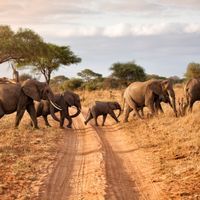 The Scientist ARCHIVES
Become a Member of
Receive full access to more than 35 years of archives, as well as TS Digest, digital editions of The Scientist, feature stories, and much more!