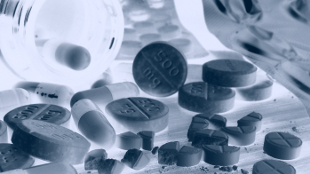 WIKIMEDIA COMMONS, TIBOR KADEK
Some biochemical companies are selling an erroneous isomer of the Src kinase inhibitor bosutinib to researchers studying the compound for its potential as a chemotherapeutic agent. Originally developed at Wyeth (now Pfizer), bosutinib is currently available from a variety of unlicensed vendors, but they aren't all selling the same product, according to a recent study that identified a mismarketed isomer that differed from bosutinib in its structure and binding affinity.
"In 32 years [in the biochemical industry], I've only seen one other example like this," said Paul D. Driedger, president of PKC Pharma, a small molecules biotech near Boston, Massachusetts that owns LC Laboratories, one of the vendors that has been selling the incorrect bosutinib. His company began investigating the problem last year when a customer alerted him to discrepancies in bosutinibs from different vendors.
Bosutinib is a synthetic molecule that inhibits a variety of tyrosine...
Nick Levinson of Stanford University was examining the structure of bosutinib bound to Abl, a tyrosine kinase linked to certain cases of chronic myelogenous leukemia, when he noticed a discrepancy in the electron-density map of the Abl-bosutinib complex. Bosutinib is composed of several aromatic rings, including one aniline ring with 2 chlorines and one methyl group attached, but the expected chlorine at one location seemed to be missing in Levinson's structural maps. Further investigation confirmed that the bosutinib he was working with, obtained from LC Labs, wasn't a true version of the molecule after all. "The isomer's binding is very different, and the correct bosutinib is a much more potent inhibitor," said Levinson, who published his findings in PLoS ONE last month.
Taking a closer look at the molecule's structure using proton NMR spectroscopy, which gives information about the environment of hydrogen atoms in compounds, Levinson found that the LC Labs' compound had a notably different structure than the bosutinib offered by the Pfizer-licensed vendor Tocris Bioscience. The structure of Tocris's bosutinib matched the original description of bosutinib by Wyeth researchers in 2001, but the LC Labs' compound had a different aniline ring altogether.
"It's hard to say exactly what the impact of this will be," said Levinson. It is unlikely that incorrect isomer is being used in any human trials, which rely on bosutinib synthesized by Pfizer, he said, but conclusions from laboratory studies based on the wrong isomer could be thrown in doubt and need repeating. And to complicate matters, researchers might be unable to verify whether their studies had been conducted with the correct inhibitor.
Whether this was a mistake or, as Driedger fears, a dishonest cost-cutting measure taken by a manufacturer in a country with lax regulation, is unclear. It's also not known whether the source of the erroneous isomer is a bosutinib manufacturer or a company synthesizing the wrong aniline ring, which is then being mismarketed to bosutinib producers. Until the culprit is found, Driedger is holding the companies selling the incorrect version of bosutinib responsible. LC Labs, for one, plans to refund its customers that got the incorrect isomer, or replace their bosutinib, and he expects refunds from the purveyors that sold them the products initially.
Meanwhile, Driedger is attempting to determine how many vendors are unwittingly selling the bosutinib isomer. His company is currently screening bosutinib from a range of vendors, and plans to publish a breakdown of where the isomer appears. Identifying the correct and incorrect bosutinib isomers has been difficult, however, due to conflicting published NMR spectra and crystal structures, he said. For example, the NMR spectra generated for the original 2001 compound at Wyeth doesn't match the spectra cited in the 2007 patent. Rick Connell, a vice presidentat Pfizer, said that the solvent was accidentally omitted in the patent, and vendors should use the 2001 NMR spectra with the solvent for comparisons.
Not all companies selling bosutinib include the NMR spectra of their product in the readily available datasheets. But of those that do, at least one, the global chemical supplier Selleckchem, had spectra posted on its website that matched the wrong isomer published by Levinson. After being alerted earlier last week, Selleckchem replaced the NMR spectra with corrected versions, which were derived from a different batch of the compound, according to the company's general manager Graham Dong. The latest batch was synthesized by Selleckchem following the patent procedure, he said, while the previous batch had been purchased from a different manufacturer. Dong said that no incorrect isomer had been sold, but a few vials had been sent to customers for tests of biological activity, the data from which are still being gathered.
To settle the confusion, Driedger hopes that Pfizer might publish a "gold-standard" crystal structure based on the compound currently being tested in clinical trials for cancer and kidney disease. In the end, he said, the goal is to identify the source of the incorrect bosutinib isomer and help "put out the fire" for all vendors. As of this reporting, he said, at least 14 vendors were selling the incorrect compound.
Interested in reading more?
Become a Member of
Receive full access to more than 35 years of archives, as well as TS Digest, digital editions of The Scientist, feature stories, and much more!