A new cyclovirus linked to brain linflammation in Vietnam may have jumped to humans from livestock.USDA, Scott Bauer
Two members of a mysterious family of viruses known for their circular genomes have recently popped up in Asia and Africa. According to two independent studies published last week, the disease agents, called cycloviruses, may be involved in outbreaks of brain inflammation in Vietnam and paraplegia in Malawi. However, the causative link between the viruses and the diseases has yet to be determined.
Scientists searching for the cause of central nervous system (CNS) infections in Vietnam turned to next-generation sequencing methods to hunt for potential pathogens. One sample from more than 100 patients with undiagnosed CNS infections turned up a possible suspect: a virus in the Circoviridae family, dubbed CyCV-VN for cyclovirus-Vietnam. After broadening their search for the virus, the researchers found that 4 percent of the samples from an...
Because other Circoviridae viruses are found in some animals, the scientists speculated that humans picked up CyCV-VN from nearby livestock. Indeed, tests of dozens of chickens, ducks, and pigs found that nearly 60 percent were positive for the virus. Since these animals are "commonly held in Vietnam in backyards and on small farms," Rogier van Doorn, a clinical virologist with the Oxford University Clinical Research Unit in the Hospital for Tropical Diseases in Ho Chi Minh City, told ScienceNOW, "there is a lot of possible contact between these viruses and humans."
In the southeast African nation of Malawi, a cyclovirus has also been identified as a possible cause of paraplegia, which is known to sometimes stem from infection. Tests from a group of 58 paraplegia patients revealed that a cyclovirus was present in 15 percent of blood serum samples and in 10 percent of cerebrospinal fluid samples, according to a study published online last week in Emerging Infectious Diseases.
Le Van Tan, a medical researcher at the Oxford University Clinical Research Unit and the first author on the Vietnam study, told ScienceNOW that initial analyses of the genomes from the two cycloviruses suggests they are two different species. Eric Delwart, a researcher at the Blood Systems Research Institute in San Francisco, told ScienceNOW that neither study can confirm whether cycloviruses are actually the cause of the illnesses. There was no control group in the Malawi study and other factors may explain the lack of positives in the control group tested in the Vietnam study, he said.
Interested in reading more?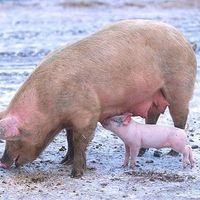 The Scientist ARCHIVES
Become a Member of
Receive full access to more than 35 years of archives, as well as TS Digest, digital editions of The Scientist, feature stories, and much more!