Coronaviruses displaying their characteristic halo of spike proteinsCDC/FRED MURPHY & SYLVIA WHITFIELDDutch researchers have identified the host cell protein that allows a recently discovered coronavirus to enter its target cells, according to a study published today (March 13) in Nature. The structure of the protein, called DPP4, appears to be conserved between bats and humans, suggesting that the new findings will help shed light on zoonotic transmission of the virus, as well as provide a target for potential vaccines.
"It's a huge study," said Ralph Baric, a virologist at the University of North Carolina, Chapel Hill, who was not involved in the research. "Any time you identify a receptor that a virus uses, it tells you a whole lot about its biology—where it targets, how it causes disease. And it tells you a lot about trans-species movement and the frequency of that event." The fact...
Until the deadly SARS virus was identified as a coronavirus in 2003, only two coronaviruses were known to infect humans, generally causing mild colds. Since then, three more have been identified, though none as virulent as SARS. The latest virus, discovered in a Qatari man in June 2012 and dubbed human coronavirus-EMC (hCoV-EMC) by researchers at the Erasmus Medical Center (EMC) in The Netherlands, is associated with severe respiratory disease and kidney failure, and, like SARS, appears related to bat coronaviruses. Unlike SARS, however, the new virus doesn't easily transmit between humans. Of the 13 people who've been infected, eight have died, though it's not clear whether the virus was the direct cause of death, noted EMC virologist Bart Haagmans.
Coronaviruses get their name from structures called spike proteins that stud their capsids and determine which host cells a particular coronavirus can bind and infect. In order to understand which species and which cells hCoV-EMC targets, Haagmans collaborated with researchers at Utrecht University to create a recombinant EMC spike protein and screen for cells that bound to it, identifying a human liver cell line. The researchers then used a detergent to release the liver cells' membrane-bound proteins, employing the recombinant spike protein to fish out the specific receptor to which the spike protein bound. Finally, a mass spectrometry analysis of the protein identified it as dipeptidyl peptidase 4 (DPP4)—a novel receptor for coronaviruses.
Sure enough, antibodies against DPP4 block virus infection, while expressing DPP4 in virus-resistant cells rendered them easily infected by hCoV-EMC. The researchers also found that DPP4 is expressed on a variety of cells, including kidney cells and cells deep in the lung. In contrast to viruses like influenza, which infect upper respiratory cells and transmit easily between people, hCoV-EMC's deep lung infection may explain the virus's propensity for causing severe respiratory disease but being difficult to transmit between humans, said Haagmans.
"Now [that] we know that EMC spike and human DPP4 are likely the most important [proteins in hCoV-EMC infection], we can start looking at ways to interfere with that interaction to protect people," noted virologist Rachel Roper of East Carolina University, who was not involved in the research.
This could include using recombinant molecules to screen for drug targets that block spike protein binding to DPP4 or creating vaccines focused on the EMC spike protein to raise antibodies that prevent viral binding to target cells, Roper noted. Indeed, a recent Journal of Virology paper demonstrated that serum from hCoV-EMC-infected patients could block virus binding to target cells, suggesting that neutralizing antibodies can be produced.
The researchers also found that the virus can infect bat cells using bat DPP4. Though hCoV-EMC is related to bat coronaviruses, so far no infections have been linked to bats, suggesting an intermediate host carried the virus from bats to humans, said Gary Whittaker, a virologist at Cornell University who was not involved in the research.
DPP4's role in hCoV-EMC's pathogenesis should also be investigated more fully, noted Sonia Navas-Martin, a molecular virologist at Drexel University who did not participate in the study. DPP4 plays important roles in hormone regulation and it may be that hCoV-EMC affects the protein's function after infection, she explained. But for now, the findings are a huge step forward. "To my knowledge, DPP4 was not previously known as a receptor for any other virus."
V.S. Raj et al., "Dipeptidyl peptidase 4 is a functional receptor for the emerging human coronvirus-EMC," Nature, 495:251-56, 2013.
Interested in reading more?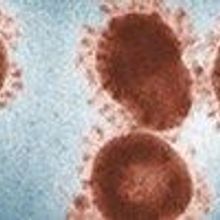 The Scientist ARCHIVES
Become a Member of
Receive full access to more than 35 years of archives, as well as TS Digest, digital editions of The Scientist, feature stories, and much more!