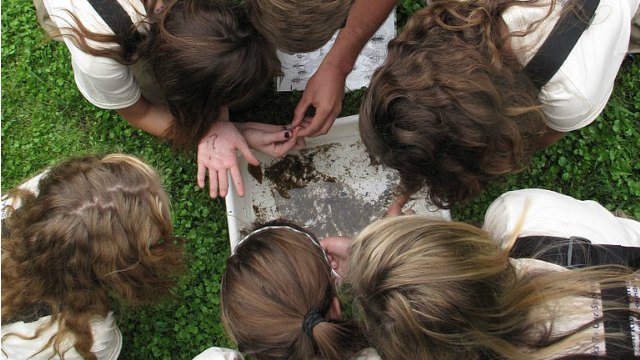 WIKIMEDIA, GARY PEEPLES/USFWSThe National Science Foundation (NSF) is shuttering a source of funding for PhD candidates in environmental sciences at US universities. In a "Dear Colleague Letter," sent out yesterday morning (June 6), the agency announced that it would no longer offer PhD candidates the opportunity to submit proposals for Doctoral Dissertation Improvement Grants (DDIGs) through either its Division of Integrative Organismal Systems (IOS) or its Division of Environmental Biology (DEB).
"The Doctoral Dissertation Improvement Grant program in the Division of Environmental Biology has come to an end," NSF staff members wrote in DEBrief, the blog of the Division of Environmental Biology, after the announcement yesterday. "This decision was difficult, but the NSF and [the Directorate for Biological Sciences] BIO's programs are facing many challenges, and this is the best course of action at this time."
The NSF says the DEB granted 135 DDIG awards in...
After researchers received the NSF's letter, social media lit up with talk of the controversial move. Most vocal among critics of the plan were past recipients, who could point to the concrete benefits of DDIG funding on their own careers.
Kristina Schierenbeck, a botanist at California State University, Chico, won a DDIG grant in 1990 to study the population genetics and ecology of invasive Japanese honeysuckle and native honeysuckle in South Carolina while doing her PhD at Washington State University. "For $9,000 I got three publications—one in Ecology and two in the American Journal of Botany—which really, even then (27 years ago), that was a great bang for the buck," she tells The Scientist. "It also gave me experience writing grants and the grant process and the review process. I went on to get three more NSF grants."
Mariana Vasconcellos, a postdoc in the City University of New York lab of Ana Carnaval, got a DDIG grant when she was a PhD candidate at the University of Texas, Austin, doing a genomic survey of a South American frog species. She says she used the $10,000 she got from the NSF to do next-generation sequencing for her project after the funding her advisor had when she started her PhD ran out. "[With] the previous funding that my advisor had, I collected some data for my first chapter," Vasconcellos says. "With NSF, I collected data for the last two chapters of my dissertation. That was very, very crucial."
In addition to awardees of DDIG grants, principal investigators who mentor students in the environmental sciences also voiced their dismay concerning the NSF's decision. In its letter, the NSF assured researchers that the decision to discontinue DDIG grants "does not affect DDIGs that are already awarded." But the death of the program will make funding students that much more difficult, says Kelly Zamudio, an evolutionary biologist at Cornell University. She tells The Scientist that she's had five grad students funded by DDIG grants in her lab. "The two students that I have right now . . . intended to apply this year for DDIGs. And they won't be able to."
Tracy Heath, a computational evolutionary biologist at Iowa State University, says that she's in a similar situation. "I have a PhD student who was planning to apply next year," she writes in an email to The Scientist.
The NSF's director for DEB, Paula Mabee, and the agency's director of IOS, Heinz Gert de Couet, say that the decision to shutter the DDIG program was based on stretched resources at the federal science agency, where the annual budget has tightened over the past few years. "Due to the high demands on staff and finite resources, we had to make some hard decisions," they write in an email to The Scientist. "Fundamentally, the motivation for this decision was workload."
Zamudio says she finds that explanation unsatisfactory. "I can't judge workload from the outside, obviously. It's their system, and they need to figure out how to streamline and optimize it," she says. "But it does seem to me like cancelling an entire program with this level of impact seems like a very abrupt move given that there are other ways to reduce and streamline the infrastructure of the process of reviewing and so forth."
Fans of the program insist that in a field that has few robust funding streams for developing scientists, DDIG grants were crucial to students who sought to study a research question that diverged from the focus of their advisors. "My [DDIG-funded] students would develop their own system, and they would move on to professorships at other universities, and they take that system with them. It's theirs'. It's not mine," says Zamudio.
Although DDIG grants—the first of which were awarded to PhD students 50 years ago—will continue to be awarded through NSF's programs in archaeology, anthropology, and a few other fields, the lack awards for future environmental scientists will have a substantial impact, according to critics of the NSF's decision. "The damage on science will be substantial—in a field like organismal biology that has a culture of training very independent student researchers (unlike more molecular fields, wherein students operate in more of an apprentice model), this leaves an enormous gap at the early career stages," writes Butch Brodie, a biologist at the University of Virginia, in an email to The Scientist. "It will gut the best people out of a generation of scientists at just the time we are beginning to make inroads on increasing the diversity of field."
"It's just tearing another rung off the ladder and making us work even harder to climb that ladder," says AJ Reisinger, a postdoc studying ecology at the Cary Institute of Ecosystem Studies in New York who received a DDIG grant as a PhD student. "I don't think that cutting the DDIG program by itself is the end of researchers or is going to completely dishearten all early-career researchers. But it's just another sign that scientific research isn't valued, and it's disheartening to see."
Correction (June 8): The original version of this story underestimated the total DDIGs awarded over the past couple of years by the NSF divisions affected by the announcement. The Scientist regrets the error.
Interested in reading more?
The Scientist ARCHIVES
Become a Member of
Receive full access to more than 35 years of archives, as well as TS Digest, digital editions of The Scientist, feature stories, and much more!