I was never a huge reader growing up. As a chubby kid with a bowl cut in school, I was a slower reader than most and was always afraid to read out loud in class. I simply grew up with a general aversion to reading, and it would take me 30 years to finally develop a love for books.
As I pursue a career in neurology, it was initially the beautiful writing of Oliver Sacks that brought out the book worm in me and introduced me to the whole new world of thoughtful and neurosciency books that challenged my beliefs and addressed many real issues in society. These days, I can typically be found with my nose stuck in a book, even while walking through town. Now completely hooked on this unique genre of "neuroscience of modern issues" books, I've been making up for lost time...
For the Bedtime Reader
The Nocturnal Brain: Nightmares, Neuroscience and the Secret World of Sleep
Inspired by the legendary book The Man Who Mistook His Wife for a Hat by the late Oliver Sacks, neurologist and sleep scientist Guy Leschziner tells the curious true stories of his patients, their fascinating sleep disorders, and the neuroscience behind each. Also like the works of Sacks, The Nocturnal Brain is written with considerable introspection and wonder about each patient's case, taking you on a journey from the first patient encounter, to diagnosis, and through treatment. The unusual and often bizarre cases will keep you intrigued and immersed, and make this unique book one you will find yourself looking forward to making time to read.
For the Historian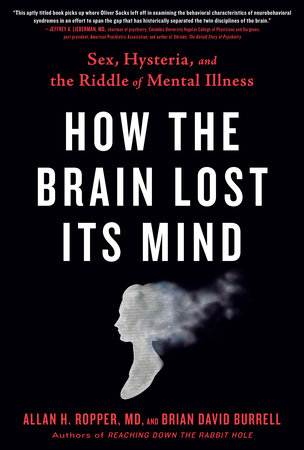 How The Brain Lost Its Mind: Sex, Hysteria, and the Riddle of Mental Health
In this mindful reflection on American and European pasts, authors Allan H. Ropper and Brian Burrell, also the writers of Reaching Down the Rabbit Hole, address our modern concept of mental illness by reviewing the interesting true story of the syphilis epidemic of the 19th century. This little known and fascinating history of neurosyphilis—how it was handled by society and medicine and how it shaped today's understanding of mental illness—helps address not only why many stigmas exist, but why so many have persisted. This book will take you on an incredible journey through the puzzling diagnosis, eclectic treatments, and lasting social effects of the neurosyphilis epidemic of the 1800s, as well as offer important insight into the difference between diseases of the brain and the mind. This book is perfect for any scientist, psychologist, or historian with even the smallest interest in medical history or mental health theory.
For the Caregiver
Compassionomics: The Revolutionary Scientific Evidence that Caring Makes a Difference
It is no secret that today's medical atmosphere scarsely resembles anything similar to that of 50 years ago. Many have argued that this is in large part due to a lack of compassion in the modern medical system. If this is the case, where have we gone wrong, and is there scientific evidence to support that compassion is even beneficial to healthcare, personal relationships, and professional lives? These questions are raised and explored by authors Stephen Trzeciak and Anthony Mazzarelli through the telling of true stories of medical providers and patients that help demonstrate the incredible effect of the human connection. Coupled perfectly with these gripping stories are easily readable summaries of decades of research studying the effects of compassion as well as its implications in our lives. Addressing topics from healthcare cost to provider burnout, from caring for others to caring for ourselves, this evidence-based analysis of the importance of compassion is a must-read for anyone interested in the social science and psychology of the care we give in all settings of our lives.
For the Non-Conformer
Gender and Our Brains: How New Neuroscience Explodes the Myths of the Male and Female Minds
In this seemingly new age of self-identification, with politics, pop culture, and even corporate entities weighing in on topics concerning gender, sex, and pronouns, this thought-provoking new book provides readers with the neuroscience behind the enigmatic topic of gender. Written by professor and scientist Gina Rippon, this book has no qualms about addressing the flaws and implications of our gender-binary society. It is with this same confidence backed by new neuroscience research that this book confronts head-on the biases and prejudices intrinsic to our collective understanding of gender, and how these misconceptions have shaped ourselves and our society. A refreshing mixture of humor and evidence-based analysis, this hard look at the history of pseudoscience, gender studies, and traditional values in our past is a must-read for anyone interested in the developing neuroscience of gender.


For the Experientialist
Never Enough: The Neuroscience and Experience of Addiction
Giving new meaning to the term primary literature, this insightful book by behavioral neuroscientist and recovering addict Judith Grisel provides a truly unique look into both the science behind addiction and her personal story of dependence and recovery. After dropping out of college and later hitting rock-bottom, Grisel has spent the past several decades researching important topics surrounding addiction. With wit, scientific knowledge, and personal insight, this page-turner addresses what drives addiction, what is different about the brain of an addict, and what role our communities might play in helping end society's drug epidemic.
James Dolbow is a neuroscientist and medical student at Lincoln Memorial University-DeBusk College of Osteopathic Medicine in Tennessee.
Interested in reading more?
The Scientist ARCHIVES
Become a Member of
Receive full access to more than 35 years of archives, as well as TS Digest, digital editions of The Scientist, feature stories, and much more!