PHOTO COURTESY OF MEMORIAL SLOAN KETTERING CANCER CENTER
Paul Marks, a cancer researcher credited with turning Memorial Sloan Kettering Cancer Center into a top research institution, died from pulmonary fibrosis and lung cancer last week (April 28). He was 93.
As president of MSKCC from 1980 to 1999, Marks recruited many up-and-coming cancer scientists of the time, and made the molecular basis of cancer a research priority. His own work on the biology of histone deacetylases (HDACs), proteins that modify chromatin structure and gene expression, helped launch an epigenetics research arm at MSKCC and led to the development of the anticancer compound vorinostat, currently approved to treat some forms of non-Hodgkin's lymphoma.
Born in Mahanoy City, Pennsylvania, in 1926, Marks lost his mother to an accident when he was around five years old. His father left Marks with relations, returning with a new wife and son five years later.
Marks went to high school in Brooklyn and was encouraged by a teacher to apply to Columbia University, which he attended on a scholarship. It was at Columbia that he developed an interest in clinical research and genetics, largely thanks to lab experience with geneticist Francis Ryan.
"I started working on a problem in Ryan's lab and really got hooked," Marks said in a 2012 interview in The Journal of Clinical Investigation, where Marks was editor-in-chief between 1967 and 1971. "I loved the idea of finding answers to questions for which we didn't immediately have an obvious answer."
Marks completed his undergraduate degree in 1945, and then continued his studies at the Columbia University College of Physicians and Surgeons, graduating with an MD in 1949. After postdoctoral work at the National Institutes of Health, Marks returned to Columbia in 1955 to work on glucose metabolism, a project that helped lead to a research position with Nobel laureate Jacques Monod at the Pasteur Institute.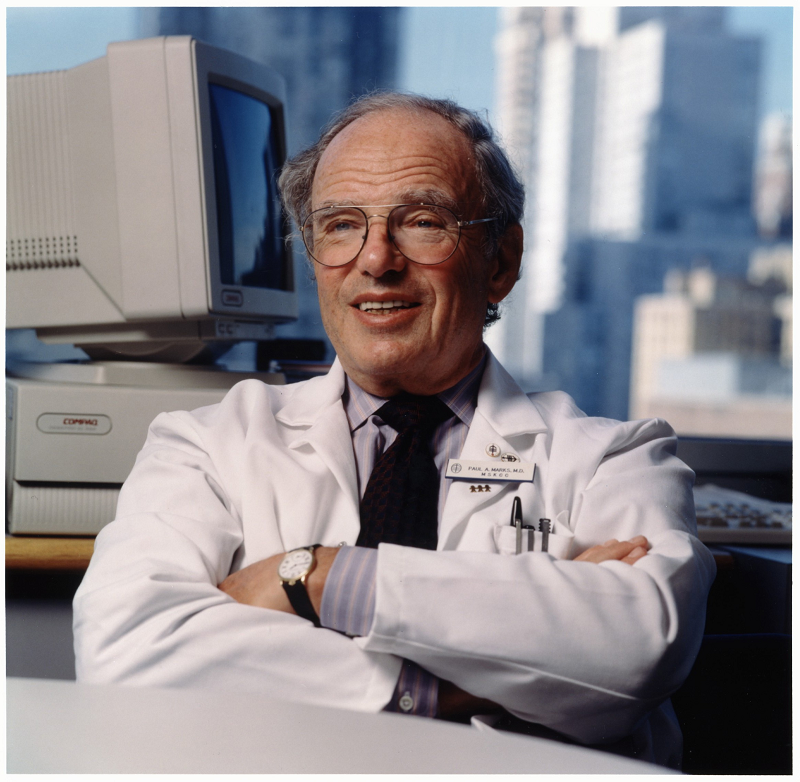 PHOTO COURTESY OF MEMORIAL SLOAN KETTERING CANCER CENTER
Marks was struck by the basic-science focus that pervaded research at the Pasteur Institute. "He definitely saw the importance in having a very strong basic-science component to this institution," Thomas Kelly, a former director of the MSKCC's experimental research arm, the Sloan Kettering Institute, told MSKCC in an interview about Marks in 2017.
Beginning in 1970, Marks spent a decade at Columbia's College of Physicians and Surgeons—first as dean and later as vice president for medical sciences—before being recruited by MSKCC Board Chairman Laurance Rockefeller to serve as the center's president.
Marks immediately began trying to instill into MSKCC some of the basic-science focus he'd seen at the Pasteur Institute, and recruited a new generation of scientists, including James Rothman, Dinshaw Patel, Joan Massagué, and Kathryn Anderson.
Marks's views and work ethic weren't universally popular. A 1987 article in The New York Times told of him grabbing a man by the throat and dragging him over a table. The article also quoted his wife Joan, then head of graduate studies at Sarah Lawrence College in New York, as saying "He can be brutal. . . . He really doesn't understand why people don't work 97 hours a day, and why they don't care as much as he cares."
(Marks contested the story in his 2014 memoir, stating that he had not dragged the man by the neck, but had grabbed him by both arms and shaken him.)
The scientists Marks did appreciate were given space to explore their own research directions, Massagué, who joined MSKCC in 1989, tells the Times this week.
By the time he retired in 1999, Marks had published more than 350 scientific articles and received numerous accolades, including the 1991 National Medal of Science. During the 2000s, Marks continued his work on vorinostat, which first received US Food and Drug Administration approval in 2006, and explored an interest in the art world, where his daughter Elizabeth and youngest son Matthew both worked.
Marks is survived by Joan, Elizabeth, and Matthew, as well as his oldest son Andrew, who is chairman of the physiology and cellular biophysics department at the College of Physicians and Surgeons; and grandchildren.