Photos of the Year
From a plastic-munching coral to see-through frogs, here are The Scientist's favorite images from 2017.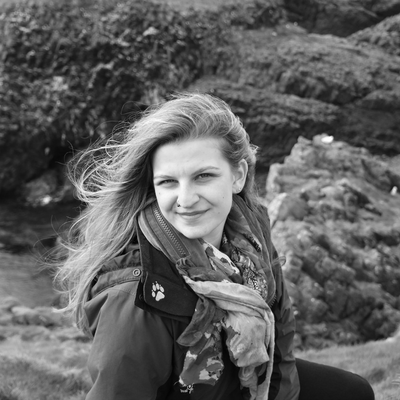 Dec 24, 2017
As a somber reminder of the plastic contamination crisis that faces our oceans, scientists found that hard corals frequently consume pieces of plastic because it "tastes" good to them.
A young coral polyp feasts on a white scrap of plastic.ALEX SEYMOUR, DUKE UNIVERSITY
Scientists used a dissection microscope to get a glimpse of the delicate developing skeleton of a third-trimester fruit bat.
A darkfield stereomicroscopy image of a fruit bat fetus in its third trimesterRICK ADAMS, UNIVERSITY OF NORTHERN COLORADO, NIKON SMALL WORLD PHOTOMICROGRAPHY COMPETITION
One hundred million years ago, a dinosaur might have brushed this prehistoric flower into a pool of tree resin, scientists believe, creating an artistic fossil preserved in amber.
Tropidogyne pentapteraGEORGE POINAR JR, OREGON STATE UNIVERSITY
The southern bobtail squid Euprymna tasmanica can glow in the dark and shimmer during the day thanks...
A southern bobtail squid (Euprymna tasmanica)MUSEUMS VICTORIA, MARK NORMAN
In the lab, therapeutic antibodies are being engineered to flag cancer cells (orange) for destruction by macrophages (blue)
UNIVERSITY OF SOUTHHAMPTON & KOCH INSTITUTE AT MIT, ALI ROGHANIAN
In the jungle of Amazonian Ecudaor, scientists discovered a new glass frog species, Hyalinobatrachium yaku, which is so transparent its heart is visible from below.
A juvenile Hyalinobatrachium yakuJAIME CULEBRAS AND ROSS MAYNARD
A combination of magnetic resonance imaging and diffusion-weighted tractography creates a detailed image of the small neural fibers that reside in the mouse brain.
A coronal section of a mouse brain depicting the hippocampus, visualized by diffusion-weighted tractographyNIELS SCHWADERLAPP, DEPARTMENT OF RADIOLOGY, MEDICAL PHYSICS
Scientists created a reference genome for Syngnathus scovelli, the gulf pipefish.
UNIVERSITY OF OREGON, MARK CURREY
In tribute to the adaptability of life, scientists found that Daphnia pulex can quickly evolve tolerance to road deicing salt when it contaminates its freshwater habitat.
RENSSELAER POLYTECHNIC INSTITUTE
Interested in reading more?
The Scientist ARCHIVES
Become a Member of
Receive full access to more than 35 years of archives, as well as TS Digest, digital editions of The Scientist, feature stories, and much more!