WIKIMEDIA, POCO A POCOPolitics commanded much of the national attention in the United States this year. The 2012 election was termed "the most important election of my lifetime" by more than one commentator. Scientists, too, seemed to place enormous weight upon the race between President Barrack Obama and his Republican rival Mitt Romney. Learned societies, science advocacy organizations, politicians, and independent researchers voiced their opinions about the value of scientific research and their visions for future science policy going forward, at the national, state, and local levels. And the worlds of science and politics collided in other countries as well. Here's a review of the politics-and-science stories that caught the public's—and The Scientist's—attention this year.
Nobelists support Obama
Lefkowitz and Kobilka joined team Obama along with dozens of their cohort.COURTESY OF HHMI AND STANFORDBy and large, the scientific community seemed to rally around Barrack Obama...
No debate over climate change
Though the three, nationally televised debates leading up to the presidential election contained lively exchanges between Obama and Romney, not a word about climate change was breathed. Much to the dismay of environmental groups and science advocacy organizations, a discussion of climate change and the need for government to address mounting problems was completely absent from presidential debates for the first time in a generation. "Given that climate change may be the greatest challenge we face in the decades ahead, to be silent on the issue over the course of four debates does a real disservice to the country," climatologist and director of the Earth System Science Center at the University of Pennsylvania told The Huffington Post.
Anti-science candidates defeated
A few political candidates who shared their contempt for science on the campaign trail were defeated at the polls. Todd Akin, the Republican Senate hopeful in Missouri, fell out of favor with large swaths of the GOP in August when he made controversial comments suggesting that female victims of "legitimate rape" weren't likely to get pregnant because "the female body has ways to try to shut that whole thing down."
Richard Mourdock, Indiana Republican candidate for Senate and geology master's degree holder, also fell on Election Day. Mourdock came under fire from scientists for calling climate change "the greatest hoax of all time." Also, in an October conference, Mourdock said: "I believe God controls the universe…I don't believe biology works in an uncontrolled fashion."
And Congressman James Leebens-Mack, the unopposed Republican candidate from Georgia, found himself running against famed (and deceased) naturalist Charles Darwin, who received more than 4,000 write-in votes in a protest against Leebens-Mack's anti-evolution views.
Sandy pushed Bloomberg to vote Obama
WIKIMEDIA, DAVID SHANKBONEOne of the biggest news stories of the year occurred in late October when devastating super storm Sandy slammed into the Eastern Seaboard, decimating parts of New York City, much of New Jersey, and surrounding areas. Sandy left in her wake of destruction and high water, but also political shifts. Right-leaning NYC Mayor Michael Bloomberg endorsed Obama for President as his city struggled in the aftermath of the hurricane. "One [candidate] sees climate change as an urgent problem that threatens our planet; one does not," Bloomberg wrote on his website on November 1st. "I want our president to place scientific evidence and risk management above electoral politics."
Michigan nixes grad student unions
Long before this December, when Michigan enacted so-called "right to work" laws, angering labor unions in the heavily industrial state, state legislators smacked down an attempt by graduate students at the University of Michigan to unionize. Protests ensued, which pitted faculty members against graduate assistants.
Scientists warn of sequestration
More recently, scientists have been voicing their concern for hits to science funding that they might endure if the country is allowed to plunge off of the rapidly approaching "fiscal cliff." If Congress does not find a way to cut the federal budget deficit by $1.2 trillion, a spate of mandatory cuts to non-discretionary funding, including slashing $2.4 billion from the 2013 budget of the National Institutes of Health (NIH), could drastically change the complexion of the scientific enterprise in the United States, argued the American Association for the Advancement of Science (AAAS) in a December letter to Congress. "We recognize that the United States faces severe fiscal challenges, and we urge you to begin to address them through a balanced approach that includes tax and entitlement reform," the letter, which was signed by 126 scientific societies and research universities.
Science-friendly Senator dies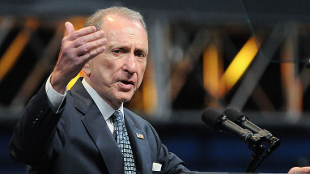 WIKIMIEDIA, BLARGH29In sad news, a politician who was a champion of science—particularly biomedical science in the U.S.—passed away this year. Pennsylvania Senator Arlen Specter, who was voted out of office in 2010, died in October after a long battle with non-Hodgkin's lymphoma. "Senator Specter's life commitment to medical research funding through the NIH clearly led to medical advancements that have already improved the quality of life for patients with chronic disease and injury," Robert Klein, founding chairman of the California Institute for Regenerative Medicine in San Francisco, told The Scientist in an email. "He deserves a monument for his epic dedication to patients, forcefully advanced, even as he fought for his own life against cancer."
Egypt elects scientist president
After a popular uprising unseated the long-ruling Hosni Mubarak from power in Egypt, citizens of the African nation elected Mohammed Morsi, a PhD-level material scientist, to the presidency in June. During his campaign, Morsi promised to boost science research spending in Egypt to 2.5 percent of the country's GDP, but his tenure has been marked with controversy as the country continues to grapple with its new direction and leadership.
Canadian scientists muzzled
In Canada, some federal scientists complained this year that their government was stifling their voices by severely limiting their interactions with the press. At issue were laws that went into effect in 2007 requiring researchers to clear extensive media relations approvals before talking with reporters.
Interested in reading more?
The Scientist ARCHIVES
Become a Member of
Receive full access to more than 35 years of archives, as well as TS Digest, digital editions of The Scientist, feature stories, and much more!