Wikimedia Commons, Blargh29 Arlen Specter, former Pennsylvania senator and high-profile champion of biomedical science, died last week (October 14) at his home in Philadelphia. His family said the cause was complications of non-Hodgkin's lymphoma, cancer of the lymphatic system, one of several major illnesses Specter had battled in recent years. Specter was a strong advocate for government support of translational research, particularly cancer research, and a vocal supporter of human embryonic stem cell research.
"He had the nobility of character and conviction of principle to stand against the President, from his own party, in support of the whole range of stem cell research, including human embryonic stem cell research," Robert Klein, founding chairman of the California Institute for Regenerative Medicine in San Francisco, told The Scientist in an email. "With human trials expected to be continued on paralysis and new trials expected within the next 24 months for diabetes and...
Francis Collins, director of the National Institutes of Health (NIH), described Specter as "a towering champion for biomedical research and the mission of the NIH," according to a statement released yesterday (October 15) in response to Specter's death. "Arlen served as a forceful advocate for the millions of Americans eagerly awaiting new cures and treatments," Collins added. "His favorite saying, which we all heard many times over the years, was that NIH was the crown jewel of the federal government."

Described by admirers as intelligent and abrasive, Kansas-born Specter was an independent-minded Republican who represented Pennsylvania in the US Senate for 30 years. He steered a moderate course but wasn't afraid to break from his party, embracing a spirit of bipartisanship that has grown increasingly rare. Only in 2010, after he'd defected and failed to win the Democratic nomination, did he lose his seat.
He was involved in some of the biggest moments in US political history, including the investigation into the shooting of President John F. Kennedy and the bitter disputes over Supreme Court nominees in the late 1980s—in which he infuriated liberals with his aggressive questioning of law professor Anita Hill, who had accused nominee Clarence Thomas of sexual harassment. In 1999, Specter annoyed fellow Republicans by voting "not proven" on perjury charges against President Bill Clinton regarding his alleged affair with intern Monica Lewinsky.
Specter was also a passionate advocate for biomedical research, fighting to secure sustained funding for cancer research and other forms of translational science. He was the driving force behind the doubling of the NIH budget between 1998 and 2003, and later used his status as a crucial swing voter to secure an additional $10.4 billion for the agency as part of the 2009 Recovery Act—a significant infusion early in the ongoing recession. His other accomplishments include the creation of the Cures Acceleration Network (CAN), an NIH program aimed at speeding the translation of research from lab to clinic.
"His vision for the CAN was fundamentally catalytic," Kathy Hudson, acting deputy director of the National Centre for Advancing Translational Sciences, the NIH body within which CAN operates, told The Scientist. Specter had a vision for how researchers could speed up the delivery of new medicines for patients, she said, and he was able to realize that vision through the establishment of the new program. "He was a true leader in that domain, and his voice will certainly be missed."
His achievements were recognized by the American Association for Cancer Research (AACR) on several occasions, including the 2009 Centennial Award for Distinguished Public Service.
In later years, he suffered from several serious illnesses. He had open-heart surgery, as well as surgery for a brain tumor and chemotherapy for two attacks of Hodgkin's lymphoma. He was diagnosed with non-Hodgkin's lymphoma, the disease that then claimed his life, earlier this year.
"Senator Specter's life commitment to medical research funding through the NIH clearly led to medical advancements that have already improved the quality of life for patients with chronic disease and injury," added Klein. "He deserves a monument for his epic dedication to patients, forcefully advanced, even as he fought for his own life against cancer."
He is survived by his wife and two sons.
Interested in reading more?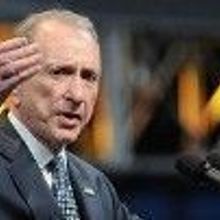 The Scientist ARCHIVES
Become a Member of
Receive full access to more than 35 years of archives, as well as TS Digest, digital editions of The Scientist, feature stories, and much more!