When a #MeToo controversy roiled an archaeology meeting in April, Twitter erupted with angry posts. Scientists took to social media to denounce the Society for American Archaeology for failing to respond immediately to the presence of a professor, banned from his own campus after being credibly accused of sexual harassment, at its annual conference. That same month, a group of scholars called for a boycott of a meeting organized by the European Society for the study of Human Evolution due the organization's inaction in response to sexual harassment allegations against its president.
In both cases, academics took matters involving sexual harassment into their own hands when they felt conference organizers failed to address them. Such actions are part of the broader #MeToo movement in the sciences, which has led to investigations into alleged harassers, lawsuits against universities for how they've addressed reports of misconduct, and...
Conferences, in particular, are common sites of sexual harassment. "I think it's a combination of the old—and hopefully passing away—attitude of, 'what happens at the meeting stays at the meeting,' and, 'this isn't a work place, so I don't have to obey the rules here,'" says Sherry Marts, a consultant who advises scientific societies on how to address harassment.
To stem this problem, many scholarly societies have updated their policies to address harassment at their conferences. Some societies have banded together to try to collectively find solutions. In 2018, dozens of organizations in the science, technology, engineering, mathematics, and medicine (STEMM) fields united to create the Societies Consortium on Sexual Harassment in STEMM. Last Monday (September 16), the consortium, which now has more than 100 members, gathered for the first time in Washington, DC.
"We believe that scientific societies are in a better position to help set the standards for what is allowed and what good behavior looks like than anyplace else," says Billy Williams, the vice president for ethics, diversity, and inclusion at the American Geophysical Union (AGU), one of the consortium's founding organizations. One of the reasons for this, he explains, is that unlike universities or research institutions, societies aren't faced with labor-related issues such as tenure. "We have due process, of course, but we're quicker, less bureaucratic, in my opinion," he adds.
Falling through the cracks
When David Yesner, a former professor at the University of Alaska Anchorage (UAA) who was accused of sexual harassment by numerous women, showed up at the Society for American Archaeology (SAA) meeting this spring, the society had an existing policy on sexual harassment. The policy, which was first put in place in 2015, noted that SAA did not tolerate any form of harassment at its conferences, and that the organization's officers, board of directors, and chairs of sessions and workshops should be considered "safe authorities" to approach if such incidents occurred.
The meeting showed us that the policies and procedures that we had in place were not strong enough to protect the membership.

—Joe Watkins, SAA
"The policy was right up front in the [conference] booklet, so it did stand out as something that was very important to the society," says Sian Halcrow, a bioarchaeologist at the University of Otago in New Zealand. "But I think it was the way it was implemented that resulted in the issues at the meeting."
Three of Yesner's accusers were present at the conference and were shocked to see him there. One of them, Norma Johnson, a graduate student at UAA, contacted both her university chancellor and the SAA to raise concerns about Yesner's presence right away. But the society did not immediately eject him; Johnson told The Scientist in April that reports of Yesner's presence continued throughout the second day of the conference. Meanwhile, Michael Balter, a freelance journalist who had been invited to sit on a #MeToo panel at the meeting, was kicked out after confronting the harasser. As these events unfolded, scientists took to Twitter to express their anger at SAA's handling of the situation. An open letter to the society asking it to update its sexual harassment policy was signed by close to 2,000 academics.
Following that conference, SAA put together a task force to reassess its existing policies and procedures around harassment. "The meeting showed us that the policies and procedures that we had in place were not strong enough to protect the membership," says Joe Watkins, president of the SAA. Watkins tells The Scientist that the task force has just submitted a report to the SAA's board of directors, which will meet in October to discuss what changes should be made. Additionally, while SAA is not a member of the Societies Consortium, it is part of a group of anthropology societies that had its own inter-societies summit on sexual harassment last week in Arlington, Virginia.
According to Watkins, one issue currently under discussion is how to address reports about people who have been accused or found guilty of harassment at other institutions. This is a question that many organizations are currently wrestling with, Marts says. She adds that while in SAA's case, it was public knowledge that Yesner was penalized after an investigation into his misconduct, universities do not always make the findings from such investigations public.
Updates to policies and procedures
AGU, a scholarly society with more 60,000 members, began to reassess its meetings' code of conduct in 2015 when cases of sexual harassment in the scientific community were just beginning to come to light.
This reexamination led to an ethics policy that took a much stronger stance against harassment in 2017. Perhaps most notably, it classified harassment (sexual or otherwise), discrimination, and bullying as forms of scientific misconduct. "The message from us is not so much how you define it, but just the level of attention you would pay to it," Williams says. "Whether you call it scientific misconduct or not, you should still give it that much attention because it has as much, if not more, of an impact in your scientific community as plagiarism, falsifying data, and authorship issues."
We've probably seen a doubling in the types of things that are reported to us.

—Billy Williams, AGU
These new standards came with changes to AGU's protocols for reporting misconduct at its conferences. This included a group of trained staff who wear visible "Safe AGU" buttons at meetings to whom people can report bullying or harassment-related issues. (These individuals simply collect information about an incident—investigations are performed by a separate ethics committee.) The organization has also set up an Ethics and Equity Center, which provides year-round ethics-related resources, as well as free legal consultation to individuals who have been targets of bullying, harassment, and other forms of misconduct.
"AGU is out on the horizon on this [issue], waiting for everybody else to catch up," Marts says. (AGU is one of Marts's clients.)
Other large organizations have also made harassment-related updates to their policies in recent years. This January, for example the Society for Neuroscience (SfN) added "sexual and gender harassment and other harassing and harmful behaviors" to its ethics policy and code of conduct for the first time. According to a statement released by SfN in January, if an allegation of harassment arises at one of its meetings, the society will "continue to document and refer allegations to the accused attendee's organization for its review and sole determination regarding possible actions."
Small conferences make changes
Some smaller societies have also updated their codes of conduct to address harassment. The Society for the Study of Evolution (SSE), a group with around 3,000 members, in partnership with two other similarly sized organizations, the American Society of Naturalists (ASN) and the Society of Systematic Biologists (SSB), unveiled their revamped policies at a joint meeting, the Evolution Conference, this year.
"In 2017, we had a code of conduct that everybody had to agree to, but it wasn't enforced," says Andrea Case, the executive vice president of SSE. "We got reports of both sexual harassment and assault from that meeting, and one of those came out on Twitter because there wasn't a reporting mechanism." The former code of conduct indicated that there was a zero-tolerance policy on harassment of any kind. It also noted that incidents should be reported to members of the meeting committee of any of the society's councils, who would assess them and take action if necessary.
Prior to making any modifications, the societies conducted a formal survey of unwelcome behavior at their meetings. (Three percent of their surveyed members reported harassment or assault and 14 percent said they had experienced unwelcome behavior.) Like AGU, the societies trained a group of "Evo Allies" that were present at the conference venue as well as at social events. These individuals provide support to attendees who have been targets or witnesses of inappropriate behaviors and inform them about reporting procedures. (Official investigations are conducted by Marts, who acts as a safety officer at meetings.) They also took preventive measures, such as making poster sessions more spacious (their survey revealed that harassment tends to happen in crowded areas) and organized mixers geared toward groups most vulnerable to harassment and bullying, such as people who identify as LGBTQ+, those with chronic illnesses or disabilities, and students who were at the conference alone.
According to Case, one of the biggest challenges small societies face when taking on such endeavors is that unlike organizations as big as AGU and AAAS, which sometimes have more than 100 people on staff, groups like SSE are completely volunteer-run. In order to make these changes happen, "there was a huge commitment of time and effort by faculty and graduate students who didn't receive any compensation," she tells The Scientist.
Changes in reporting behavior
Although still a work in progress, policy updates have already had a noticeable effect at some conferences that have implemented them. Rosina Romano, the director of meetings at the Entomological Society of America (ESA), tells The Scientist that her organization only started getting reports of harassment after they incorporated a policy to address such behavior into their code of conduct in 2014. "There was nothing reported to us before that," Romano says. "But from what I can tell now after working in this space for a long time, there clearly were issues that no one had a mechanism to report."
AGU has observed a similar trend. "I wouldn't suggest that everything is reported, but I'd say we've probably seen a doubling in the types of things that are reported to us," Williams says.
In addition to more attendees coming forward about sexual harassment and assault, there has also been an uptick in reports about other harmful behaviors. In the past, people have mostly stayed quiet about bullying from the Q&A microphone or senior researchers berating younger students at their poster, but according to Marts, complaints about these kinds of issues are on the rise. "I think there's a cultural shift that's happening at a lot of these meetings," Marts says. "Having literally codified the behavior that you want and the behavior you don't want at meetings has given people permission to step up and say, 'Stop. Don't do that anymore.'"
Diana Kwon is a Berlin-based freelance journalist. Follow her on Twitter @DianaMKwon.
Interested in reading more?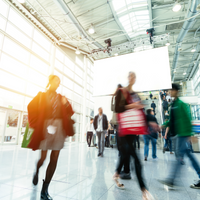 The Scientist ARCHIVES
Become a Member of
Receive full access to more than 35 years of archives, as well as TS Digest, digital editions of The Scientist, feature stories, and much more!