Marc Edwards, a Virginia Tech professor and whistleblower in the Flint, Michigan, water crisis, is suing his former collaborators for defamation in retaliation for a letter that appeared online in May. Edwards is asking for $3 million dollars in damages to his reputation that he says the letter caused.
The letter claims, "Residents of Flint object to Mr. Edwards fighting his own petty and vicious fights against anyone and everyone he sees as a challenger or competitor, and against anyone and everyone Flint residents turn to for help other than himself, all under the guise of 'protecting' and 'saving' us, or 'defending' science." Sixty Flint residents who have signed the document attest to Edwards's negative public comments about the community—including some on their hygiene.
"It seems, from my perspective, that he takes any suggestion that we're still having...
"These are not people who are trying to have a conversation," Edwards tells BuzzFeed News. "They are trying to damage my team with false statements."
Associate professor Michael Mascarenhas of the University of California, Berkeley, who was a witness for the Michigan Civil Rights Commission on the Flint water crisis, tells BuzzFeed News, "I would say that Marc's ego is getting in the way of his science. It's getting in the way of public health."
According to Michigan Radio, Edwards filed his lawsuit in Virginia's state court, and it will be moved to federal court, says William Moran, an attorney for the defendants, Flint resident Melissa Mays and members of the Campaign for Lead Free Water Paul Schwartz and Yanna Lambrinidou. Lambrinidou is a former research associate of Edwards.
Edwards has worked extensively on water pollutants such as lead. He's received many awards for his progress, the latest being an almost $2 million grant from the Environmental Protection Agency to record lead levels around the United States.
Interested in reading more?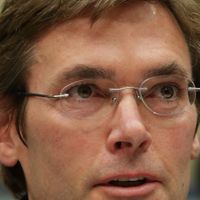 The Scientist ARCHIVES
Become a Member of
Receive full access to more than 35 years of archives, as well as TS Digest, digital editions of The Scientist, feature stories, and much more!