Earlier this year, Mirko Cortese, a postdoc at Heidelberg University in Germany, was busy investigating how the flaviviruses dengue and Zika create cellular environments that support their replication. But as he watched the number of COVID-19 cases climb around the world, including in his home country of Italy, his attention was increasingly diverted to the virus behind the disease: SARS-CoV-2. Cortese and his colleagues had both tools and knowledge necessarily for tackling the coronavirus—so they decided to rapidly shift the focus of their work to address the deepening global crisis. "We basically put aside [our] research projects and focused the majority of our efforts to support the diagnostic team and the clinic," Cortese says.
Now, Cortese is spending...
In virology you have to be nimble. If the universe sends you a pandemic, you better worry on that virus rather than one that you think you need to worry about.

—Chris Miller, University of California, Davis
The German team is one of numerous groups around the world that have diverted their skills and resources to help stop the pandemic. While the majority of research at academic institutions grinds to a halt, some labs have kept their lights on to conduct coronavirus-related experiments. These scientists have been working long hours to rapidly apply for grants, design experiments, coordinate virtual teams, and, in some cases, prepare to work in containment laboratories on locked-down campuses. Funding agencies around the world have pledged millions to help more investigators join the global effort.
Rapid action to launch SARS-CoV-2 studies
In early March, Chris Miller, a virologist at the California National Primate Research Center at the University of California, Davis (UCD), received a call for help from someone at UCD's clinical laboratory. "They were having trouble getting the diagnostic tests to work and wanted us to grow the virus and provide the RNA so they could use it for assay development and positive controls," Miller tells The Scientist. "As soon as he said that, it became clear that we had to move into working with the virus as quickly as possible."
Within the span of a week, Miller and his team filed for and received regulatory approval, began training staff to work in a BSL-3 lab, obtained a patient sample, and isolated the virus. At the same time, the group was winding down its research projects on influenza and HIV using monkeys, to comply with campus shutdowns, prevent the spread of COVID-19 to monkeys, and limit the use of personal protective equipment such as masks, which is in short supply.
Right now, the group is focused on cell culture work, but Miller says the team is hoping to receive funding from the National Institutes of Health to develop a monkey model of COVID-19 in order to test interventions for the disease. "There's this window when we can actually make an impact on patient care and the severity of the pandemic," he adds. "We think we can make a difference, so we're definitely pushing really hard."
Nearby, at the Gladstone Institute of Virology and Immunology in San Francisco, virologist Melanie Ott has also been working with her colleagues to hastily get SARS-CoV-2 research up and running. Their current efforts involve adapting a CRISPR-based diagnostic assay to detect the coronavirus in patient samples and using previously established lung organoids to test the both the effects of the virus on the tissue and potential drugs to stop them. In just a few weeks, Ott and her colleagues have set up a BSL-3 lab at Gladstone, and their experiments are now beginning to come online.
Funding agencies, too, are working at breakneck speeds. Joanne Lemieux, a structural biologist at the University of Alberta, recently received a grant from the Canadian Institutes of Health Research to examine whether a protease inhibitor her group had developed for the original SARS virus could be altered to treat SARS-CoV-2. "This was probably the fastest funding turnaround [on a grant application] that I've experienced in my research career," Lemieux says. "There was a seven-day deadline to get your team together, determine what aspect you wanted to study, and to write up the research grant."
Prioritizing coronavirus projects
Biomedical engineer Sam Sia and his team at Columbia University are working on rapid diagnostic tests to identify SARS-CoV-2 in patient samples and the antibodies left behind after an infection. His lab is in New York City, an epicenter of the pandemic. In addition to taking all the recommended precautions such as social distancing and hand-washing, members of the group are encouraged to stay at home whenever possible. "There is some consternation about going out and about here, which is why I think what we're doing is important," Sia says. "But there's nothing more important than the lab members' safety, and so people don't need to be in lab more than they really need to be."
Like Sia, investigators conducting coronavirus studies are trying to limit the number people who come into the lab, given that leaving home to go to work during a pandemic offers opportunities to help the virus spread. Luckily, most tasks—such as reading the literature, analyzing data, writing papers, and coordinating teams—can all be done virtually. "My lab essentially is at a diminished capacity, but we have sufficient personnel to carry out the research that we need to do," Lemieux says. "We really want to ensure that all lab members stay healthy."
Social distancing restrictions mean the number of SARS-CoV-2 questions that researchers can tackle in parallel is limited. "The basic research questions about the pathogen are interesting, for example, how the virus replicates with the cells," Cortese says. "At the moment we are more [focused] on the supporting diagnostics and the clinic . . . but of course, [those questions] should come later because we need a clear vision of how this pathogen works."
Campus lockdowns—and an urgent need to tackle the coronavirus—have meant some important non-coronavirus-related projects have been put on hold indefinitely. Miller's team, for example, pressed pause on a monkey study of an influenza vaccine. "I think flu is still the virus that's going to be the bigger problem in the history of the world," Miller says. "But in virology you have to be nimble. If the universe sends you a pandemic, you better worry on that virus rather than one that you think you need to worry about. You've just got to be able to move on."
Interested in reading more?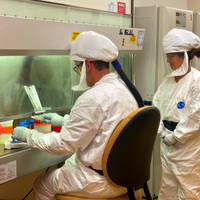 The Scientist ARCHIVES
Become a Member of
Receive full access to more than 35 years of archives, as well as TS Digest, digital editions of The Scientist, feature stories, and much more!