One of the functions of sleep may be to repair DNA damage that has built up in the brain during waking hours, according to a study published yesterday (March 5) in Nature Communications. By using time-lapse imaging to observe the brains of zebrafish, researchers in Israel found that chromosome dynamics associated with DNA repair increased in neurons during sleep, and that sleep deprivation prevented this repair from happening efficiently.
Study coauthor Lior Appelbaum of Bar-Ilan University notes in a statement that sleep is found across the animal kingdom and that this repair role might be one of the reasons "sleep has evolved and is so conserved."
To study what is going on in individual neurons during sleep, Appelbaum and colleagues genetically engineered zebrafish larvae to have fluorescent chromosomes in their neurons. They then used a high-resolution microscope to...
The researchers found that when the fish were awake, chromosomes were relatively static and accumulated double-strand breaks. But once the zebrafish went to sleep, the chromosomes became more dynamic, and the DNA damage began dissipating.
Further experiments showed that manipulating zebrafish sleep could influence the repair process. For example, keeping the fish awake by tapping on their tank promoted the accumulation of more double-strand breaks, while inducing sleep with a drug pumped through the tank allowed the cells to repair their DNA.
The findings suggest that DNA repair is less efficient during wakefulness, possibly because of heightened brain activity. "It's like potholes in the road," Appelbaum says in the press release. "Roads accumulate wear and tear, especially during daytime rush hours, and it is most convenient and efficient to fix them at night, when there is light traffic."
"It is clear from this study that chromosome dynamics during sleep has an essential role to play in repairing damaged DNA," Hong Kong University's Siu-Wai Choi tells The Guardian. Choi recently led a study that established a link between sleep deprivation and DNA damage in doctors, but she was not involved in the current work. "Though these results were obtained in an animal model, together with other studies conducted in humans, it does give us food for thought with regard to our lifestyle choices, shift working patterns and long-term health."
Interested in reading more?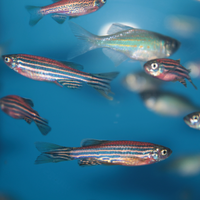 The Scientist ARCHIVES
Become a Member of
Receive full access to more than 35 years of archives, as well as TS Digest, digital editions of The Scientist, feature stories, and much more!