Meenhard Herlyn studied melanoma for 20 years before he ever met a single patient with the disease. He has published more than 380 papers on melanoma and other cancers, in which he discovered monoclonal antibodies to tumor cells that are still used to diagnose some types of cancer, characterized stages in melanoma's progression, and identified genes that play key roles in that progression.
Then, on a spring morning in 1998, Herlyn met Noreen O'Neill and her sister Kate in a conference room at the Wistar Institute in Philadelphia. Noreen had been diagnosed with melanoma three years earlier, and she and the scientist hit it off right away. "In the first fifteen minutes there was no question that they would be working together," Kate remembers. Herlyn admits that he was instantly taken with Noreen. "She was...
After making introductions, Herlyn dove into the basic biology behind melanoma and the intricate physiological impediments to curing or treating the disease. Noreen was not interested. "My sister didn't like that part," recalls Kate. "She said to Meenhard, 'Don't bother telling me about this.'"
"I always thought that [interacting with patients] would distract me from the science mission. I was wrong."
Noreen wanted to get to work raising money to fund research into the disease that was slowly killing her, and she'd contacted Herlyn to add scientific legitimacy to her effort. "When [Noreen] found out she had this disease, her first question was, 'Who do I find to raise some money with?'" recalls Kate. "She knew she didn't know anything about research, so she needed an expert that knew research."
Noreen was already an adept fundraiser. She had helped Ed Snider, owner of the Philadelphia 76ers and Flyers sports franchises, raise money to build the city's First Union Center (now called the Wachovia Center), plying her trade at charity balls and galas across the region. Herlyn apprised Noreen of the areas of study that might benefit most from a cash infusion, and Noreen set to work spreading the message to potential donors.
Almost two years later, the Foundation for Melanoma Research (FMR) was born. The first order of business was to throw a big fancy gala that raised $70,000 for the foundation. With this money, the foundation (at Herlyn's suggestion) funded the first International Melanoma Researchers Congress (IMRC) in Philadelphia in 2003. It was the first scientific meeting just for melanoma scientists. "We got 300 or 400 melanoma researchers together," Herlyn remembers. "It was the first and galvanizing point in bringing all this research together." The IMRC has grown into an international event (this year's meeting is in Japan).
"I always thought that [interacting with patients] would distract me from the science mission," Herlyn admits. "I was wrong. It's very positive. It's very stimulating to talk with melanoma patients, their families, and their friends."
Noreen died in July 2000. Today, Herlyn's lab contains almost 40 students, scientists, and postdocs, with a dizzying array of reagents filling shelves above crowded bench tops. But underneath the clutter lies a higher purpose. Herlyn tries to infuse his students and colleagues with the same drive that Noreen O'Neill helped spark in him. "You're not just helping a plate of cells anymore. You're helping someone who's walking and breathing and has a family," says John Lee, a postdoc in the lab. "At some level, everyone in this lab is a pseudophilanthropist."
Though he is still a basic researcher, Herlyn's scientific focus has shifted, thanks to Noreen and his continued contact with melanoma patients and their advocates. Herlyn says his lab has been awarded about $2.2 million in NIH SPORE grants, which encourage cross-disciplinary collaboration among clinicians, drug manufacturers, and basic researchers. Herlyn recently published a paper announcing the development of a kinase inhibitor that shows antimelanoma activity ( Proc Natl Acad Sci, 105:3041-6, 2008). "I was more of an experimental pathologist, and today I think I can also call myself an experimental therapist."
Interested in reading more?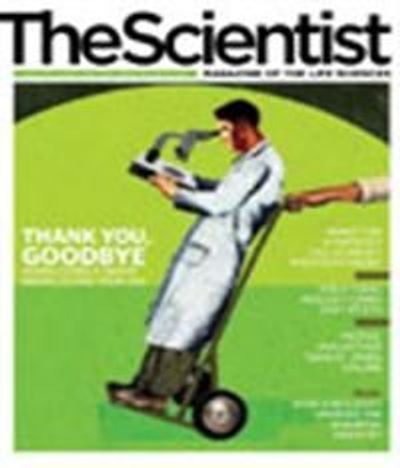 Become a Member of
Receive full access to digital editions of The Scientist, as well as TS Digest, feature stories, more than 35 years of archives, and much more!