Drew Purves had been a postdoc at Princeton University for almost five years when he saw a weird job advertisement in August 2006. He and his companions in Stephen Pacala's lab were the techies of the ecology world, building mathematical models of forest ecosystems. Weaned on a Commodore-64 computer and the BASIC programming language in the 1980s, Purves spent his PhD nurturing virtual Arabidopsis plants and encouraging them to battle for sunlight on his computer hard drive. So it was with much amusement that he and his colleagues passed around this advertisement calling for an ecologist at the office of Microsoft Research in Cambridge, England. As Purves remembers it, they remarked, "How weird is that?" Then it got even weirder: Purves took the job.
Microsoft is an unlikely host of life science research, but it's a productive one: Since arriving at the company,...
Purves joined about 20 biological researchers in the four-year old Computational Science group at Microsoft Research, part of 100 researchers across all fields at the Cambridge lab. The group, led by neuroscientist Stephen Emmott, an Oxford University professor, whose 20-year career includes a stint at AT&T Bell Laboratories and a directorship at NCR's advanced research lab, is designed for blue-sky thinking, some of which will ultimately boost corporate development. Microsoft holds a yearly "TechFest" in Seattle, Wash., where company representatives can learn what Purves and other researchers at Microsoft's five labs around the world are up to.
In Cambridge, staff scientists and postdoctoral researchers pursue basic research programs, including creating models of ancient ecological food webs or tracking the spread of invasive species. But Emmott is also an inspired futurist who spearheaded the "Towards 2020 Science" initiative to develop a roadmap for the future of computing in scientific research (see Nature, 440:383, 2006), and has a grander scheme in mind for his biologists. "We're looking at building a new generation of tools for modeling complex dynamic systems," he says. These technological tools will "open up the possibility of radically rethinking biological sciences."
Take the carbon cap and trade market, which has been adopted in Europe and is rapidly gaining acceptance around the world. Remarkably, the technological and scientific framework for calculating and monitoring carbon stores is still in its infancy. For instance, there is no rigorous system in place that lets brokers prove the worth of their carbon credits in an international market. Just as Moody's makes money ranking the credit-worthiness of corporations and government entities for investors, Microsoft could one day rank the validity of various carbon credits. "Environmental technologies are going to underpin the green revolution," says Purves, 31. "Most people think about alternative energy, but information science is also part of the solution. If cap and trade doesn't work, then alternative energy doesn't take off."
Purves says it's still far too early to know how Microsoft will make money from the science he's producing. No patents or products have come from the biology group, and company representatives say they do not measure research progress based on product development but on published papers—some 3,700 of which have come from Microsoft Research since 1991. The company's total R&D budget in the European Union is $600 million, but the company would not provide a breakdown of research spending.
On a day-to-day basis, Purves is extending the Arabidopsis work he began as a PhD student, scaling up competition between individual plants and other aspects of forest dynamics to a global scale. He recently found that the tree species dispersed by animals, rather than wind, were better able to persist in deforested regions (Science, 320:1502-4, 2008).
Purves has also been patching together a global database of millions of tree measurements from private and government forest inventory data that he wants to make available in a "coherent, user-friendly database." But don't even think about comparing Microsoft to its California-based rival: "We're not capitalizing on pre-existing science and packaging it up—the kind of thing that Google would do," Purves says. "What we are doing is making fundamental improvements to the science."
Interested in reading more?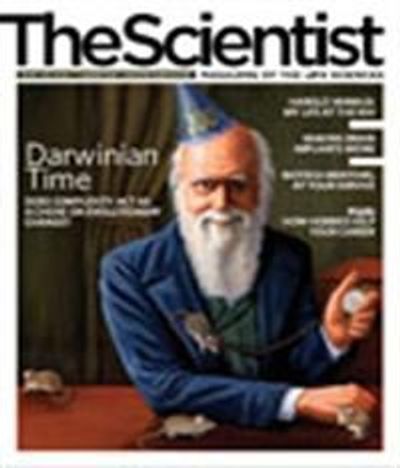 Become a Member of
Receive full access to digital editions of The Scientist, as well as TS Digest, feature stories, more than 35 years of archives, and much more!