This spring, the Space Shuttle Discovery carried some interesting cargo: Salmonella bacteria separated by a thin seal from their target host, C.elegans. The cargo came courtesy of SPACEHAB, a Texas-based biotech that hopes experiments aboard the International Space Station will bring them one step closer to proving that they can make money by bringing science into outer space.
Last year, SPACEHAB announced its plan to supplement its space craft supply business by adding a space biotech component. Space Florida, created by the Florida legislature to promote the economic development of Florida's aerospace industry, helped offset SPACEHAB's costs with a $300,000 investment, to go towards proving that microgravity can speed vaccine development, using Salmonella as the first target. Researchers recently reported seeing Salmonella virulence increase in microgravity, due to changes in gene expression, suggesting...
But SPACEHAB isn't just banking on Salmonella. "We have a broad portfolio - that extends beyond crystals and vaccines," says Jim Royston, president of SPACEHAB. Those two are simply "the low-hanging fruit," he says. "We focus on systems that can be automated as much as possible, that require minimal amounts of crew time." The next projects in the pipeline include experiments to develop better plants for biodiesel and using microgravity to design a high density nano-coating to protect exterior structure from extremely corrosive matter - such as moon regolith. It's an exciting new environment for biologists like Jeanne Becker of the National Space Biomedical Research Institute, who became the chief science officer of SPACEHAB's biotech subsidiary BioSpace Technologies. "By taking away gravity, you alter physical principles, you alter biological properties. Cells respond in amazingly different ways," says Becker. But will biotech in space really work? "I do think it's going to happen," says Becker.
It may be the first company willing to make such a risky bet, but Tom Pickens, CEO of SPACEHAB, says he think he can turn a profit. The company's ideas have "been vetted by scientists and by investors," he says, although he wouldn't reveal which investors. "They're interested," he says, but "I have to earn revenue first." Until the company has a product ready for the next level of development, "we're not looking for more investors," says Royston. "We're currently where we want to be with investment dollars."
With the International Space Station now designated a National Laboratory, private companies can use the space for commercial ventures. So far, the only space-biotech company Space Florida has invested in is SPACEHAB. "It's a proven company: They're publicly traded, they have a long track record, they have great people," says Deb Spicer, a spokesperson for Space Florida. "If I was in their shoes, I would be the only thing I'd trust," says Pickens. "We haven't had one mishap in 20 years." He's excited: "We want to send this stuff up, big time," says Pickens.
But that may be difficult, cautions Alan Walton, senior general partner at Oxford Biosciences. He says investors, including his own Oxford Biosciences, have lost their taste for high risk ventures. While Walton hasn't looked into SPACEHAB - which has traded for less than a dollar since February - he says that today investors are looking to make returns faster, rather than gamble on a long-shot deal that might prove to be a home run. "I love to think outside the box," says Walton, but as with other kinds of cutting edge technology, "I think that this is so out there, that it would not be commercially viable."
Interested in reading more?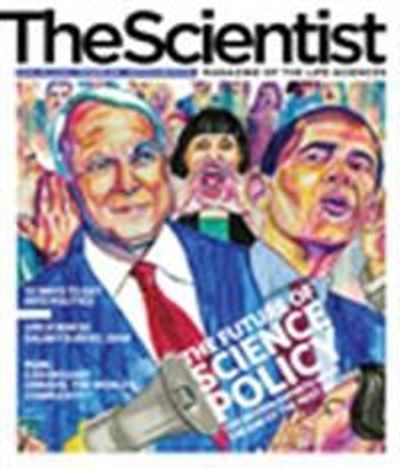 Become a Member of
Receive full access to digital editions of The Scientist, as well as TS Digest, feature stories, more than 35 years of archives, and much more!