Heartbreak came in three acts at the American Museum of Natural History in New York City this summer: animal, vegetable, and mineral. It was Identification Day and museum-goers lugged their scientific treasures triple-wrapped in newspaper, towels, and Hefty garbage bags and tucked inside rolling suitcases, duffels, Coleman coolers, and zippered pants pockets. Local experts waited to receive them with friendly smiles and the cruelties of taxonomy.
Dominick Russo strode in with a trove of fossils that he described as the femur of an extinct giraffe and a jawbone from a million-year-old horse, which he had excavated from a vacant lot in Hoboken, New Jersey. He had waited almost a year for the event and came prepared. For the benefit of the press and other interested parties, he brought along maps of the dig site and even an inkjet photograph of himself smiling alongside the clay-dusted jawbone. But Sophia Perdikaris, an...
Billed as an Antique Roadshow for natural history, the event took place under the ventral surface of the blue whale in the Milstein Hall of Ocean Life. Stephen Milne, who once evaluated Steuben Glass objects for the popular PBS program, brought a treasure to the event he long thought was petrified wood. "This is like being on the other side of the table," the former appraiser said upon learning it was just sandstone. Previous Identification Days have netted a dinosaur egg, a green beetle bracelet from the Amazon, and a 5,000-year-old stone spear point. Some collectors come year after year with the same sorry objects, hoping for a different curator or a kinder verdict.
This year, a 58-year-old special education teacher made a bee-line to Louis Sorkin at the invertebrate zoology booth. The teacher, who refused to share his name, had spent a rough night at a nearby hotel and proceeded to pull up his knit green shirt to reveal a constellation of several hundred swellings on his back. Sorkin nodded and said the bites were indeed the work of bedbugs, Cimex lectularius, but he expressed little sympathy for the man's complaints. The museum entomologist had brought in his own bedbug colony - originally collected from Fort Dix in 1971 - and for 10 minutes every half hour, Sorkin offered the bloodsuckers his left arm to "keep them active" for visitors watching the magnified bugs on a television screen.
It was also a big day for Andrew Roberts, a computer programmer for the pharmaceutical company Merck, who handed Njoki Gitahi, a geology collections manager, a quarter-sized brownish piece of something or other that he found on a sidewalk in Kalamazoo in the 1970s and kept tucked away with his other "weird heirlooms" for the last 30 years. "It was in a plastic bag in a cardboard box with some old magazines," he said.
Gitahi brushed back her long black braids, pulled out her loupe, and brought the object under the lamplight to assess its luster. Then, she applied a drop of hydrochloric acid, looking for the tell-tale fizz that would indicate the presence of calcium carbonate, a shell-derived mineral. No fizz. Finally, she scratched the object with a steel nail to see where it fell on the Mohs hardness scale that stretches from talc (1) to diamond (10). "It's not actually a rock," she concluded, positing that it was a piece of asphalt. "I wish I could tell you more."
Roberts stuffed the mystery object back in his pocket. "I don't have it on display or anything," he said before shuffling away.
Meanwhile, Russo, the man with the discredited giraffe bones, was recovering at a bench by the museum's walrus display. "I'm not angry, I'm just disappointed," he said. "If I knew it was going to be like this I would have gone to Washington, DC, to the Smithsonian."
Interested in reading more?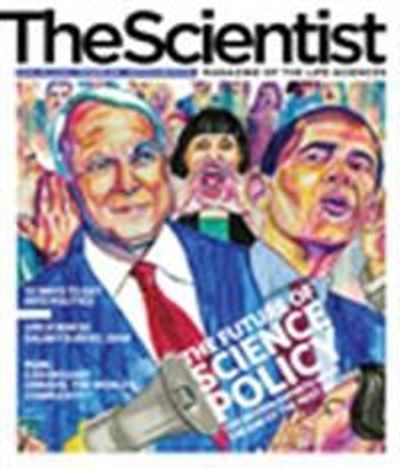 Become a Member of
Receive full access to digital editions of The Scientist, as well as TS Digest, feature stories, more than 35 years of archives, and much more!