Wearing a mining helmet, Greg Turner scales a wobbly 30 foot ladder and squeezes his 6' 2" frame into the window of an abandoned white clapboard church. On a June afternoon, the temperature inside the attic hovers in the 90's (°F). The spongy floor, caked in layers of guano, reeks. The roar of cicadas competes with the tell-tale chitter of thousands of bats.
In the darkness, Turner gently leans his head toward a marooned bat pup plucked from a splintering beam. He puckers and blows a huff of air over the flea-ridden and furry newborn, trying to remove the parasites that coat its body. "At least that might give him more of a fighting chance," says Turner, of the two-inch mammal that resembles a sinister fox-faced mouse with wings - which, despite the...
The sweltering eaves of the church, located in the outskirts of Altoona, are home to Pennsylvania's second largest known maternity colony for little brown bats (Myotis lucifugus) and a handful of endangered Indiana bats. It offers researchers an ideal site to study a bat colony before what some predict is the inevitable arrival of White Nose Syndrome, the mysterious disease decimating bat populations throughout the northeastern US states. "We're talking about possibly tens of thousands of bats dying last winter and even into this summer. Why now and why all of a sudden?," says Susi von Oettingen, endangered species biologist for the US Fish and Wildlife Service.
The cause of WNS is still unknown. The disease is defined by its symptoms, which include a white fungus around the muzzle of hibernating bats, activity during daylight, problems flying, loss of body fat, and death.
Turner, an endangered mammal biologist, is at the start of a two-year study on White Nose Syndrome for the Pennsylvania Game Commission and Natural Resources Defense Council. Early signs of the disease have aroused suspicions in other parts of Pennsylvania. "It's knocking on our doorstep," says Turner. "We know that for sure." So far, the state likely remains WNS-free, giving researchers an important window into a still-mysterious disease. "If the disease spreads to [unaffected regions] next year, we will be able to track what happens when WNS first enters an area and gain a better understanding of how the disease progresses within individual animals and within the populations," says Elizabeth Buckles, an assistant professor and bat researcher at Cornell University.
Turner has teamed up with Bucknell University professor DeAnn Reeder, a comparative ecophysiologist who studies the relationships between animal physiology and environmental conditions. This winter, the researchers will study hibernation and immune competence by placing small devices on the backs of bats to track temperatures during hibernation and arousal.
All mammal hibernators, Reeder explains in an E-mail, add fat for the winter, but periodically experience an increase in normal body temperatures during hibernation, using up stored energy. "We think that the arousal patterns of WNS bats may be affected - causing them to lose too much body fat," which may weaken their immunity and make them vulnerable to an infection. If too many die off, everyone could start to notice, she says. "Each bat can eat between 40% and 100% of their body weight in food each night - and that there are surely millions of bats in the [northeastern US] - this will mean lots more insects" such as mayflies, mosquitoes, and moths.
Back in the clapboard church, the maternity colony's numbers and health fortunately look normal. The small number of carcasses scattered across the guano-smeared floor represents a normal mortality rate for a healthy colony of this magnitude. Turner gingerly extends the wings of a glossy little brown adult bat. He examines the thin, leathery span for any scabs or spots. Satisfied of its health, Turner releases it. The creature flutters and vanishes into the thick air.
Interested in reading more?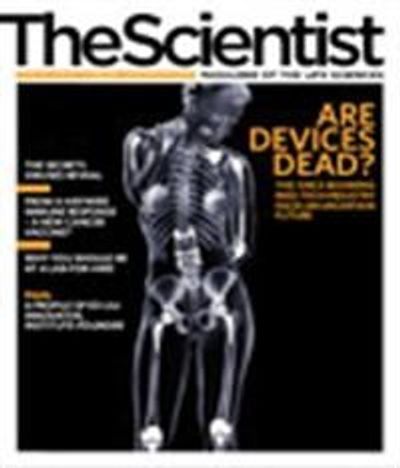 Become a Member of
Receive full access to digital editions of The Scientist, as well as TS Digest, feature stories, more than 35 years of archives, and much more!