Colin Purrington hates most poster presentations, although he doesn't want to. About 10 years ago, Purrington, an evolutionary biologist at Swarthmore College in Pennsylvania, created a Web site offering tips for how to make more successful posters. The tips run from the practical (using a Photoshop plug-in to test how a poster will look to colleagues with color-vision deficiencies) to the innovative (recording a message or audio sample onto one of the recordable cards available at drug stores and then affixing the card onto a poster). He also started a group on the photo-sharing site Flickr called "Pimp My Poster," where scientists can submit their posters and get instant feedback.
On a rainy evening last May, a group of about 25...
One of Purrington's biggest problems with PowerPoint is that, as presentation software, it's not conducive to printing. Printing can be expensive - usually around $50 per poster - which Purrington says makes researchers fearful of trying out new ideas that may lead to mistakes. He suggests incorporating high-tech elements, such as audio and video clips (e.g., bird calls), or software-generated 3-D images for people working with structural chemistry, complete with 3-D glasses for each viewer. Attach an iPod with Velcro, and you have another source of audio and video. And for the Luddites out there, Purrington proposes low-tech options, such as props like an odor bag for a poster about olfaction, or wearing clothes that color coordinate with one's poster (apparently this has been studied, CMAJ 169:1291, 2003).
Purrington also has ideas on how to get the people viewing the posters more engaged. For example, he wants to turn the notoriously distracting wine and cheese table into a productive "mini-poster" session. Purrington had the audience try out this concept at the end of his talk at Columbia, when he passed out nametags and instructed everyone to draw a picture representing their scientific specialization rather than filling in their names. That way, he says, the conversation revolves around people's poster topics, not lab gossip. The experiment worked like a charm. Everyone spent the refreshment period trying to decipher each other's nametags.
Chantale Damas, who attended the talk, was impressed. She works with graduate students at the City University of New York and came to the talk to get ideas. "Normally you think of posters as very static, but his suggestions could help make them more dynamic." Damas added that she is considering using the "mini-poster" idea herself to stimulate conversation at student events.
Purrington always liked working on posters, but became passionate about them when he started using them as a teaching tool at Swarthmore College. After 11 years of helping students put posters together, Purrington couldn't help but train his critical eye on the posters he saw at meetings. Eventually, he developed a reputation as a poster expert, and researchers started asking him what they could do to attract more people to their posters.
In a few years, Purrington predicts that poster sessions will be all digital, with posters displayed on large, interactive monitors, much like the ones many museum curators have started using. Until then, Purrington hopes researchers will try a little harder to use the technology available. "I think there's a poster culture where it has become OK to slap something together," he says. "I think all of us love our research, but sometimes it's hard to communicate that."
Interested in reading more?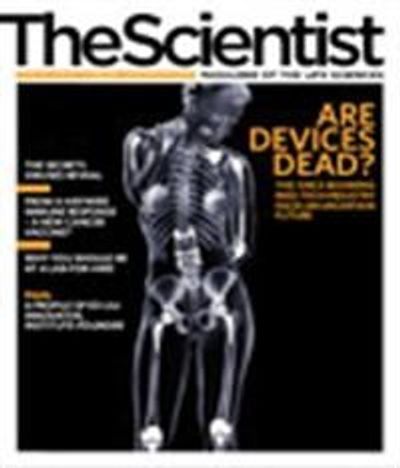 Become a Member of
Receive full access to digital editions of The Scientist, as well as TS Digest, feature stories, more than 35 years of archives, and much more!