Last spring, Sue Saunders was writing a grant proposal for the elementary school where she runs an after-school literacy program, when a conversation with her daughter Laura, a postdoc studying cancer biology at the J. David Gladstone Institutes, gave her an idea.
Every month, Laura and a few fellow postdocs had been visiting Junipero Serra Elementary School in Bernal Heights, a low-income San Francisco neighborhood, to read aloud to second graders. If a few of these researchers exchanged letters with her mainly bilingual students, Sue and Laura agreed, then Sue might increase her chances of getting the grant money by broadening the after-school offerings.
Laura approached her colleagues personally, through E-mails, and by distributing fliers. She hardly imagined that 35 postdocs, graduate students, and technicians would sign on, and that nearly 40 second through fifth graders would scramble for the chance to...
In October, Sue explained to her students that they would be writing five-paragraph letters to their pen pals about themselves and what they were learning in science. But for the kids, the fun was in the details.
"It's cool," says fifth grader David Lee, "because you get to talk with a scientist and see what they do ... mostly about the human body because he works on that." In one of his letters, he wonders about his pen pal Sebastian Schroeder's favorite things, including his favorite body part. (It's the immune system, no surprise for someone working on HIV, and Schroeder promptly explained what it does.)
Third grader Jasmine Ramirez wants to know "how many cells we have in our body," and she's hoping her pen pal, Laura, can help her find out. When the kids have ventured outside of the life sciences into questions about planets or Hawaiian volcanoes, for example, the molecular biologists often turn to the Internet to shore up their responses.
Fifth grader Karen Chen likes to share stories from her past ("The first time I went ice skating, I had a bruise from falling but it was worth it!"); ask her pen pal questions ("When's your birthday? You don't have to tell me if you don't want to."); and ask him for advice ("I might go to the movies to see something. I don't know what to see. There are so many movies.").
The kids collect their correspondence on the playground, and copies of the letters are prominently displayed on a classroom bulletin board. In the course of the letter writing, they have also exchanged photos, drawings, handmade gifts, and valentines.
By the time the kids invited their pen pals to visit Junipero Serra in December, four letters had already passed between them. That afternoon, pen pals teamed up to play icebreaker games, take a photo together, decorate frames to put those photos in, tour the school, read a book about germs, look at cheek cells and burlap under a microscope, and make their own nutritious snack mix. And that was in an hour and a half.
The project has also produced strong mentor relationships, says Laura. When fifth grader Sarah Tan gets overwhelmed with math and science, subjects she excels in, her pen pal Kathy Ivey tells her about her own struggles in the lab. Ivey gets something out of it as well: "To see kids come in and get excited about everything that I do reminds me of what I liked about it initially."
At the end of March, it was the kids' turn to visit Gladstone, where the hosts dressed them up in lab coats and gloves and let them experience the life of a scientist, sort of. In addition to precipitating DNA, the kids assembled "blood" out of red cinnamon hearts, white beans, candy sprinkles, and oil. The incubator room was a particular hot spot; Sarah was most impressed by "this machine that moves by itself and goes back and forth because of the temperature." David enjoyed "this dry ice thing, when you put water on it and this smoke stuff comes out."
The kids have invited the scientists back for an evening affair at the end of May, complete with dinner, an activity in the park, and the chance to extract DNA from fruit.
"At this point kids still think it would be really, really hard to learn as much as you need to be a scientist," says Sue. Still, Sarah "wants to make cures for AIDS and stuff." Though "we both like science," David says of himself and his pen pal, he's "not so sure" yet if he wants to make it his career. He has some time to decide.
Interested in reading more?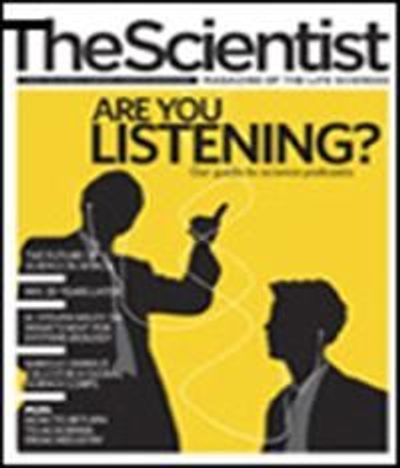 Become a Member of
Receive full access to digital editions of The Scientist, as well as TS Digest, feature stories, more than 35 years of archives, and much more!