On the third floor of a molecular biology lab in Wake Forest University Baptist Medical Center, immunologist Dama Laxminarayana checks his table-top PCR machine, which is humming with samples. On this particular afternoon in his one-room lab, he will load the samples onto a waiting agarose gel. Laxminarayana is researching how certain molecules change in response to RNA editing - a process in which enzymes alter the nucleotide bases of an RNA molecule - and how this editing might be involved in the pathogenesis of lupus.
For about 15 years, Laxminarayana has looked for protein signaling cascades involved in the pathogenesis of lupus. A few years into his work, he found that an RNA editing enzyme was associated with lupus. Since then he has been comparing DNA to RNA sequences...
About 20 different research groups study mammalian RNA editing. "RNA editing is an extremely interesting topic for research related to lupus because RNA is increasingly recognized as an important trigger of signaling pathways," says Mary Crow from the Hospital for Special Surgery in New York City, who has shown that the interferon pathway is another mediator in lupus pathogenesis.
RNA editing might explain a strange finding, Laxminarayana thought.
"We used to read [DNA from lupus patients] by hand a few years ago," Laxminarayana says on a hot summer afternoon, pointing to rows of nameless paper readouts of sequences he keeps in the lab's one filing cabinet. Then, large tears start streaming down his face.
Laxminarayana's eyes water excessively. About 25 years ago, his doctor told him the cause of the watering was unclear, but he might eventually need surgery to fix it. "It is not hurting nor affecting my vision, so I preferred not to undergo surgery," he says simply. The tears tend to come when he talks, but Laxminarayana doesn't do a whole lot of talking.
Ten years ago, Laxminarayana was looking for mutations in the DNA of lupus patients, when one died from a very aggressive form of the disease. He ran the patient's cDNAs through a gel and saw that her band had shifted compared with the other patients'. After sequencing, he found that the mRNA encoding her lupus T cells had multiple mutations. But, to his surprise, there were no mutations on the genes themselves (Int Immunol, 12:1521-9, 2000). RNA editing research in mammals was gaining ground back then, and he remembers thinking that the mechanism might be responsible for the strange finding.
It took him about a decade to uncover the enzymes that might be involved in the editing process and their possible substrates. In 2002, Laxminarayana found that levels of an enzyme with known involvement in RNA editing, ADAR1, was elevated in patients with lupus (Lancet, 360:842-9, 2002).
Back in his office, Laxminarayana sips a coffee and stares at a poster of protein signaling pathways relevant to his work that hangs by his desk. "Life is complicated," he says. In 2002, his former postdoctoral advisor and then-collaborator in the RNA editing project, Gary Kammer, was dismissed from Wake Forest for falsifying data in a grant application. Laxminarayana says Kammer's departure did not affect his own work or funding, since Laxminarayana obtained an independent R01 grant in 1999.
Stefan Maas, a biologist from Lehigh University and co-author on the recent Immunology paper, writes in an E-mail that Laxminarayana "has now provided intriguing insights on" lupus, demonstrating that an overactive RNA editing enzyme may be an important factor in the etiology of lupus. The work may even extend to other diseases, Maas adds.
Now, Laxminarayana plans to focus on phosphodiesterase pathways and using small molecules to inhibit them. "Phosphodiesterase is very important in signaling. It has a lot of downstream cascades," he says. "We are very lucky to get that one substrate."
Interested in reading more?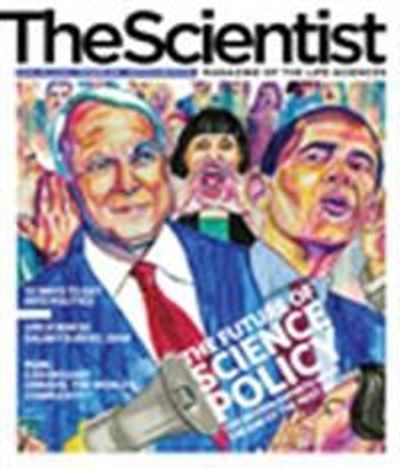 Become a Member of
Receive full access to digital editions of The Scientist, as well as TS Digest, feature stories, more than 35 years of archives, and much more!