About 16 years ago, Ralph Harvey, an anesthesiology professor at the University of Tennessee's College of Veterinary Medicine, walked into an examination room where a small, white poodle sat atop an examination table. He noticed a high-pitched squeal resembling the sound that a capacitor in a camera flash makes when it's first turned on. Harvey traced it to the dog's ears. "It was truly phenomenal. I could use my stethoscope and listen to it quite clearly." The dog's ears were singing at 45.5 decibels (which is somewhere between a whisper and normal conversation) and around 9,500 Hz (J Am Vet Med Assoc, 198:1017-8, 1991).
The phenomenon appears...
Cochlear amplification, which is thought to work by movements of hair cells in the inner ear, ramps up the volume of quiet sounds by as much as 100-fold. Louder sounds are amplified less. Spontaneous emissions arise when the normal amplification process goes awry: The hair cells in the ear, which transduce sound to the brain, work in reverse and talk back. Problems with amplification may also underlie age-related hearing loss, Hudspeth adds.
The specific cells responsible for cochlear amplification remain a matter of debate (to see how the cells work, see p. 34). Mammalian ears have two types of hair cells, outer and inner. Scientists agree that the outer hair cells amplify sound signals, but some argue that those are not the only ones doing the job.
Inner hair cells are responsible for transmitting the sound signal to the auditory nerve. Decades ago, Peter Dallos at Northwestern University found that destroying the outer hair cells wipes out the "sensitizing effect" that outer hair cells have on the signal in inner hair cells (J Neurophys, 41:365-83, 1978). "So here we are, we have two populations of hair cells: Inner hair cells talk to the brain; outer hair cells amplify signals the inner hair cells receive. The question is, how do they do it?"
Nearly two decades later, Dallos found a protein, which he termed prestin, that is expressed only in outer hair cells, and that shrinks and elongates the cell based on its membrane potential (Nature, 405:149-55, 2000). This movement is thought to amplify the vibrational cues from sound, and subsequent experiments with knockout mice confirm that prestin is involved in amplification. "Prestin clearly works," says Robert Fettiplace at Cambridge University.
There's a catch, however. Cochlear amplification also occurs in frogs, but frogs' hair cells don't express the specialized form of prestin that mammals do. "Not only do they not have prestin," says Dallos, "they do not have outer hair cells." Something else must be facilitating the amplification. Hudspeth hypothesizes that, in frogs, the inner hair cells control amplification. Indeed, Hudspeth found that if he nudged the stereocilia in inner hair cells a certain amount, they would move more than expected (Proc Nat Acad Sci, 96:14306-11, 1999). "We could measure that the hair bundle was putting out more work than was put into it." This movement may underlie amplification in mammals, too, Hudspeth says.
Dallos isn't convinced that the "active bundle" process is occurring in mammalian amplification, at least not as the principle amplifier, and he is currently testing the hypothesis with mutant mice. Hudspeth expects that the "two processes are going to turn out to work cooperatively, but no one knows how."
Interested in reading more?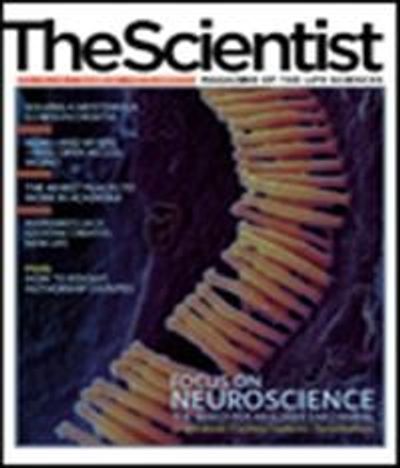 Become a Member of
Receive full access to digital editions of The Scientist, as well as TS Digest, feature stories, more than 35 years of archives, and much more!