Alexandra (Allie) Sourakov has no memory of her first research forays. Just 3 years old, she would head out into the field to collect swallowtail caterpillars for her father's research at the California Academy of Sciences. Trailed by her family, including her mom, also a research biologist, and younger sister (in a backpack carried by her dad), Allie would tromp through the fields looking for signs of caterpillars, gathering up as many as she could.
"She grew up around research projects that we were doing, around fieldwork," says her father, Andrei Sourakov, himself an insect enthusiast since the age of 6 and now a lepidopterist at the University of Florida (UF). "I remember her strong determination about walking on her own and being on the same level as adults."
Though Allie herself can't recall these particular collecting trips, she does remember her childhood as being intimately entangled with nature...
The work not only took first place at the state science fair, it also got Allie her first-ever scientific publication—but only after a somewhat "harsh" rejection, she recalls. "Now that I look back, I understand a lot of the criticisms they made," she says. "They weren't being overly gentle about it, but I think it really helped."
Blue morpho
Credit: Allie Sourakov
Indeed, with the reviewers' criticisms in mind, she set to work in ninth grade doing more behavioral experiments in the Butterfly Rainforest. She also analyzed the reactions of various butterfly body parts to mango volatiles, working in the US Department of Agriculture lab of microbiologist Adrian Duehl, who had been a judge at the previous year's science fair. Upon resubmission, including further behavioral experiments and the volatile work, the paper was accepted for publication in Psyche(2012: 378050, 2012).
"Thanks to that first submission of the paper, I think she improved greatly the second year of her science project," Andrei Sourakov says. The rejection "was very useful for her . . . to understand the difference between just a science-fair type of study and actual scientific process, which includes peer review and publishing."
Allie, now 16 years old and entering her junior year of high school, has moved on from butterflies. She is examining how diet affects the life span of the roundworm C. elegans in molecular physiologist Keith Choe's lab at UF. "I'm interested in diet in general for humans, especially with the increase in sugar consumption and the addition of high-fructose corn syrup to many foods," Allie says. "I think it's good to make people aware of the effects of what they eat."
So she's raising worms on agar plates dosed with either high or low concentrations of glucose or fructose, and finding that while both sugars affect longevity at the higher concentration, only fructose shows an effect at the lower concentration.
"I still scratch my head in amazement that she is as interested in science as she is at this age," says Choe, noting Allie's continued endeavors using ATP assays and fluorescent worms to try to understand the mechanism of this effect. "She's by far at the top of the maturity and motivation level compared to any of the undergraduate students that we have, even compared to some of our graduate students. . . . If she continues [this project], and is able to reproduce some of these results, we fully expect that it will be publishable at some point."
And that's exactly what Allie plans to do. She's already presented some of her results at the Intel International Science and Engineering Fair in Pittsburgh this past May, earning third place (having already taken first at the regional fair and second at the state level), and plans to continue her work in Choe's lab over the summer. "Research is something [where] there's never a straight answer," Allie says. "You can always go deeper and further. I think I'll never get tired of it."
Interested in reading more?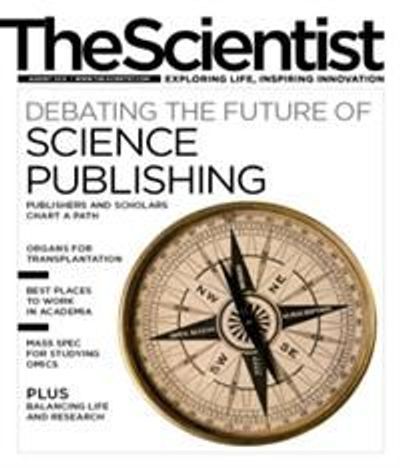 Become a Member of
Receive full access to digital editions of The Scientist, as well as TS Digest, feature stories, more than 35 years of archives, and much more!