COMING?: Stuart Meloy's 15-year-old orgasm device is still awaiting market penetration.© CHRISTOPHER BERNARD
Viagra didn't start out as a treatment for erectile dysfunction; it was originally developed to treat hypertension. In a similar twist of medical fate, Stuart Meloy, an anesthesiologist and pain management specialist now at the Advanced Interventional Pain Management clinic in Winston-Salem, North Carolina, stumbled on an unintended solution for female orgasmic disorder. Although he had designed an implantable device to alleviate back pain, when testing the equipment, he found that it helped some female patients achieve climax. That was 15 years ago, and he's been trying to get his accidental orgasm machine to market ever since.
To help manage back pain, Meloy often implants electrodes in his patients' spinal canals to electrically stimulate nerves and prevent pain signals from getting through. The patients have to stay awake for the procedure. "We have a general...
An estimated 12 to 43 percent of women have some kind of sexual dysfunction. "[It's] a condition that's unbelievably pervasive and common," says Jeffrey Albaugh, director of sexual health at the NorthShore University HealthSystem, which is affiliated with the University of Chicago Pritzker School of Medicine. "A lot of women are suffering in silence."
Meloy applied for a patent, which was approved in 2001. He began approaching medical device companies about clinical testing and large-scale production, but his efforts have failed to bear fruit. "I have been surprised that I haven't been able to get someone to bite on that," he says. But the road to approval by the Food and Drug Administration (FDA) is an arduous one at best, even for those with deep pockets.
There are two parts to the device, the implanted electrodes and an external generator, which can also act as an on-off switch. The generator itself costs about $23,000 to $25,000. "That's the problem I haven't been able to overcome," says Meloy. "I haven't been able to invest enough money to make it smaller and cheaper," which he says is a critical step for widespread use. Meloy told New Scientist earlier this year that he likely needs about $6 million to bring the device to market, in both development and clinical trial costs.
In 2006, he published the results of an early-stage clinical trial funded in part by the private firm Lifestim, Inc., with 11 women (Neuromodulation, 9:34-40). Of those who had secondary anorgasmia—defined as having experienced at least one orgasm in their lives, but currently unable to climax—more than 80 percent were able to regain orgasmic function. Interestingly, for women with primary anorgasmia—those who had never orgasmed in their lives—the device didn't seem to do much.
Although a half dozen treatments for male sexual dysfunction exist, there are none for women. A few drugs designed specifically for women are making their way through the labyrinthine approval process, but none have yet entered the market. (See "That Loving Feeling," page 63.) Albaugh says hormone therapy drugs are occasionally prescribed off-label for serious cases of female sexual dysfunction, especially for postmenopausal women. He also notes that men's sexual dysfunction drugs and devices have leaped the largest hurdle, which is to get the first drug approved. Later drugs merely need to show they are as safe and at least as effective. Any drug or device to treat female sexual dysfunction that its creators hope to bring to market would be the first of its kind and, as such, must go through a stringent series of trials proving its safety and effectiveness.
It's a condition that's unbelievably pervasive and common. A lot of women are suffering in silence.—­Jef­frey Albaugh,
NorthShore University HealthSystem
Even if devices like Meloy's make it through FDA approval, insurance providers have to be willing to pay for them, and many won't. "It's a long, complicated process to get it paid by the government and other third-party payers," says Tim Deer, an anesthesiologist and president-elect of the International Neuromodulation Society who is not involved in Meloy's work, but has discussed it with him. Many insurance companies view the disorder as a psychosexual one and may cover talk therapy, but won't cover more expensive devices, says Albaugh. "We work with insurance companies, and we spend an enormous amount of time getting coverage for things," he says.
Meloy has applied for a grant from the National Institutes of Health (NIH) for the next phase of clinical trials. If the NIH isn't willing to fund trials of the device, he may turn to crowdfunding sources like Kickstarter to get at least some of the money he needs. In the meantime, he continues to run his pain-management clinic, and patients who have been able to afford the device to treat their orgasmic dysfunction have continued to trickle in. He's implanted it in about 30 women who have been willing to try the experimental device. He says he'll know in about six months whether the NIH will approve his grant.
Interested in reading more?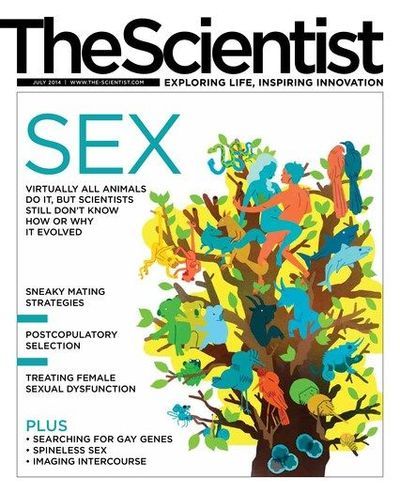 Become a Member of
Receive full access to digital editions of The Scientist, as well as TS Digest, feature stories, more than 35 years of archives, and much more!