Lendemer collecting specimens in an Araucaria forest in the high Andes of central Chile.JUAN LARRAIN, UNIVERSIDAD DE CONCEPTION, CONCEPTION, CHILE
One October morning in 2009, James Lendemer left New York City early to avoid traffic and take a leisurely drive to the Western Pennsylvania Conservancy, a nonprofit environmental organization headquartered in Pittsburgh. He had a loose plan about how to break up his long trip through the Keystone State. About halfway to Pittsburgh, the now twenty-six-year old graduate student at the City University of New York and research fellow at the New York Botanical Garden pulled his car off the highway and into Bald Eagle State Forest in Union County to search the area for lichens, his favorite organism and his thesis topic. Bushwhacking around the woods, Lendemer spied something out of the corner of his eye: a series of tiny cups clinging to a mossy boulder. It...
Lendemer has already discovered more than a dozen new species of lichen—fungi existing in symbiotic partnership with algae or cyanobacteria, living as sandpapery crusts or leathery protrusions on rocks and tree bark.
In 1998, when he was thirteen, Lendemer walked into the office of Ernie Schuyler, a botanist and rare plant expert at Philadelphia's Academy of Natural Sciences, asking "to do something in the research area behind the scenes," he recalls. Schuyler sent the precocious teen hither and thither to assist researchers with their projects. Two years later, the fifteen-year-old Lendemer had published his first scientific paper—an update and revision of species in the Academy's fossil plant collection—and Schuyler recognized the young man's potential. "James is a person with remarkable focus," he says. "Once he gets onto something, he's unbelievable."
The two, separated in age by more than 4 decades, began to study and work together in the Academy's collections after the school day ended and on weekends, when Schuyler would tutor the budding biologist in botany in the field. Once, on a Philadelphia Botanical Club trip to look at plants growing in vernal pools, Lendemer excitedly pointed to the ground beneath Schuyler's boot. Bending down to see what the fuss was about, and straining to get his eyes as close as possible to the ground, Schuyler made out some tiny specks. "I could see little black apothecia [fungal fruiting bodies] scattered in the sand," he says. "Is that all?" Schuyler asked Lendemer. That "all" was certainly something: the high schooler had just discovered his first new species of lichen.
Vezdaea schuyleriana
JAMES LENDEMER, NEW YORK BOTANICAL GARDEN
By the time he found himself in Bald Eagle State Park on that autumn day in 2009, Lendemer certainly knew enough to recognize a rare lichen when he saw one. Wandering the park with a keen and attentive eye, he espied some pale, stalked spots emerging from a boulder-bound clump of dead moss—something "out of the ordinary." Peeling it back from the boulder's surface, Lendemer bagged the specimen to take back to the lab, and, when he finally found the time, keyed out the lichen to its genus, Vezdaea—a "very poorly collected group." But his specimen was distinct from the other twelve species noted in the literature.
After confirming its novelty with other lichenologists, all Lendemer had left to do was pick a name for his new species of lichen. Vezdaea lichens colonize disturbed areas, live briefly, and are quickly displaced by other species. Additionally, a Vezdaea is small, and its populations ebb and flow with the seasons, so that "you have to be there at the right time to find it," Lendemer adds. How better to honor his mentor, a lover of rare species, than to name this rarest of all finds after him?
An official description of the species, Vezdaea schuyleriana, which has apothecia that are white when wet and brown when dry, was published in the Academy's journal Notulae Naturae in March, and Schuyler couldn't be more pleased. "I like this thing, this little, obscure, barely visible lichen" that his protégé had found in a remote part of Pennsylvania, he says. "I feel like this is the perfect organism to name for me."
Lendemer says he was happy to find a suitable way to express his admiration for his mentor. "It's this humble thing that is here, it's ephemeral like we all are," says Lendemer. "This is the one thing that I could do that would honor [Schuyler]."
Interested in reading more?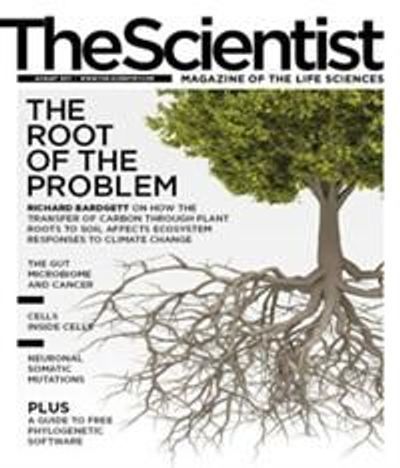 Become a Member of
Receive full access to digital editions of The Scientist, as well as TS Digest, feature stories, more than 35 years of archives, and much more!