A SURVIVOR'S STORY: Lauren Bendesky credits persistent positivity with helping her to defeat neuroblastoma while excelling in school and striving to reach her career goals. COURTESY OF LAUREN BENDESKY
A cancer diagnosis often claims more than a pound of flesh, damaging many patients' energy, motivation, and sense of hope along with their bodies. But not if that patient is Lauren Bendesky. In May 2012, when she was 14 years old, doctors in Bendesky's home state of Florida removed a fifteen-and-a-half-pound tumor from her abdomen. Their diagnosis: Stage 4 neuroblastoma, a cancer that usually attacks infants or toddlers and can vary from a death sentence to a disease treatable with several modern therapies.
"There was a week or so—not that I was really depressed or not OK with what was going on—that I kind of questioned why I had to go through this," Bendesky, now 18 years old, told The Scientist....
COURTESY OF LAUREN BENDESKYBendesky completed school lessons for her sophomore year of high school in bed while receiving chemotherapy. After a stem cell transplant, radiation, immunotherapy, and several more rounds of chemo, she found her cancer in remission by September 2012—and her calling in oncology research.
In 2013, as she finished out her front-line treatment, Bendesky signed on to become a St. Baldrick's Foundation Ambassador, and participated in the organization's fund-raisers and other events while maintaining a Facebook page chronicling her treatment. "Lauren always made herself available for any opportunity we had," says Jane Hoppen, director of family relations at St. Baldrick's, which provides funding to several researchers studying childhood cancers. "If we asked her, she said yes."
Bendesky was briefly profiled in the organization's 2013 annual report, which went out to supporters, donors, and the cancer researchers it funds. One of those recipients was Dean Lee, who studies immune and cell therapies at MD Anderson Cancer Center in Houston, Texas. He noticed that Bendesky's profile mentioned she planned to become a pediatric oncologist and to "devote her career both to the treatment of kids with cancer and to research to find cures."
Lee recruited the 16-year-old Bendesky to do a 2014 summer internship in his lab as an opportunity to both promote the mission of St. Baldrick's and to cement the young patient's ambitious career aspirations.
Although Lee was accustomed to having high-school-age overachievers in his summer lab program, Bendesky quickly distinguished herself. "Lauren really proved herself in both her knowledge base to begin with—her ability to comprehend pretty advanced biology that most high school students wouldn't be exposed to—and, when it came to the lab and actually using her hands, being really very meticulous in what she did: great note taking, careful procedures," Lee recalls.
About half way into her five-week stint in Lee's lab, Bendesky started working on research into natural killer (NK) cells, immune lymphocytes that can bind to some tumor and virus-infected cells, and how their function differed between healthy people and cancer patients. Shortly thereafter, both Lee and Bendesky felt ready for her project to take a personal turn. "She said, 'Can I grow my own NK cells? I want to see how they work.' And I was like, well, 'Sure,'" Lee adds. "We drew her blood. She grew her own cells. She tested them against different neuroblastoma targets."
"So I was able to use them throughout the entire process," Bendesky recalls.
"That mini research project was her own doing and her own initiative," Lee says. "I think I've had some other really excellent high school students who have taken on similar kinds of initiatives, maybe not with as much passion as Lauren did because of Lauren's own personal experience. I would say I don't recall a high school student ever wanting to look at their own blood before."
As Bendesky studied her own NK cells in Lee's lab, she participated in another experiment, serving as a subject in a Phase 2 clinical trial testing the ability of DFMO (α-difluoromethylornithine) to target an enzyme that becomes elevated in many types of cancer. That trial ended this March, and Bendesky awaits word on the results.
Bendesky impressed not only as a budding researcher during her internship in Texas but as a roommate as well. Jolie Schafer, a PhD student in Lee's lab who housed Bendesky during her time in Texas and mentored her in the lab, says that she and the young student bonded not only in the lab but also in her kitchen, where they would make meals together, and on trips to the movies or shopping. "She just became part of our family," Schafer says.
Lee adds that Bendesky's experiments on her own NK cells will likely result in a coauthored publication, after he and his colleagues perform some necessary follow-up experiments, testing his observations that neuroblastoma patients (including Bendesky) seem to have normally functioning NK cells.
After leaving Lee's lab, Bendesky had one more year of high school to complete. Even though hospital stays required her to miss her entire sophomore year and the first several weeks of her junior year, she excelled in her graduating class of more than 500 students. "It came all the way down to the last grades of the last quarter of senior year, but I ended up graduating as valedictorian," Bendesky says.
Now finished with front-line treatment, Bendesky is a freshman at Washington University in Saint Louis, where she's studying premed with the intention of attending medical school, becoming a pediatric oncologist, and continuing her explorations of laboratory science. Bendesky says she is intrigued by the many Wash U labs that study NK cells in a variety of contexts, from immune diseases to cancer. "My goal is by next year, as a sophomore, to start working in one of those labs."
Lee expects great things from his former intern. "She has a maturity and self-awareness that will serve her really well and a level of compassion and service orientation," he says. "So I think all those things together—the nonacademic as well as the academic qualities—predict the kind of person who's a leader in the field."
Schafer agrees. "I think she's going to do great with her patients, and connect with them on a level that most oncologists can't do, because they haven't walked in their shoes."
Interested in reading more?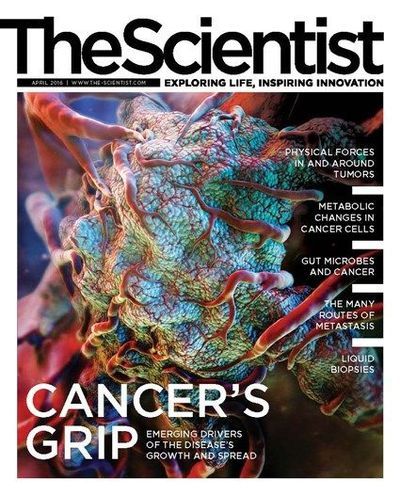 Become a Member of
Receive full access to digital editions of The Scientist, as well as TS Digest, feature stories, more than 35 years of archives, and much more!