SPEAK!: Border collie Sky operates one of the sensors on a vest being developed to help guide dogs communicate with their owners.COURTESY OF MELODY MOORE JACKSON, MELODY@CC.GATECH.EDU
One day in March 2012, Georgia Tech graduate student Vincent Martin left class with his seeing-eye guide dog, a black lab named Karson. They headed along the sidewalk toward the street corner, where Martin could hear a bus stopping to unload its passengers. Still about 30 feet away, Karson suddenly stopped. "Normally when he's doing something like this, he's distracted," Martin says. So he encouraged Karson to continue on. Once again, the dog refused. So Martin pulled out his collapsible cane and felt around for an obstruction. Feeling nothing, he once again urged the dog to move forward, and together, both Martin and Karson stepped directly into wet cement.
"He did his job, and I didn't do mine," says Martin, who...
Georgia Tech researchers are now working to make that possible. One of Martin's instructors, Melody Jackson, has been an assistance-dog trainer for almost 20 years. She also created and directs the university's BrainLab, which aims to develop brain-computer interfaces to allow people with severe disabilities to communicate and control their environments. Jackson has long shared lab space with Georgia Tech colleague Thad Starner, technical lead and manager on Google Glass, the tech giant's wearable computing product. When she met Starner's collaborating industrial designer, Clint Zeagler, he happened to mention he had a friend who made vests for assistance dogs. Eventually the lab mates came up with the idea of combining all their expertise to design a wearable technology for assistance dogs in the form of a high-tech vest.
In a project now known as FIDO (for Facilitating Interactions for Dogs with Occupations), the group is constructing dog vests studded with an array of sensors that the service dogs can be trained to activate. The researchers are using the dogs' natural behaviors, such as tugging, biting, and touching things with their noses, to create pull, bite, and motion sensors that should be fairly easy for the dogs to activate. The sensors are fitted onto off-the-shelf dog vests, the kind worn by assistance dogs in public to signal their role as a working animal.
So far, the team has built and tested four sensors: two differently shaped bite sensors; a tug sensor made of a rubber ball sewn to a stretch resistor; and a proximity sensor, similar to the hand-wave sensor on an automatic paper towel dispenser, which a dog can activate with a swipe of its nose. In their initial study, presented in September at the International Symposium on Wearable Computers in Zurich, Switzerland, the team tested three assistance-trained dogs: two border collies (including Jackson's own dog, Sky) and a black lab–golden retriever mix. The researchers reported that the proximity sensor could be activated by the dogs with 100 percent accuracy, but was also the most sensitive to false positives, as the dogs would sometimes trigger it by accident.
Jackson and her colleagues are now designing new sensors that are easier for the dogs to activate but less apt to misfire. These include an omnidirectional bite sensor that doesn't have to be held in a specific orientation to sense the bite and buttons made out of embroidered conductive thread that would not add any bulk to the vest. Once the sensors are refined, the researchers envision infinite possibilities. Activating a sensor could result in a prerecorded auditory response, something Jackson has already demonstrated with Sky, whom she has trained to discriminate between his ball and his Frisbee. Wearing a multisensor vest, Sky can tug the appropriate device when presented with one of his two toys, and a speaker on the vest announces, "That's a ball!" or "That's a Frisbee!" in Zeagler's southern twang.
Such a feature could have helped Karson communicate, "No, I'm not distracted. There is a problem," when he and Martin encountered the wet cement. This functionality would also be helpful for allowing "a dog to express when they are tired [or] confused," says Lu Picard, director of programs at East Coast Assistance Dogs. "You can [sometimes tell by the dog's] body language, but not all dogs show the same body language."
Auditory responses are just one of the many things the sensors could be programmed to do. Jackson's team is also linking up the vests with Bluetooth technology, so that a swipe of a nose or the tug of a ball could send a text message or e-mail. Such functionality could be a critical safety measure, says Lauren Shaw, a trainer for Service Dogs of Virginia—say, if a dog's handler is beginning to have an epileptic seizure or slipping into "a diabetic fog," and is unable to seek help.
Other applications could include allowing dogs to alert their hard-of-hearing handlers to a nonlocalized noise, such as a tornado siren, or allowing soldiers to remain hidden while their dogs seek out the location of bombs, simply signaling the GPS coordinates and retreating when they find one. "We're just hoping we can make this something that will be a game-changer, to enhance the lives of people who have assistance dogs," says Jackson, who recently received a two-year National Science Foundation grant to continue this work.
Interested in reading more?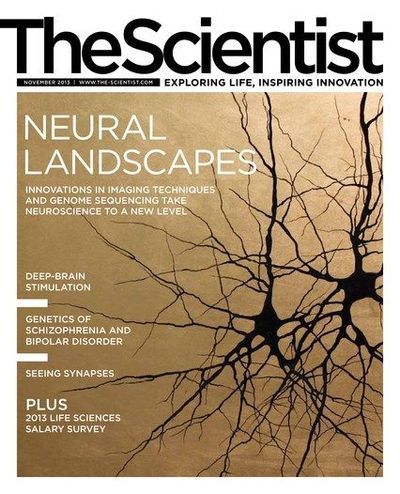 Become a Member of
Receive full access to digital editions of The Scientist, as well as TS Digest, feature stories, more than 35 years of archives, and much more!