LIBYAN C.S.I.: Forensic experts dig up earth near Tripoli at the site of a mass grave, which contained more than 200 bodies believed to be those of victims killed during the Gaddafi regime.© MAHMUD TURKIA/AFP/GETTY IMAGES
For most of 2011, Libya was in the midst of a bloody civil war. The conflict ended that October after the murder of longtime leader Muammar Gaddafi. Now, as many as tens of thousands of citizens are missing. Mass graves containing dozens or even hundreds of bodies have already been unearthed, and many missing people are yet to be found.
"Exhuming the mass graves and collecting the samples from the unknown bodies will depend on the reports [that] inform us [about] the place of these graves, because the previous regime tried to hide the crimes," says forensic geneticist Esam Zreg, director of the Technical Department of Missing Persons in Libya's Ministry for...
In an attempt to bring closure to the tens of thousands of grieving families in the country, Zreg and collaborators at MAFMM, founded in December 2011 by the National Transitional Council of Libya, are launching a massive sampling and sequencing effort. A DNA lab is currently under construction in Zreg's building in Tripoli, that will house state-of-the-art sequencing equipment. Libyan scientists will travel to various countries for training in modern DNA forensics techniques, then return home to process hundreds of thousands of tissue samples from unidentified human remains and family members of the missing over the next decade.
Zreg and his colleagues consulted with the International Committee of the Red Cross and the International Commission on Missing Persons, along with other support organizations, and came up with a two-part plan of action. One part of the mission is to collect blood samples from three to five different relatives for each missing person in order to build a database for identifying the missing. The second half is to extract and sequence DNA from human remains that are found, then scan the newly built database for matches.
"It's a huge project," says Kerstin Montelius, a geneticist at the National Board of Forensic Medicine in Sweden, who is not involved in the effort. "I do think it will take several years to be able to go through all the remains . . . but I think it's doable."
Zreg's team received $2.5 million in funding from a Spain-based oil company called Repsol, and in January announced its partnership with global biotechnology tools company Life Technologies and the University of North Texas Health Science Center (UNTHSC), which in 2011 received a $3.5 million grant from Applied Biosciences (now part of Life Technologies) to establish a center to help countries throughout the world launch their own DNA databases. As the Libyan lab nears completion, Zreg and three other researchers will travel to Texas to train with Arthur Eisenberg, a veritable pioneer in DNA forensics and director of the UNTHSC Center for Human Identification. Eisenberg and his colleagues have put together a 2-week program to provide the Libyan researchers with training in "all of the techniques and methodologies to clean the skeletal remains, cut the remains to extract DNA, and then to amplify the DNA to detect the different genetic profiles," Eisenberg says.
The UNTHSC group will also advise Zreg and the others on some of the common challenges of DNA forensics work. For example, "the samples for the human remains are old," says UNTHSC forensic geneticist Jianye Ge, who will help train the Libya scientists, "so it may not be easy to get good results" from them. To increase the likelihood of making a high-confidence identification, "I would recommend the Libyan guys sequence the mitochondrial DNA, especially for the bones," he says. "For each cell we have, we only have one copy of nuclear DNA, but for the mitochondrial DNA, one cell has several hundreds of copies."
I do think it will take several years to be able to go through all the remains . . . but I think it's doable.—­ Kerstin Montelius,
National Board of Forensic Medicine, Sweden
For now, Zreg and his teams are busy sampling living and deceased Libyans to build up a bank of samples ready to be processed as soon as the lab is complete. Zreg's teams began sampling family members of the missing in March 2012, and by December had more than 10,000 samples banked. They hope to have completed this part of the mission by the end of 2013.
The teams have also begun the collection of samples from the deceased, having exhumed more than 400 bodies to date. Though there is no way to know for sure how many bodies remain to be found, "we have an expectation that there will be around 20,000 bodies," says Zreg, who lost a close friend during the national upheaval. "We expect a gap of time, like 10 years, for this file to be solved. . . . We have to be patient for this, and it will not be easy."
Interested in reading more?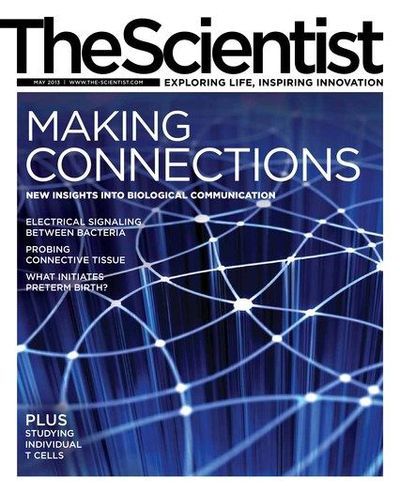 Become a Member of
Receive full access to digital editions of The Scientist, as well as TS Digest, feature stories, more than 35 years of archives, and much more!