TECHNO BEAT: The complex electronics that drive Carmat's artificial heartCARMAT
In the mid-1960s, Bud Frazier met a 19-year-old man who had traveled with his mother from Italy to Texas to receive an aortic valve replacement. Frazier was in medical school, and he remembers how happy the man was at the prospect of having a normal heart. But in the hospital the patient's heart arrested. Doctors opened up his chest, and Frazier's job was to reach in and massage the heart to try to jump-start its beating.
Frazier rhythmically squeezed the man's cardiac tissue between his fingers, but couldn't get the heart to pump on its own, and eventually Michael DeBakey—a pioneering heart surgeon who was training Frazier at Baylor College of Medicine—told his student to stop trying. "I couldn't quit, because as long as I massaged his heart he was looking up at me. He was awake,"...
If my hand could keep this kid alive, why can't we make a pump?—Bud Frazier,
Texas Heart Institute
A few years later, while Frazier was serving as an army medic tasked with identifying soldiers killed in the Vietnam War, the first total artificial heart went into a patient who was awaiting a heart transplant. The device functioned very similarly to the way normal human hearts work, with a pulsatile beat and a number of valves that shuttled blood in one direction, driven by a pneumatic pump.
Remarkably, this same concept—with a few upgrades—is still employed by artificial hearts more than 40 years later, despite attempts by companies to come up with new-and-improved designs. In the U.S., only one type of artificial heart, which evolved from the original pulsatile version and is marketed by SynCardia, is approved for use. What has changed over the years, says SynCardia's president and CEO Michael Garippa, is the size (making it smaller and thus easier to fit into more patients) and the pneumatic driver (also shrinking it, and making it quieter and more portable).
Researchers have tried to come up with different artificial heart designs but, to date, nothing has stuck. "That's because everybody else went for electronics in the body, or batteries in the body, or human physiology–connected responses," says Garippa. "All those other technologies that seemed so much more elegant or scientific didn't stand the test of human reliability." Garippa's right—among more than 1,500 patients implanted with a mechanical heart, his company's device has a nearly perfect record of operation, and about 80 percent of patients receiving it have lived with it for some time, despite being at death's door before the procedure. "The valve has never run out," says Jack Copeland, a heart surgeon and SynCardia cofounder who has implanted numerous artificial hearts.
But that doesn't mean there's no room for improvement. A French company called Carmat is testing a new generation of artificial hearts. So far, three patients have received the device. It's a much more complex machine—"an amazing technological and engineering feat," says Nader Moazami, a heart surgeon at the Cleveland Clinic who has not yet seen the heart firsthand. Within it are sensors that respond to the changing needs of patients during exercise or rest, and all the pumps and electronics are built in, so there's no need for an external driver.
TICK TOCK: A continuous-flow total artificial heart, which is being developed at the Cleveland Clinic, is implanted in a calf.COURTESY OF KIYOTAKAThe third patient implanted with one of Carmat's hearts in April 2015 died December 18 of accute respiratory failure, and the company says analyses do not implicate the prosthetic heart in his death. The first two patients died after their devices malfunctioned. Piet Jansen, Carmat's chief medical officer, says a supplier provided a faulty part in one case, and a disruption in the motor-steering electronics was found in the other; both problems have since been fixed.
As Carmat prepares to implant a fourth patient with its prosthesis, other researchers are working on yet another approach to artificial hearts. "My perspective here is that the SynCardia [heart] is reliable, but outdated. Carmat is an extremely interesting design and advanced concept, but the limitations are its complexity, along with the fact that it's a fairly large device," says Moazami. He says he wonders whether it's possible to have an artificial heart somewhere in the middle: with updated, sensitive technology but a simpler design.
Moazami and Frazier, working independently, are experimenting with a simple, continuous-flow pump, rather than a pulsatile one. Such devices rely on a rotary pump that changes position slightly in response to increased pressure—say, when a person goes from sitting to walking up stairs—and subsequently opens an aperture to increase flow on the side of the heart that requires it. The device makes these adjustments automatically.
The idea is that such a pump could be a permanent solution to heart failure, rather than a temporary bridge until a human heart is available for transplant. Already, thousands of patients who have only left-sided heart failure—in which the left ventricle struggles to get blood out to the body from the lungs—have received a rotary pump on the damaged side. Frazier says such left ventricular assist devices (LVADs) are small, durable, and electrical—no external pneumatic pump is needed.
He's now working on a biventricular version of the LVAD, and has implanted them in 30 calves. Moazami has also had success in calves with his version. "Initial animal studies have been extremely promising and have suggested we can have a continuous-flow artificial heart," he says.
Frazier says his device is about three to five years away from clinical testing. In the meantime, the simple SynCardia version will continue to be cardiac surgeons' go-to heart when nothing else is possible. Frazier's dream in the 1960s of having a machine take over for his hand is now a reality. "I've had that happen to me several times since then—I've been massaging the heart, and I take the patient to the operating room, put the pump in, and they're still alive today," he says. "So we've made progress, but we need to keep moving."
Editor's Note: The print version of this article, which went to press mid-December, 2015, stated that the third Carmat patient was still alive. The online version has been updated to note that he died on December 18.
Interested in reading more?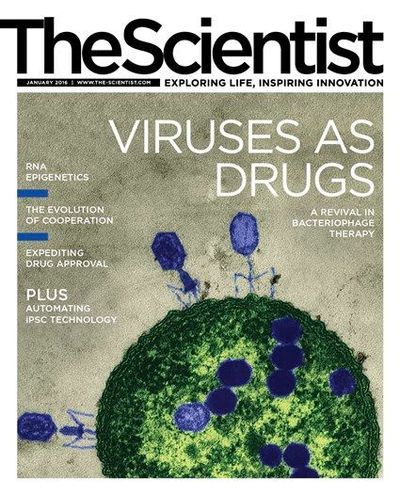 Become a Member of
Receive full access to digital editions of The Scientist, as well as TS Digest, feature stories, more than 35 years of archives, and much more!