In 1993, recent med-school grad Ulrike Steuerwald traveled to the Faroe Islands between Norway and Iceland to play violin as part of an orchestra. Once there, she learned that the Islands' only pediatrician was on sabbatical, leaving the local population with only nonspecialists to care for children.
Having just finished her training in pediatrics, Steuerwald promptly accepted an offer to fill in for the traveling pediatrician. "You can learn as much in 1 year as a pediatrician in the Faroe Islands as you would learn in 10 years in another place," she says. And more importantly, the nearest pediatrician was in Copenhagen—"1,200 kilometers away," she says. The families on the islands needed her help.
She moved to the Faroes in November, and stayed for 5 years, working full time at the central hospital in the capital city of Tórshavn. During that time, she saw several patients who suffered from...
TESTING KIDS: Ulrike Steuerwald examines a Faroese child.
Credit: Fróði Debes
As a result, many children with GSD do not always receive the basic dietary treatments that can manage their symptoms. The Faroes, where GSD III occurs once in every 3,000 people, was one place where the disease was not well controlled. The islands, now part of the Kingdom of Denmark, were settled more than 1,000 years ago by Vikings, some of whom likely passed on the recessive mutation conferring inability to process sugar to their descendants. But neither Steuerwald nor the Danish doctors to whom she referred severe cases knew much about the disease, and the Faroese children continued to suffer severe symptoms as stored sugar accumulated in their livers and muscles. One girl Steuerwald remembers well was told she'd need a new heart.
Nearly 10 years later, after Steuerwald had begun splitting her time between the Faroes and Hannover, Germany, where she now works at a neonatal screening lab and in a private pediatric practice, she attended a 3-day workshop devoted completely to GSD. Many families on the Faroes were still struggling with the disease, traveling to Denmark only to return home with more questions. "I went hoping to get some answers for the questions I still had, answers for these parents," she says.
Steuerwald met David Weinstein, who quickly agreed to help the people of the Faroe Islands. She followed his recommendation to start the children on diets high in protein—about 4 times the amount a person typically eats—and low doses of cornstarch, which is slowly digested and broken down into glucose at a rate that can be used by the body before it's stored. The kids immediately started to improve. The following year, Weinstein flew out to meet the families, and he is now setting up a new research center on the Faroes in partnership with the country's health minister. "Because they're in a small area, you tend to be able to follow up for long periods of time," says Elaine Murphy, a consultant at the National Hospital for Neurology and Neurosurgery in London. "We don't really always know what happens to people [with GSD] as they get older."
Weinstein says he's also hoping to uncover clues that will be relevant to much more common conditions, such as high cholesterol, which is a prevalent problem on the Faroes, despite the fact that the islanders eat naturally high-protein, low-saturated-fat diets of fish, meat, and root vegetables. Weinstein suspects that cholesterol problems among the Faroese are related to the high incidence of GSD III and the fact that one in every 22 people in the country carries a copy of the mutation that causes the disease. Parents or siblings of GSD patients sometimes express mild hypoglycemia and high cholesterol—"all the different things that go along with this disease, just in a milder form," he says. "It clearly is not totally benign [for carriers] like it's written in the textbooks."
Interested in reading more?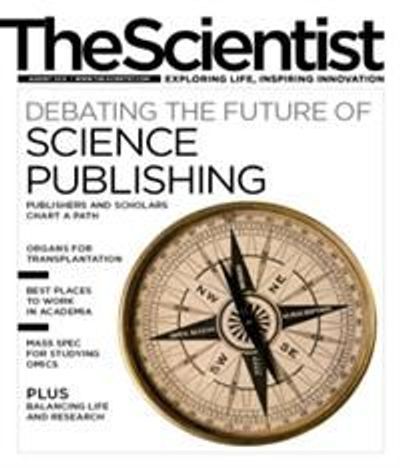 Become a Member of
Receive full access to digital editions of The Scientist, as well as TS Digest, feature stories, more than 35 years of archives, and much more!