TOP NOTCH: Deerinck won first place in the 2002 Nikon Small World Photomicrography Competition for this image of a rat cerebellum, captured using a confocal scope and fluorescent proteins. THOMAS J. DEERINCK/NIKON SMALL WORLD
Last October, 40 stories high in 7 World Trade Center, Thomas Deerinck was among the first to check out the winners of the 2014 Nikon Small World Photomicrography Competition, lined up around the perimeter of a room whose front windows looked out onto a panoramic view of New York City. It was the photo contest's 40th anniversary, so the location was fitting. "It was pretty spectacular," Deerinck recalls. A slide show of winning entries from the photo competition's four decades featured one of his own works: a 2002 snapshot of a slice of rat cerebellum.
Deerinck has been a microscopist for nearly as long as Nikon has been running the Small World competition. He works...
Deerinck got drawn into microscopy when a researcher from a local college came to his high school in Stockton, California, to speak about a new program focused on training electron microscopists. "Once she started showing pictures from the scanning electron microscope, I was hooked," Deerinck says. He graduated from the two-year program at San Joaquin Delta College in 1978 and was immediately hired by UCSD's Mark Ellisman, future director of the NCMIR.
Tom is probably the most successful here in terms of producing not only great science but spectacular art. He's a master.—Mark Ellisman,
National Center for Microscopy and Imaging Research
In the decades that followed, Deerinck had a front-row seat for the explosion in microscopic imaging technologies that has revolutionized diverse fields of study. First, Deerinck recalls, there was confocal microscopy in the mid-1980s, which allowed researchers to visualize microscopic structures in 3-D. "Especially since we do a lot of neuroscience, it was very vital to be able to take crisp, in-focus images of three-dimensional objects," he says. After that, Winfried Denk developed two-photon microscopy. Then came green fluorescent protein (GFP) and other glowing molecular tags. "And all of this kind of then spurred the whole super-resolution movement that's really in vogue right now," Deerinck says. The 2014 Nobel Prize in Chemistry went to Eric Betzig, Stefan Hell, and William Moerner for their contributions to the development of super-resolved fluorescence microscopy.
As microscopy has evolved, the Nikon Small World competition has received a significant uptick in the number of entries—from fewer than 100 submissions in the late '90s to some 2,000 each year for the past few years. "It's grown immensely over the years," Flem says. "It really acts as kind of an echo of what's happening in the scientific community, and to a certain degree even in the artistic community." And it's not just the number of entries that has changed, but the type as well, Flem adds. Since the switch to digital, "the number of biological images just started exponentially increasing; now that's really the majority of it."
Deerinck has noticed that changing imaging technologies have also drawn a do-it-yourself crowd to the Small World competition. At the unveiling of this year's winners in New York City, Deerinck was impressed by the entries of so-called amateurs, including the winner: Rogelio Moreno of Panama, a computer system programmer and self-taught microscopist. The third-place micrograph also caught Deerinck's attention: a photo of jumping-spider eyes captured by 18-year-old Noah Fram-Schwartz. "This kid had to wait four years to be old enough to enter the competition because he was only fourteen when he started doing microscopy," says Deerinck. "I hate to call them amateurs. Anyone who can take a beautiful picture, that's the proof." (Another of Fram-Schwartz's images—an ant eye—got an honorable mention.)
Deerinck says the Nikon Small World competition has not only been great for his career, but sharing his photos in this way has also been good publicity for biomedical research in general. "We do research; we don't think about art or competitions like this," he says, "but it turns out it's actually very useful for research because it kind of gets [it] out into the public eye." In this same vein, Deerinck has helped put together microscopy exhibits at the San Diego and Washington Dulles airports.
Some of his current scientific projects include collaborating with Nobel Laureate Roger Tsien at the University of California, San Diego, to design new GFP-like probes to localize proteins and macromolecules in the cell. With other collaborators, Deerinck is using a 3-D imaging method called serial block-face scanning electron microscopy to automatically scan multiple layers of brain tissue and piece those images together into three-dimensional brain maps. At any given time, the NCMIR could be assisting researchers on as many as 100 different projects, Deerinck says, and it's part of the reason he loves his job. "I see the kids come through, and they get their PhDs, and they go on to become scientists, and the further they progress in their career, the less they are in the laboratory. All I was interested in, and all I am interested in, is being in the laboratory and actually doing all the hands-on work. That's what I get to do."
And there's no reason not to make a little art along the way. "Tom is probably the most successful here in terms of producing not only great science but spectacular art," Ellisman says. "He's a master."
Interested in reading more?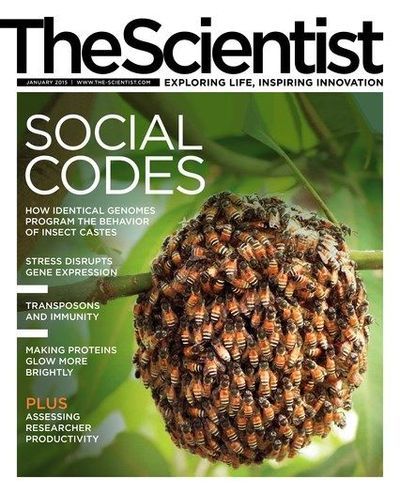 Become a Member of
Receive full access to digital editions of The Scientist, as well as TS Digest, feature stories, more than 35 years of archives, and much more!