SCOPE APP: Developed in the University of California, Berkeley, lab of Daniel Fletcher, the CellScope, here trained on an algae sample, turns the camera of a standard cell phone into a diagnostic-quality microscope with a magnification of 5x–60x.CINDY MANLY-FIELDS/BIOENGINEERING DEPARTMENT, UC BERKELEYIn some of the least-developed regions of Africa, Southeast Asia, and the Middle East, cell phones are the main mode of connecting to the wider world. Even in areas beyond government electrical grids, many people have cell phones, which they charge using solar cells or car batteries.
"You don't have to put in these copper wires [for phone lines] anymore; you have the [cell] towers. It's big business," says bioengineer Daniel Fletcher of the University of California, Berkeley, who has seen cellular technology flourish in countries like Thailand and India. "It's leaping over the need for infrastructure."
It's also big opportunity. Fletcher and others are developing...
Now he's seeking to demonstrate that it can work in the field. "Technology alone doesn't create effective health care," says Fletcher, who is involved in ongoing studies in Vietnam, India, Cameroon, and Thailand. "It's got to be part of a context in which the information is captured and validated and is analyzed in the right way, and treatments are then available in response to information."
This March, a group led by infectious disease specialist Isaac Bogoch of Toronto General Hospital heeded that call, diagnosing parasitic worm infections in children living on Pemba Island off the coast of Tanzania, Africa (Am J Trop Med Hyg, 12-0742, 2013). About a year earlier, while Bogoch was attending a tropical medicine course in Peru, his friend and colleague Jason Andrews of Massachusetts General Hospital had shared with Bogoch a report that described a very simple device—an iPhone with an attached 1-mm ball lens. Researchers led by Sebastian Wachsmann-Hogiu's group at the University of California, Davis, had constructed it from just a few inexpensive parts, and used it to take pictures of blood smears at a 350x magnification and 1.5 micron resolution (PLOS ONE, 6:e17150, 2011).
"We thought that this was a great idea," says Bogoch, who is part of a large, international team already working in remote locations around the world. "We thought . . . we could take it to the field and see if it accurately works in a more real-world setting."
Bogoch and his colleagues recreated the device—simply by taping a 3-mm ball lens to an iPhone's camera—and went to Tanzania to see if the homemade microscope could identify the presence of soil-transmitted helminth eggs in stool samples. They examined samples from 199 children participating in an ongoing clinical trial for these infections and were able to accurately identify helminth infections about 70 percent of the time. The microscope did exceptionally well spotting the eggs of certain parasites, flagging more than 80 percent of Ascaris lumbricoides infections, for example. For other parasites, however, the microscope was less effective, detecting just over half of whipworm cases and only 14 percent of hookworm infections. "Obviously the results aren't perfect and there's definitely room for improvement," Bogoch says.
But it's clear to Bogoch and others that such simple, low-cost cell-phone microscopes could revolutionize health care in the areas that need it most. Not only are the microscopes portable and affordable, they won't need to be operated by a trained physician, says David Walker, president of the American Society of Tropical Medicine and Hygiene. Because the microscopes are connected to a cell phone, you can take an image with the phone's digital camera and simply "send it to someone else who could interpret it." And it's not limited to microscopy either; Wachsmann-Hogiu and others are developing cell phone–based spectroscopy and diagnostic test software that can analyze samples on the spot.
Additionally, some argue that the field of mobile microscopes could change the way health care and research works in the developed world. Electrical and bioengineer Aydogan Ozcan of the University of California, Los Angeles, likens the budding technology to the evolution of the personal computer. "If you look at the early computers, they were bulky, they were extremely expensive," says Ozcan, who is developing lens-free cell-phone microscopes based on computational software. Now, "[computers] are portable . . . and almost anyone can afford them. The same thing is going on today [with microscopy]. We are miniaturizing our micro- and nano-analysis tools. We're making them more affordable; we're making them more powerful."
Interested in reading more?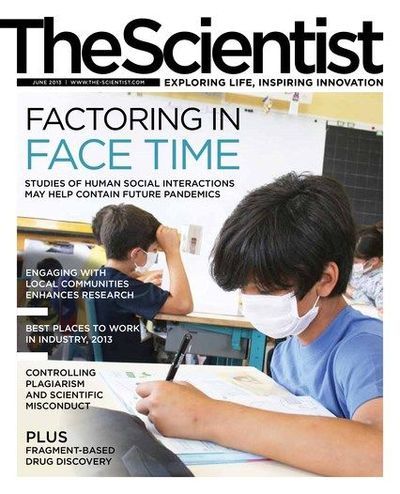 Become a Member of
Receive full access to digital editions of The Scientist, as well as TS Digest, feature stories, more than 35 years of archives, and much more!