ANDRZEJ KRAUZELarry Smarr's addiction to self-tracking came after he moved from Illinois to San Diego in 2000. He surveyed the citizens of his new town—considered one of the fittest in the U.S.—and "I realized I didn't look like them," he says. In other words, the computer science professor at the University of California, San Diego, had put on a few pounds. "I was standing on the scale every day, and I had one number, my weight, that defined me," says Smarr.
In an effort to lose weight, Smarr started adding more numbers: how much he exercised, what and when he ate, and his heart rate throughout the day. As his waistline shrank, his curiosity grew. "I wanted to figure out if I could quantitatively measure how I'm doing," he says. First, he sought to track the ratio of omega-3 fatty acids to omega-6 fatty acids in his blood....
Perhaps on the extreme end of the scale (Smarr says he's spent tens of thousands of dollars quantifying himself), the computer scientist is part of a navel-gazing community of self-trackers, aided by advances in biotechnology that allow for the measurement of individual physiology on a molecular scale. Smarr has also been genotyped, and he's having his gut microbiome, collected from stool samples, sequenced every 4 months.
Gadgets and apps to support interest in self-tracking have popped up like weeds. "It's almost like every week someone is saying, 'I've come up with a new way to measure something that used to be very, very expensive or very hard to do,'" says Ernesto Ramirez, the program director for Quantified Self Labs, an organization that supports the self-tracking community.
For instance, the company Scanadu is developing handheld tools that measure heart rate variability, body temperature, and blood oxygen, and other kits that conduct urinalyses and electrocardiograms. Another company, uBiome, offers microbiome sequencing for as little as $89. To get a sense of how the composition of their gut flora changes over time, customers can order three kits for $229.
Heather Heine, a medical doctor, researcher, and entrepreneur, founded Talking20 last year (the 20 refers to the body's 20 amino acids) after being inspired by the direct-to-consumer genotyping kits marketed by biotech company 23andMe. Customers who buy Talking20's kit put a drop of blood on a piece of paper and send it in for analysis. The company then determines the person's levels of a variety of hormones, vitamins, and other variables, including cholesterol, testosterone, vitamin B12, and blood glucose. For $995, customers receive 24 kits so that they can track their levels over time. "Everything you feel is physiologically expressed in the proteome and metabolome," Heine says. "I saw that it would be a great contribution to let people find out about this kind of data as well."
The main motivator for all this tracking, says Ramirez, is to better understand oneself. But many self-trackers are also into experimentation and improving their health (for more on DIY clinical trials, see "Do-It-Yourself Medicine," The Scientist, March 2013). To further research, organizations have tapped into people's interest in sharing personal data. Cancer Commons, a large network of cancer researchers, appeals to patients and their physicians to submit individual data on treatment, cancer genotype, and outcomes. Customers of Talking20 are invited to share their samples for possible research projects, much as 23andMe asks consumers to participate in the research arm of 23andMe. "We don't have research actively underway, but we anticipate samples might be useful down the line for study," Heine says. She recently published online the results of a study she conducted on daily fluctuations in her own cortisol levels.
As sequencing capabilities get cheaper, faster, and more accessible, Smarr predicts, self-trackers will be able to continuously monitor their bodies, like modern automobiles, analyzing their own performance in real time. With instantaneous monitoring, people could one day be able to anticipate disease, rather than react to it, he says.
Years ago, Smarr noticed that one variable in his blood—C-reactive protein, a measure of inflammation—was extremely high. "I said, 'This can't be. I changed my diet. There must be something [wrong] in me.' So I went on this 5-year detective [search] of what that could be," Smarr says. In 2011, results from his stool samples, combined with the discovery of a genetic predisposition uncovered by genotyping, led him ultimately to a diagnosis of inflammatory bowel disease.
In perhaps the most elaborate self-tracking project to date, Michael Snyder, a Stanford University genomicist, submitted himself—namely, his genome, transcriptome, proteome, and metabolome—to a pilot project aimed at developing an integrative personal omics profile (iPOP). For more than a year, Snyder and his colleagues tracked his body's molecular functioning at 20 time points, noting how the profiles responded to a couple of viral infections and even leading to Snyder's early detection of diabetes (Cell, 148:1293-1307, 2012).
Snyder didn't become his own subject out of a drive for self-exploration, like Smarr, but rather because he sees the iPOP as the future of personalized medicine. "I do believe in the future it will be some simplified version of this," he says. But if he gets sucked into the self-tracking movement in the process, that's fine, too. "I do it on me because I think the information is going to ultimately be extremely valuable from a scientific and medical standpoint," says Snyder. "I had no idea I would turn out to be so interesting."
Interested in reading more?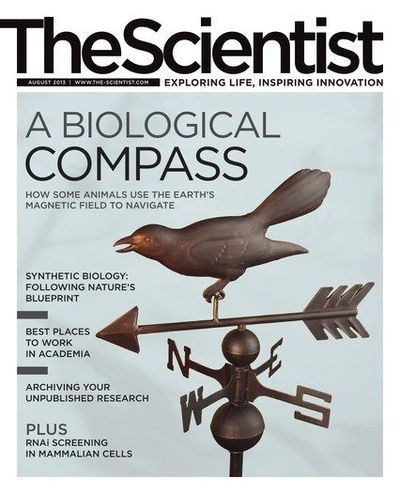 Become a Member of
Receive full access to digital editions of The Scientist, as well as TS Digest, feature stories, more than 35 years of archives, and much more!