HIDE AND SEEK: Pelts of jaguar (Panthera onca), giant otter (Pteronura brasiliensis), neotropical otter (Lontra longicaudis), and ocelot (Leopardus pardalis) at a tannery in Manaus (Amazonas State, Brazil) during the 1950sVIRTUAL LIBRARY OF THE BRAZILLIAN INSTITUTE OF GEOGRAPHY AND STATISTICS
Wildlife ecologist Andre Antunes is the first to admit that he's not ideally suited to archival research. "My home is in the forest," he says wistfully. "It's very difficult for me to work in libraries." But in the late 2000s, while investigating the impact of commerce on Amazonian ecology over the 20th century, the Brazilian researcher had little choice but to dive into library and museum archives in search of data.
As part of a conservation management project in the lower Purús River, a tributary of the Amazon that rises in Peru and empties into the Amazon upstream of Manaus, Brazil, Antunes...
"I found a cargo manifest detailing numbers of [animal] hides of specific species, with trade date and locality," he says. "I searched for similar boxes and counted maybe 200 boxes with another 3,000 documents like that. Then I really glimpsed: there's an interesting research project here."
At least 23 million individual animals, representing 20 species of mammals and reptiles, were slaughtered
for their hides between 1904 and 1969.
The Amazonian trade in furs and skins has a long history, kicking off around 1912 after international rubber prices collapsed and forced local enterprises to find alternative sources of income. In areas of the Amazon that lie in Brazil, authorities made several attempts to curtail the practice—including the Faunal Protection Law of 1967 and the ratification of the Convention on International Trade in Endangered Species of Wild Fauna and Flora in 1975, which Antunes says essentially criminalized hunting in the region. Yet, trade persisted throughout most of the 20th century and is thought to have caused large-scale defaunation. As Antunes collated the archive records, he realized he had an unprecedented opportunity to analyze this impact on Amazonian species, using an untapped source of information.
The animal hide data alone is a "goldmine," says Richard Bodmer, president of nongovernmental organization (NGO) FundAmazonia and director of the Museum of Indigenous Amazonian Cultures in Iquitos, Peru. "It's a very important discovery in terms of data and in terms of understanding the longer trends that have happened in the Amazon."
To investigate the effects of hunting on populations of animals killed for their hides, Antunes knew he would need a careful statistical approach. But at the time, "I was a bit naive" about the methods required, he says. So, he enlisted the help of University of Auckland statistician Rachel Fewster, and in 2014, he moved to New Zealand for several months to work on the data.
The main challenge, the pair quickly realized, was extracting information from the various records Antunes had collected. "The problem is that they often just lump animal hides together as one category," says Fewster. "We wanted to distinguish between different types of species." In the end, Fewster says, she and Antunes "devised a whole new modelling framework" to compare data from two peak periods of hunting—the 1930s and the 1960s—that used the more detailed records to fill in gaps in "lumped" records, and accounted for improvements in data quality as the 20th century progressed.
The results weren't uplifting: records indicated that at least 23 million individual animals, representing 20 species of mammals and reptiles, were slaughtered for their hides between 1904 and 1969. The team's analysis also showed differences in how this mass hunt affected aquatic and terrestrial species. The researchers found that populations of aquatic species appeared to collapse, with 1960 harvests of giant otters, black caimans, and manatees falling to around 10 percent of what they'd been three decades earlier. Terrestrial species, on the whole, fared much better. Although one species, the white-lipped peccary—a herd-living, hog-like animal—showed significant decline, others, including red brocket deer, showed higher harvests in 1960 than in 1930, suggesting substantial resilience to hunting pressure (Science, 2:e1600936, 2016).
"I wasn't expecting that," says Antunes of the aquatic-terrestrial split. "In the initial stages of research, I expected reproductive rate would be the most important factor." However, on reflection, he notes, the results are intuitive. Aquatic habitat accounts for just 5 percent to 12 percent of the central-western Brazilian Amazon across low- and high-water seasons, meaning aquatic species occupy a much smaller area than their terrestrial relatives. Amazonian waterways are also more accessible than terrestrial habitats to hunters, who traditionally live in settlements clustered along riverbanks.
This spatial arrangement of hunters probably explains a lot of the results, suggests the Wildlife Conservation Society's (WCS) executive vice president for conservation and science, John Robinson, although other factors, such as reproductive rate, are certainly important in determining a hunted species' resilience. "At its core, this is a really important paper," he says. "It pulls together the history of commercial hunting in Amazonia in a really powerful way."
Encouraged by the apparent resilience of the terrestrial species, Antunes, now a researcher with WCS, is taking part in workshops in Manaus this year to bring together government, NGOs, and locals to discuss decriminalizing subsistence hunting—a practice still integral to the livelihood of many indigenous and forest communities in the Brazilian Amazon. It's a move both he and Bodmer argue would allow better management of resources in the region, and could bring Brazil in line with other Amazonian countries, such as Peru, that already favor community-based conservation programs.
Antunes now spends much of his time working with indigenous and forest communities—a relationship that benefits both sides, he notes. "They really know the wildlife better than any biologist," he says. "They live there, day after day, whereas we are like visitors. There is no way to conserve the Amazon if we ignore these people."
As for going back into the archives? With the work he's doing now, "I'm not sure if I'll carry on my research in libraries," Antunes laughs. "If I have to learn about any historical documents, probably I'll have a look."
Interested in reading more?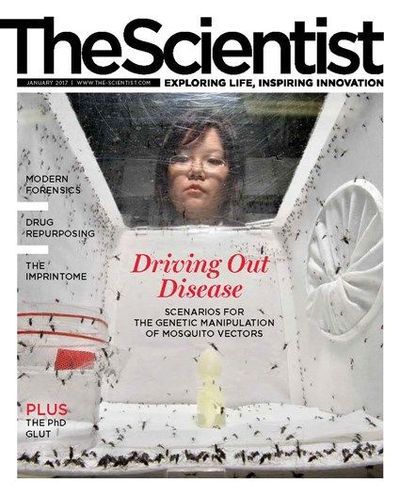 Become a Member of
Receive full access to digital editions of The Scientist, as well as TS Digest, feature stories, more than 35 years of archives, and much more!