THE ART OF PLANTING: Inmates plant seedlings of endangered prairie plants at Stafford Creek Corrections Center in Aberdeen, Washington© BENJ BRUMMOND & SARAH JOY STEELE
In the old-growth rainforests of the Pacific Northwest, lush green pelts of moss swaddle tree trunks and hang from branches like ancient, sodden scarves. In some patches, however, the trees are bare, scraped clean by people harvesting mosses for use in the multimillion-dollar floriculture trade.
When forest ecologist Nalini Nadkarni first got wind of the practice in the late 1990s, she was concerned. Nadkarni, then at The Evergreen State College in Olympia, Washington, knew better than most the ecological importance of mosses. Moreover, in 2001 she had shown that once removed, mosses do not readily grow back and are not replaced by diverse new growth for years (Canadian Journal of Botany, 79:1-8, 2001). The commercial harvesting taking place in the...
She wondered if moss could be farmed, but almost nothing was known about its cultivation, and Nadkarni couldn't devote the time to learn. But in 2004, she realized that she might get help from an unlikely source: the state's prisoners. With no access to nature, the inmates might enjoy and benefit from working with moss, she thought—and they had plenty of time on their hands.
Nadkarni pitched the idea to several prisons. "The first two thought I was out of my mind," she recalls, but Cedar Creek Corrections Center, a minimum-security prison in Littlerock, offered to give it a try. Within a few months, a select group of inmates was growing mosses in a dedicated nursery. "They were totally engaged," says Nadkarni, "and it quickly became apparent that they were collaborating partners," as their observations led to improved horticultural protocols.
Almost a decade on, the seeds sown by Nadkarni and her collaborators at Cedar Creek have grown into a thriving ecosystem of science projects in prisons across Washington State—with scientists from various institutions engaging underserved audiences to form mutually beneficial partnerships.
DOWN FROM THE TREETOPS: Nalini in her office at the University of Utah in Salt Lake City© BENJ DRUMMOND & SARAH JOY STEELE"Nalini is wildly charismatic, full of energy and ideas, and a lot of fun to work with," says Dan Pacholke, now assistant secretary of prisons in Washington State, who cofounded the Sustainability in Prisons Project (SPP) with Nadkarni in 2008. "All the scientists we've worked with have been fantastic. They bring a collaborative spirit that the prisoners have really responded to, and together they have shown that our shared goals can be met in very effective fashion."
Nadkarni, who moved to the University of Utah in Salt Lake City in 2011, has spent the past 30 years exploring the rainforest canopy in Costa Rica and the Pacific Northwest. But she has also made it her mission to come down from the treetops—and the lofty tower of academia—to engage with the masses.
Her passion for science and communication started early. She double majored in biology and modern dance, then did fieldwork in Papua New Guinea in the mid-1970s and decided to pursue ecology. After obtaining her PhD, Nadkarni spent 5 years as an associate professor at the University of California, Santa Barbara. "I embraced the scientific enterprise," she says, "but I was torn between my desire to be a good research scientist and to respond to this inner call to communicate."
In 2001, Nadkarni was awarded a Guggenheim Fellowship to explore how scientists can reach out to the public. She spoke on the value of trees in places of worship and meditation; she gathered "canopy confluences" of ecologists, artists, writers, and musicians; and she brought inner-city kids into forests, along with a local rapper, to inspire ecology-based rhymes. "It's about engaging people in their own context and culture," she says.
She also came up with the moss project. Pacholke, the incoming superintendent at Cedar Creek in 2004, was so impressed with the inmates' response that he agreed to host a series of lectures on topics such as composting, water conservation, and beekeeping—many of which led to new projects. Then, in 2008, what had been a scrappy, ad hoc arrangement became a formal venture funded by the Washington State Department of Corrections.
A year later, Cedar Creek inmates were working with Evergreen graduate students and staff from the Oregon Zoo to rear endangered Oregon spotted frogs under the direction of the Washington Department of Fish and Wildlife. And since 2011, the Mission Creek Corrections Center for Women has been breeding the endangered Taylor's checkerspot butterfly. "[The scientists] were skeptical at first," says Jeff Muse, former project manager for SPP and now a lecturer at the University of Wisconsin–La Crosse. "But as their confidence grew that we could successfully rear these things, they came to see the prisoners as legitimate research assistants that they could actually rely on."
In 2011, Nadkarni turned the SPP codirectorship over to Carri LeRoy, an ecologist at The Evergreen State College, who expanded the program. The SPP now has projects in 12 prisons across Washington, and more than 20 other states want to replicate the model. With a grant from the National Science Foundation, LeRoy hosted a meeting of the nascent SPP Network last September in Olympia. Nadkarni reconvened the groups this March in Salt Lake City, and many states have already set projects in motion. "It's a great example of what seemed like a crazy idea coming good," says Nadkarni.
Although she never encountered any resistance at Evergreen, Nadkarni thinks that most institutions could do more to encourage scientists to pursue public engagement, rather than dismissing such activities as an unwelcome distraction. "The higher-ups understand this," she says. "The likes of John Holdren [science and technology advisor to President Obama] are trying find ways to reward scientists who do outreach. But there is still a lot of resistance in the middle trenches—and many young researchers eager to reach out will be put off."
For Nadkarni, however, and for her beloved forests, it is vital that such attitudes change. "Issues like the loss of biodiversity and climate change are so important that I don't think scientists can any longer sit in their ivory tower and communicate only with each other," she says. "Obviously that's important, and I believe in the scientific enterprise; but I also think that pretty much every scientist should communicate [their work] to the world outside of academia."
Interested in reading more?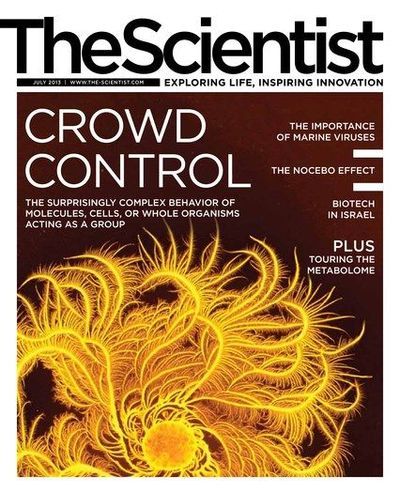 Become a Member of
Receive full access to digital editions of The Scientist, as well as TS Digest, feature stories, more than 35 years of archives, and much more!