Pieter De Frenne, an ecologist and cycling fan at the University of Ghent, was watching old footage of the Tour of Flanders—a popular Belgian 260-kilometer race held every April—on the web when something in the background caught his eye. The trees lining the racecourse in the clips from the 1980s were bare. But, he recalled, in footage of the most recent races, they were covered in leaves.
That got him thinking: perhaps archived footage from sporting events such as the Tour of Flanders could provide data on the effects of climate change on trees' phenology—the timing of leafing and flowering each season. "Video archives can be a very useful tool but have been largely unused until now to study the connection between...
Sunlight, temperature, and other environmental signals spur plants to leaf and flower. With global temperatures increasing in recent decades, plants have started to grow their leaves and flowers earlier each spring. Scientists have wanted to track this climate-driven creep in plant phenology for decades, and have traditionally used herbarium specimens to do so. However, "few botanists collect specimens these days, especially in Europe and North America, and there are now large gaps in the herbarium records," Claude Lavoie, a biologist at Laval University in Quebec City who was not involved in the research, tells The Scientist by email. "It is becoming extremely difficult to use herbarium data for phenological studies, because there are very few modern specimens covering the 21st century. We have records for the past, but no data for the present."
Few botanists collect specimens these days, especially in Europe and North America.

—Claude Lavoie, Laval University
To get around the problem, some researchers have made use of descriptions of natural environments in famous written works, such as Henry David Thoreau's Walden, and pored over photographs of outdoor landscapes to track plant communities' response to climate change. But with the advent of mobile technology, such an approach is easier these days. "People now take thousands of photographs with their smartphone every day of the year, and you can then reconstruct phenological events, like leafing, with these photographs—especially in botanical gardens where couples go to take their marriage pictures, often always in front of the same pond or tree," Lavoie says. "The challenge here is to find a way to collect those pictures. And this is where the idea of footage is brilliant, since all those images, taken at the same places and the same periods of the year, are stored in a unique collection."
That consistency was key, Vangansbeke says: the archival video footage of the Tour of Flanders is standardized. It shows the same trees and shrubs from various angles year to year, so it has an advantage over ad hoc images or herbarium specimens. He and De Frenne tracked down old tapes—more than 200 hours of footage—of the Tour in the archives at the Flemish Radio and Television Broadcasting Organization and sent PhD student Lisa Van Langenhove to watch it.
FLEMISH RADIO AND TELEVISION BROADCASTING ORGANIZATION
Over the course of five weeks, Van Langenhove identified 46 individual trees and shrubs that had been caught on film from multiple angles, giving the team 523 images to use to track when the plants leafed and flowered each year, and to measure the size of the leaves. When analyzing the data, the team found that during races that took place in the 1980s, almost no trees or shrubs on the course had begun to flower, and only 26 percent showed any leaves. But from 2006 onward, 45 percent of the same woody plants had started to leaf and 67 percent had started flowering by the time the cyclists hit the road in early April. And when the team correlated the plant data with local climate data—which have logged a temperature increase of 1.5 °C since 1980—the researchers found a solid link between warmer winter temperatures and earlier leafing and flowering (MEE, 9:1874–82, 2018).
"When we started the study, we expected to see some sort of change. Still, we were quite surprised to see how well we could see the change in the data, demonstrating significant connections between temperature and phenology," Vangansbeke says.
"This is a fun paper," Elizabeth Wolkovich, an ecologist at the University of British Columbia who was not involved in the study, tells The Scientist. "What's novel here is the idea of using footage from sporting events such as cycling races." A lot of phenology data already exist from Western Europe, she notes. Applying this method to footage from winter sports in the Arctic and other less studied regions could provide even more-valuable insights about the effects of climate change.
Such studies will also be "extremely important," when it comes to providing evidence of climate change for the public, notes Lavoie. While "there is overwhelming evidence of climate warming, there are still a lot of people, especially politicians, who do not believe this," he says. Displaying temperature trends on a chart is clear to a scientist, but often remains an abstraction for people with only limited scientific knowledge, he adds. "Showing images, especially sports images—that strikes the imagination."
Interested in reading more?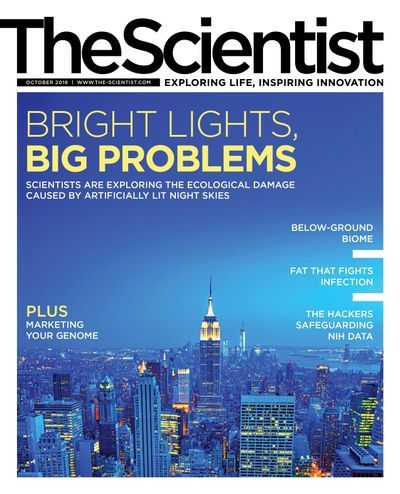 Become a Member of
Receive full access to digital editions of The Scientist, as well as TS Digest, feature stories, more than 35 years of archives, and much more!