© James E. Hernandez
The conventional wisdom among the scientific community and the public is that the present federal US policy on stem cell research, which provides National Institutes of Health funding only for research on stem cell lines developed before August 2001, has significantly reduced funding for stem cell research and diminished the translation of this platform technology to important therapies. But there's another side to this argument: that the present US policy has actually increased stem cell funding and research worldwide, thus mobilizing state governments, industry, and philanthropy to fund this promising technology.
PROBLEMS AND PROGRESS
The NIH has supported significant stem cell research, especially related to postbirth and adult stem cells, including bone marrow, cord blood, peripheral blood, and adipose tissue. It is likely that research in nonembryonic stem cells has been facilitated by Bush's policy because it has provided more federal funding for US researchers. It...
BALANCING ACT
It's unreasonable to suggest that politics doesn't play a significant role in medical research. Why else would such strong disease foundations and patient advocacy groups exist in the United States? While I don't condone our administration's policies that hinder the development of important therapies, what has occurred in the United States and abroad in the past few years suggests that stem cell research has received more funding and more attention from all sources, than if the president had lifted all restrictions on federal funding for human embryonic stem cell research.
That said, NIH funding does provide another level of scientific review and more open dissemination of results. The ideal situation from a science point of view is for the NIH to be involved in the development of viable stem cell therapies, whether they are based on cells of embryonic or adult origin. From a global perspective, however, it's hard to ignore the fact that federal limitations have caused and may continue to accelerate increased stem cell funding and research through other means.
Paul R. Sanberg psanberg@hsc.usf.edu is a distinguished professor at the University of South Florida College of Medicine in Tampa, Fla., and the director of its Center of Excellence for Aging and Brain Repair.
He can be contacted atpsanberg@hsc.usf.edu.
Interested in reading more?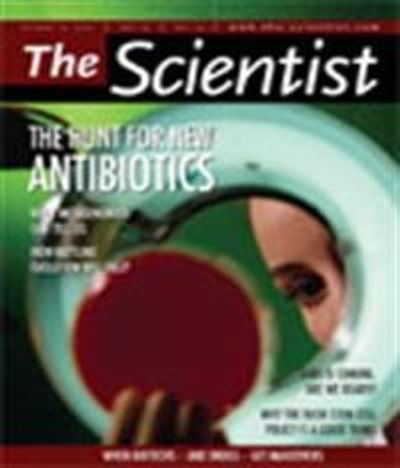 Become a Member of
Receive full access to digital editions of The Scientist, as well as TS Digest, feature stories, more than 35 years of archives, and much more!