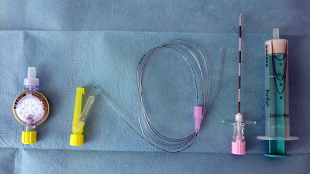 WIKIMEDIA, MRARIFNAJAFOV We tend to think of medical advances emanating from the basic and translational research performed by scientists in universities, the pharmaceutical industry, and the National Institutes of Health. But we should not forget that the medical device industry is also exceptionally entrepreneurial and dynamic, constantly developing new technologies off the back of major advances in computer and engineering science. More often than not, these new technologies not only improve the quality and safety of medical care, but can also reduce the costs when used appropriately.
Among the new devices recently introduced is a catheter-based device developed by Edwards Lifesciences in Irvine, California, that can perform an aortic valve replacement. Aortic stenosis—when the aortic valve does not fully open—is not uncommon in older individuals, and cases are on the rise as the population ages. Once the first symptoms develop, about 50 percent of patients will die within 2 years....
But that's not the only transformational medical device under development at the moment. Coronary artery stents have been around for some years, but a new drug-eluting stent called Acrobat currently under investigation at Svelte Medical in New Providence, New Jersey, can be placed via a single catheter, rather than through multiple catheters. This makes it a far simpler procedure, and means that both patient and cardiologist are exposed to less radiation from continuous X-rays used to track catheter position. It will also be quicker and cheaper. If the ongoing clinical trials bear out, this device will translate to better stents that result in more cost effective procedures than with previous versions.
And there are more. A new catheter-based approach to induce denervation around the renal arteries—an effective strategy to treat people with high blood pressure that are unresponsive to standard drugs—can be completed as an outpatient procedure requiring no open surgery. And for patients with lung pathologies, Sausalito, California-based Sanovas, where I am chair of the scientific advisory committee, is developing a technique to steer tiny catheters to the very smallest airways to image, biopsy, and treat early lung cancers as detected by low dose CT scanning. Similar devices will be used in the heart vessels to remove cholesterol deposits, or enter the smallest reaches of the pancreatic duct to detect and treat early-stage cancer. Cyberonics in Houston, Texas, has developed a device that uses brain-implanted electrodes to monitor and interrupt abnormal electrical activity in epilepsy patients to stop seizures before they occur. And eNuera Therapeutics in Sunnyvale, California, has created a device that applies transcranial magnetic stimulation around the base of the head to prevent the progression of migraine headaches.
The list goes on. It's clear that the rapid pace of new medical devices is already impressive, and it will only increase in the coming years. The entrepreneurial skills of companies, fresh knowledge, and new capabilities such as computer and engineering advances, along with the ability to protect intellectual property with patents, are supporting this fast growing industry. An added factor is the increasing interaction of clinicians—who are aware of a medical problem in need of a solution—and scientists or engineers, who can bring skills to the solution of the problem.
More diseases and syndromes are successfully prevented or treated than ever before. And more procedures are being performed without open surgery, leading to better patient outcomes and enhanced safety while also creating opportunities to reduce the total costs of care. So when we think about medical advances, the companies developing medical devices should get their fair share of the credit.
Stephen C Schimpff, M.D., is an internist and a professor of medicine and public policy and former CEO of the University of Maryland Medical Center. He is chair of the Sanovas Advisory Committee, senior advisor to Sage Growth Partners. You can read excerpts from his recent book, The Future of Healthcare Delivery, on his website.
Interested in reading more?
The Scientist ARCHIVES
Become a Member of
Receive full access to more than 35 years of archives, as well as TS Digest, digital editions of The Scientist, feature stories, and much more!