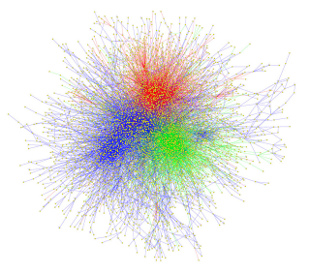 Depiction of the human proteome, binding interactionsFLICKR, DUNCAN HULL (VIA A.D. LANDER, BMC BIOLOGY)The announcement by tech billionaire Sean Parker, the founder of Napster and first president of Facebook, of his plans to donate $250 million to cancer research is not as large a departure from his file-sharing roots as it might at first seem. Parker's pledged support includes both the funding and sharing of cancer immunotherapy results.
Traditionally, many in the biopharma industry have been fearful of open data. Patents rule in this highly competitive marketplace, and being first to market a drug or medical device can bring shareholders huge financial rewards. Fortunately, there is new recognition of the essential role of open data to advance biomedical research, particularly in context of public health emergencies.
Two recent public health emergencies, outbreaks of Ebola and Zika viruses, are dramatic examples of how data sharing has already accelerated...
This unusual and admirable cooperation in light of the Zika epidemic was a response to regrettable delays in the sharing of some research results during the Ebola crisis. Timely and open exchange of molecular, mechanistic, epidemiological, and clinical data related to infectious disease was the focus of a September 2015 World Health Organization gathering, in which experts concluded that "public disclosure of information of relevance to public health emergencies should not be delayed by publication timelines," and that "early disclosure should not and will not prejudice journal publication of full scientific reports."
While the need for barrier-free sharing is most evident during times of global scourge, it's comparably critical to the progress of biomedical research across all diseases—the vast majority of which is supported by public funding. This is why my organization, PLOS, and other progressive science journal publishers, require research results be made available immediately upon publication to anyone who wants to read them, and that the data upon which published research is based are also freely shared.
Parker's contribution to cancer research ought to be applauded not just because of the magnitude of the financial gift. More subtly, and perhaps more importantly, his emphasis on information sharing highlights open data as an essential ingredient in the advancement of biomedical research.
Previous results are the foundation of new research, and the ability to reproduce published results expedites discovery. The more transparent, available, and usable information, the better equipped scientists from all sectors and geographies will be to optimize limited resources and advance discovery.
Ultimately, that is the purpose of biomedical research on all diseases, from Ebola to cancer and beyond, whether funded with tax dollars or from the pocket of a successful Silicon Valley entrepreneur.
Elizabeth Marincola is the chief executive officer of the Public Library of Science (PLOS).
Interested in reading more?
The Scientist ARCHIVES
Become a Member of
Receive full access to more than 35 years of archives, as well as TS Digest, digital editions of The Scientist, feature stories, and much more!