© g. Tompkinson/Photo Researchers, Inc.
Drug companies and diagnostic test developers are increasingly teaming up to produce theranostics, a treatment strategy that packs a one-two punch: a diagnostic test that identifies patients most likely to be helped or harmed by a new medication, and targeted drug therapy based on the test results. Theranostic tests differ from traditional ones such as those for blood glucose, because the new tests are based on sophisticated technology involving genetics, molecular biology, and testing platforms such as microchips. The test results are used to tailor treatment, usually with a drug that targets a particular gene or protein.
The most well-known example of this strategy is Herceptin, the breast cancer drug that targets the HER2 protein, which is overexpressed in 25% to 30% of breast cancers. Two diagnostic tests, HercepTest and Path-Vysion, are used to detect susceptible tumors, which allows treatment to be limited to patients...
NEW PHARMA ROLE
Designating certain populations for drug treatment goes against the grain of current drug marketing, which focuses on block buster drugs with sales of more than $1 billion (US) that can be used to underwrite the corporate costs of research and marketing. Theranostics effectively shrinks the patient pool – and profits. "From a business perspective, pharmaceutical companies find it scary," says Luis Gutierrez, corporate vice president and general manager at Covance Health Economics and Outcomes Services in Gaithersburg, Md.
Still, Big Pharma is dabbling in the theranostics approach. Robert Ruffolo, president of Wyeth Research, says his company is committed to exploring the new product type. "This is a hot area, even though it is still in its infancy," he says. Wyeth is already marketing a drug, Mylotarg, for patients with relapsed leukemia whose tumors express CD33. The company is also attempting to use an antibody, CMD-193, to recognize an antigen that is present in some tumors of the colon, prostate, lung, and breast.
In clinical trials underway for CCI-779, a renal cancer drug, Wyeth is measuring genomic expression profiles of patients' tumors using gene chips. "It adds to the expense and we don't know if these investments are going to pay off," says Ruffolo. "The view we're taking is that if theranostics is going to work, we want to be there."
Courtesy of Roche Molecular Diagnostics
In addition to targeting drugs to increase efficacy, theranostics can also be used to identify patients who might be susceptible to dangerous side effects. Physicians now routinely prescreen children with leukemia for the thiopurine methyltransferase (TPMT) genotype. TPMT metabolizes 6-mercaptopurine, a leukemia drug that is more toxic for some children than others.
Gutierrez says that if companies can use theranostics to boost efficacy or increase safety, they may be able to win regulatory approval for more products. In turn, this can help overcome industry resistance to changing the blockbuster model. "Perhaps instead of 22 or 25 new drugs a year you would have 35 or 40. The blockbusters that are going to work for everybody will make it through anyway, then you would have those with a smaller market," says Gutierrez. "A smaller market beats getting killed in development."
However, theranostics often require a coordinated approach to regulatory approval. The Food and Drug Administration approved Herceptin as a biological product in September 1998. At the same time, the FDA's Center for Devices and Radiological Health reviewed and approved the diagnostic kit for HER2 expression. "The FDA and European regulatory agencies and Japan all have to buy into this. So far they are expressing overt support," Ruffolo says. "But this would represent a significant paradigm change, and we don't know how comfortable the FDA will be."
In the case of Iressa, which is made by AstraZeneca, a number of issues need to be worked out. While the ability to test for the key genetic mutation exists today, questions persist about determining the applicability of the testing to patient care. For example, according to the company, 30% to 50% of patients with lung cancer will not have sufficient tissue samples needed for conducting the test.
The FDA is reviewing how it regulates combined diagnostic and therapeutic products. The agency met with industry representatives during a one-day workshop in July and expects to issue draft guidance on theranostics by the end of the year. The FDA plans to conduct another workshop in April 2005 to finalize the rules. Shiew-Mei Huang, deputy office director for science in the FDA's Office of Clinical Pharmacology and Bio-pharmaceutics, says more than 300 people attended the July workshop. The participants urged the FDA to clarify the approval process for combined products. "We got a lot of input," she says. "We have a lot of work to do."
NEW DIRECTIONS FOR DIAGNOSTICS
While regulations need to be sorted out, the focus on theranostics may bring new life to diagnostic companies, which have been experiencing a growth rate of only 2% to 3% a year, according to Fred Shapiro, a medical and regulatory affairs analyst at Innogenetics in Gent, Belgium. The company manufactures diagnostics for hepatitis and is currently developing a therapeutic hepatitis vaccine based on its experience in diagnostics. Overall, theranostic products are growing at a rate of 15% to 25%, he says, which prompted the company to shift more resources to the segment than its traditional diagnostic tests.
Theranostic tests are likely to add to the already high price of health care, but they may be more cost effective in the long run if they increase a drug's efficacy or prevent side effects, says Shapiro. "It's a fancy label but it certainly means nucleic acid tests that have to be interpreted by specialist clinicians and trained laboratory personnel. The level of testing also means it is higher priced," he says. "Obviously the problem from a public health perspective is to make affordable theranostic tests that are truly cost effective."
Courtesy of Wyeth Pharmaceuticals
Ruffolo says drug companies such as Wyeth will likely build partnerships with firms specializing in diagnostics to develop and market theranostics. Roche Molecular Diagnostics of Pleasanton, Calif., is scouting out partnerships with pharmaceutical companies whose drugs are already on the market or in development, but that have no diagnostic tests to target the drugs to patients, says Tom Metcalfe, head of Roche's biomarker program. Drug companies that have discovered certain biomarkers during development of a product would logically turn to diagnostic companies for help in developing tests. "We have the development expertise and regulatory expertise and the testing platform in the market," Metcalfe says. "We think there are increased opportunities to apply diagnostics to improve the choice of therapy for [drugs] already available."
Last year Roche launched AmpliChip CYP450, an array that detects variations in two genes, CYP2D6 and CYP2C19, which regulate drug metabolism. The product, which is now available only for research use, could have major implications for dosing and choice of therapy for a variety of pharmaceuticals, including cardiovascular drugs and antidepressants. Roche plans to submit the product later this year to US and European regulatory agencies for use as an in vitro diagnostic tool.
FUNDING CATCH-22
The financial viability of theranostics may be limited by low reimbursement rates, Metcalfe says. Standard reimbursement is based on the price paid for existing diagnostic tests and does not account for whether a new technology is faster or more reliable, which "can lead to novel technologies being undervalued," he says. The inability to pass along higher prices may discourage investment in new diagnostics, he adds. Companies may have to invest more in studies that can prove new products to be better in the clinic than existing tests. "This is a Catch-22," says Metcalfe. "Without the right incentives in place it's going to be difficult for diagnostic companies to fund studies."
Bernard says theranostics will initially provide new information about the response of certain patients to specific drugs, and then lead to the development of theranostic tests in key areas such as oncology and infectious disease. Eventually, theranostics will reach its full potential when drug discovery and development can be done on an individual basis. "A few isolated areas initially will be hot. During this wave, we'll see ad hoc emergence of tests for specific drugs or disease states," he says. "The third wave – and this is down the road – will be a true personalized medicine approach."
Susan Warner swarner@the-scientist.com
Interested in reading more?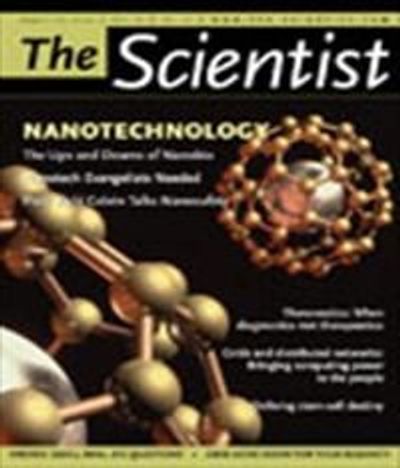 Become a Member of
Receive full access to digital editions of The Scientist, as well as TS Digest, feature stories, more than 35 years of archives, and much more!