Ned Shaw
Imagine an entertaining evening out on the town and talking science. Sound unlikely? Not to attendees of science cafés in Europe, North America, and Australia. Perhaps these comments, collected from Australian audiences, will sway naysayers to look more closely: "I love the exchange of ideas." "Provocative and fun." "I like seeing the 'techos' come out of the closet."
Science cafés aspire to promote discussion of science in a community setting. Held in venues ranging from cafés to pubs, museums to nightclubs, the atmosphere is emphatically informal and, yes, entertaining. The concept came to life in the late 1990's with the first "café scientifique" in the United Kingdom and "bars des sciences" in France. Dozens more have cropped up across the globe, and organizers report success in terms of community response and personal rewards. Here's their advice for starting a science café in your town.
A typical evening begins...
ADVICE FROM THE EXPERTS
SPONSORS
The Australian science café travels around the country and is a large production, with two radio personalities cohosting a panel of as many as four scientists. Three sponsors help with costs and planning efforts: the Australian Broadcasting Corporation, the British Council, and the New Scientist.
Two UK cafés, in London and Exeter, are held at art centers. In London, the venue serves as a sponsor and helps with planning and publicity. In Exeter, the café is sponsored by the Met Office, the national meteorological service.
In Victoria, Texas, organizer and local professor Richard Gunasekera has no sponsor and does minimal advertising (beyond word-of-mouth). Yet the event outgrew its first home at a tacqueria and is presently splitting the seams at a larger café. New Scientist sponsors the café in Boston, Mass., and provides information on starting cafés in the United States.
VENUES
Think pubs, cafés, nightclubs, band venues, and museum restaurants. Thomas recommends a "quiet, peaceful sort of venue," without distractions such as pool tables or video games. Venues will be interested in boosting a traditionally slow night (not the weekend) with a well-attended event.
The challenge is to balance the need for relative quiet with the desire for a bar atmosphere. People should "feel free to ask a question, to get up at any time" says Abigail Thomas, who helps organize the Australian science cafés. Some cafés use a back room or separate space. But be careful: Don't close the door to drop-in participants.
FORMATS
Most science cafés use a single speaker; however, panels have worked quite well Down Under. Keep the presentation short, well under an hour. "We say 15 minutes because if you tell a scientist 15 minutes, it can mean anything!" says Eugenie Reich in Boston. In Exeter, the speaker chairs the discussion; organizer Ginny Russell advises them to encourage participation "so it's not just Q&A."
SPEAKERS AND TOPICS
Speakers are not paid, although they might get free drinks and perhaps a reimbursement for their travel expenses. "Go for local people," says Fullwood. She contacts potential speakers by E-mail, explaining the café scientifique concept and why they have been invited. "Practically everyone has said yes."
For topics, Fullwood advises finding subjects of local interest; speakers and audience members can make suggestions. For more ideas, surf Web sites of other cafés, as well as the Dana Centre in London, which always advertises a full slate of talks.
THE AUDIENCE
Cafés attract a mixed crowd of people differing in ages, professions, and café experiences. Generally it's an adult crowd, from college-age to retirees, and not just scientists, but lawyers, artists, and students. The regular attendees in Boston "feel like they have to be there," says Reich. But there are always newcomers, "people who've just heard about it."
"People tend to muck in together," says Australia's Thomas. "It's a really good opportunity to meet other people." London's Fullwood says the "beauty is when there's a dialogue between different members within the audience," breaking down boundaries between experts and nonexperts.
CODA
Abigail Thomas illustrates the power of a science café on a seemingly unlikely audience in a tiny outback town in Australia. She describes cattlemen and miners, "pretty rough-looking," drinking beers at the local pub. "All of a sudden, Paul [the chair] hops up and announces, 'We're going to be talking about how the universe was formed,'" she relates. "And [the locals] all had this look on their face, like 'what [is] going on here?' But we had a couple of fantastic astronomers on that panel and by the break, I heard a couple of these pretty wild-looking men actually arguing about Einstein's theory of relativity."
RESOURCES
Café Scientifique
http://www.cafescientifique.org/index.htm
Links to UK and worldwide cafés; practical advice for café organizers
New Scientist
http://www.newscientist.com/hottopics/cafescientifique
Links to US, UK, and Australian cafés; contact info for help in setting up a café
Dana Centre
http://www.danacentre.org.uk
Ideas for topics
Interested in reading more?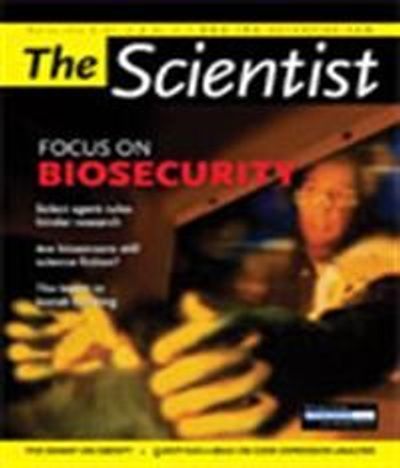 Become a Member of
Receive full access to digital editions of The Scientist, as well as TS Digest, feature stories, more than 35 years of archives, and much more!