Not long after starting a job as the head of a chemistry lab at a high school in Benin City, Nigeria, Charles Rotimi told his parents that he wanted to leave his native country to pursue a graduate degree abroad. He applied to a petrochemical engineering school in the UK and to the University...
Rotimi's adventures abroad started in January of 1982. His entire family—parents and five siblings—saw him off at the Benin City Airport as he boarded a plane to the States. "I had never been outside of Nigeria and at the airport, suddenly leaving dawned on me, and I couldn't hold back my tears," he recalls. The trip wasn't easy. "It was absolutely traumatic," Rotimi says. He took a flight to Gatwick Airport, which is roughly 50 kilometers south of London, and then boarded a helicopter to Heathrow Airport, near the city center. "It was winter, and I had never experienced winter and didn't even have a coat on me, nothing close to adequate," he says. "The hostess in the chopper saw that I was freezing and gave me a blanket, which was a lifesaver."
From Heathrow, Rotimi flew into New York City and then to Memphis, Tennessee, about an hour from the University of Mississippi. His Nigerian friend picked him up from the airport and took him to a McDonald's to introduce him to hamburgers. "I couldn't eat it! I took a bite and couldn't swallow," says Rotimi. "It was just so different from the food I was used to. I would never have thought to put meat and lettuce with sauce between bread."
"Using genetics to define race is like slicing soup: you can cut wherever you want, but the soup stays mixed."
Rotimi's cultural immersion didn't stop under the golden arches. At the University of Mississippi—where children from some of the wealthiest Southern families go to college, and which has a history of social unrest and discrimination—he would get his first taste of one of the most unfortunate aspects of American culture. "I really started to learn about disparity quite quickly. Other than knowing about apartheid in South Africa, which felt far away, I had no idea about racism. I had no appreciation of what it was and its intensity," he says.
Yet Rotimi never regretted his decision to study at the university. It was where he met his future wife, Deatrice, who is originally from Chicago and was then an undergraduate at Mississippi, and where he completed his master's degree in health care administration in 1983.
Never intending to stay in the US, Rotimi flew back to Benin City to be with his family in 1985 and finally, after a six-month search, landed a job as an administrator at a local health ministry. "The job was not fulfilling, I was starting to run out of money, and suddenly I couldn't see a future for myself in Nigeria," says Rotimi.
He applied and was accepted to the University of Alabama's Master of Public Health epidemiology program and again left the country of his birth, this time for Birmingham. There, Rotimi says that he did only three things—sleep, eat, and study—hoping to secure a scholarship to continue on as a PhD student. The effort paid off, and after a year with perfect grades, he received a full scholarship. By then, Deatrice had joined him and the couple had gotten married.
Following his PhD and a postdoc in California that lasted less than a year, Rotimi landed his dream position at Loyola University—as an epidemiologist studying cardiovascular disease, obesity, and diabetes susceptibility in individuals across the African diaspora. Since then, Rotimi has been studying genetics and health disparities, making it his mission to generate genetic epidemiology data on African populations and to make sure that African genomes are represented among large-scale genomics projects.
An inquisitive mind
Rotimi was born in 1957 in Benin City, the second oldest of six children. "I was one of those kids that drives their parents crazy because they are always asking 'why' about everything and never satisfied with grown-ups' answers," he says. "My mother would ask jokingly, 'Do you have to question everything?' I just wanted to know how things worked." Rotimi says that his mother, Mary, had no formal education but was among the most brilliant people he has known. She had her own wholesale business, supplying goods such as candy, sugar, milk, and toiletries to local stores. His father, Alfred, was a high school English teacher and later became a foreman for a timber and plywood company. Rotimi excelled at math and science from an early age, had supportive teachers, and took chemistry, physics, and biology laboratory courses. He was also an avid soccer player, although not good enough, he says, to play in college.
As an undergraduate, at the University of Benin, Rotimi majored in biochemistry, and in his final year, in 1978, he conducted an experiment that tested for the presence of aflatoxin—a compound produced by a fungus—in poorly stored Nigerian foods and alcoholic beverages, such as palm wine and a millet-based drink called burukutu. Aflatoxin has been linked to liver cancer, and in hindsight, Rotimi says, he was already starting to address a health disparity issue—the lack of refrigeration and other properly functioning, temperature-controlled food storage facilities—early in his career.
A tailor-made position
During his PhD in Alabama, Rotimi examined whether foundry and engine plant workers in Ohio were especially susceptible to lung and stomach cancer. The study, published several years after he completed his graduate studies, didn't show a strong link. His study lasted three years, and once he earned his PhD, in 1991, he drove his Honda Civic to Loma Linda University in California to start his postdoc, studying Alzheimer's disease. Rotimi says he thought researching the neurodegenerative disease would interest him, but not long after he arrived, he saw an advertisement for an epidemiology assistant professor position at Loyola University in Chicago to study cardiovascular diseases in individuals of African descent.
"I called about it, and the department chair, Richard Cooper, picked up the phone. 'Dr. Cooper, did you write this ad with me in mind?' I told him. He thought I was crazy, I think, but we both laughed," Rotimi recalls. "This is exactly what I want to do in my career, I told him."
Rotimi went to Chicago for an interview. Cooper, a tall, blond cardiologist from Arkansas who had turned to epidemiology, had witnessed firsthand the discrimination against black people around him while growing up. "The experiences stayed with him, and he was socially conscious and wanted to do research that would shed light on the disease disparity of minorities in the US that likely had more to do with societal structure than genes," Rotimi says. At the end of the interview, Cooper offered Rotimi the position.
Together, and in collaboration with several international scientists, they successfully enrolled more than 10,000 individuals for a study of hypertension prevalence among seven populations of West African origin, including groups of people in Nigeria and Cameroon, on three islands in the Caribbean, and in Chicago. "Cooper was the brain behind this groundbreaking cardiovascular research project," Rotimi says.
"A study this large was unheard of at the time, and it was difficult to conduct," he adds, "I traveled a lot for this work." The effort was worth it. The team found that the rates of hypertension and diabetes dramatically increased from rural Africa to urban centers in the Caribbean and to the African American population in Chicago.
"We have these categories for people that we try to justify in biological, cultural, and social ways, but in the end it all breaks down, because one thing humans do very well is to share their DNA."
A significant proportion of the observed differences could be explained by individual lifestyle factors, including weight, salt consumption, and levels of physical activity.
At Loyola, Rotimi also received funding from the National Institutes of Health (NIH) to study whether genetic differences among those who shared African ancestry could explain additional variation in hypertension, obesity, and cardiovascular diseases. The study demonstrated that coronary heart disease, hypertension, stroke, and diabetes tend to occur in some African-American families and not others, providing evidence for heritable components of these diseases.
"All of this epidemiology and genetic research on African-descent individuals was unique at the time. No one else was really studying this," Rotimi says. "It was fortunate for us that the research proposals made sense to our reviewers, because most of the grants we wrote were funded." He credits Cooper with teaching him "to write well and to ask good questions," which helped Rotimi solidify his approach to designing studies on African genomes to understand gene-
environment interactions.
Greatest Hits
Along with Richard Cooper and colleagues, determined environmental causes of hypertension and diabetes among urban and rural populations of West African descent—and showed that African diaspora populations can be used to do large epidemiology studies
Led the African genome component of the International HapMap Project, which became part of the 1000 Genomes Sequencing Project
Analyzed the genomes of almost 3,000 individuals to determine the evolutionary origin of the sickle cell anemia mutation, which confers resistance to malaria, and calculated that the mutation emerged about 7,300 years ago in West Africa
Genetics to tackle race issues
In 1999, after seven years at Loyola, Rotimi was persuaded by microbiologist Georgia Dunston to move to Howard University in Washington, DC. There, he would help Dunston establish the university's National Human Genome Center to study the diversity within African and African American populations and to be the center's director of genetic epidemiology.
The move and setting up the center proved more challenging than Rotimi had expected. "I had a strong belief in my capabilities, but looking back, I was quite naive," he says. "I had to create the kind of support that I needed and to do that, I had to work four times as hard as I probably would need to elsewhere, as I didn't have as much mentorship. But the experience helped me to see what I was capable of on my own."
Rotimi began to study the implications of genetics for identity and the disparity created if neither African American nor African populations are included in genomic datasets. After attending an international meeting on genetic variation and identity, Rotimi wrote a 2004 Nature Genetics perspective on how best to use genetic variation as a tool to help understand disease across different populations. In another Nature Genetics perspective he wrote with colleagues and published the same year, Rotimi argued for the use of genomic tools to better understand human biological variation, how to classify our various genetic backgrounds, and what genetics can teach us about breaking down social definitions of race. "Although there is genetic variation in our genomes, the key is that these differences don't rise to the level of being able to parse socially defined racial groups or racial self-identity," he says. "Using genetics to define race is like slicing soup: you can cut wherever you want, but the soup stays mixed."
Around the same time, Rotimi joined the International HapMap Project, which sought to identify patterns of DNA variation in the genomes of individuals around the world, the first spin-off of the Human Genome Project. He engaged three African communities in Kenya and Nigeria to ensure that African genomes were represented. According to the fossil record, modern humans originated in Africa about 200,000 years ago, and 100,000 years later, some left the continent and spread throughout the world. Many of the genetic evolutionary changes in the human genome occurred before the out-of-Africa migration, and "because those that migrated out only carried a subset of the genetic diversity that existed then, it is critically important to include as many African populations in genomic studies [as possible] to fully capture human genetic diversity," says Rotimi.
"The HapMap analysis reaffirmed what my lab was already very conscious of, which is that African genomes, because they are oldest, have among the highest degree of variation, and that you cannot fully appreciate population variation without studying and understanding these most ancestral human genomes," says Rotimi.
He also continued to study diabetes, both for personal reasons (his father died of complications of the disease, and several of his siblings are diabetic) and because economic and other disparities that certain populations and communities face have been implicated in rising diabetes rates.
In 2007, Rotimi joined forces with Kári Stefánsson, an Icelandic neurologist and cofounder of deCODE Genetics. The company studies the genetics of disease, and Rotimi contributed his lab's West African genomic dataset to further understand a diabetes risk gene variant, TCF7L2, which was originally identified in a European genomics study. "Because the African genome is older, has undergone more recombination, and is therefore more fragmented, we could show with more certainty that TCF7L2 and a variant (HapA) of the same gene are associated with diabetes risk because the gene functions in energy metabolism."
The same, yet different
In 2008, Rotimi moved his lab to the NIH in Maryland. He became the founding director of the Trans-NIH Center for Research on Genomics and Global Health, following several brainstorming meetings with Francis Collins, then the director of the NHGRI, on ways genomics studies could be more inclusive of the world's populations. "It's been wonderful," says Rotimi. "One of the best career moves I have made. My lab group here is like the United Nations! Whenever we do a potluck, it is food from all over the world."
Recently, Rotimi and his lab members compiled genomic data from almost 6,000 individuals, representing 13 language families, to come up with 21 different global genetic ancestries. The research showed that more than 97 percent of humans have mixed ancestry, demonstrating that race labels such as "black," "white," and "Hispanic" are far from adequate ways to classify people.
"There are differences among people, but this study again shows that these differences don't cluster into social groups and race. We have these categories for people that we try to justify in biological, cultural, and social ways, but in the end it all breaks down, because one thing humans do very well is to share their DNA," Rotimi says.
Reflecting on his work, Rotimi says he is absolutely surprised that he now finds himself with a distinguished scientific career, in the largest biomedical research institution in the world. "I came from a very humble background, and I had no clue as to how life would play out for me when I first arrived to study in the US," he says. "I've come a long way, and I think it speaks to hard work, having key people in your life who can help shape your opportunities and provide support—and then a little bit of luck here and there."
Interested in reading more?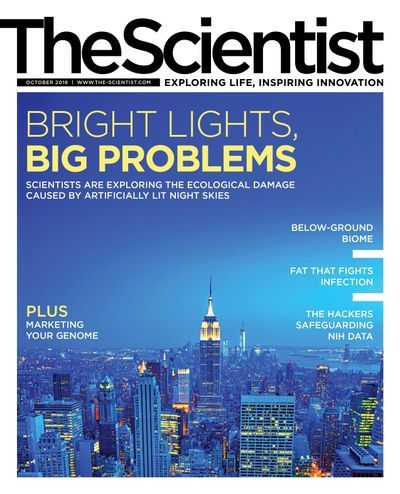 Become a Member of
Receive full access to digital editions of The Scientist, as well as TS Digest, feature stories, more than 35 years of archives, and much more!