When no one in Zena Werb's University of California, San Francisco lab wanted to investigate whether elements of the three-dimensional web of macromolecules surrounding cells could communicate with those cells, she decided to do the experiment herself.
It was the 1980s, a time when scientists saw this web, called the extracellular matrix (ECM), as primarily a support structure for cells. But Werb's study showed that proteins within the matrix are involved in signaling. Specifically, she discovered that integrins, transmembrane molecules that help adhere a cell to its surroundings, not only bind but respond to ECM proteins, activating intracellular signaling pathways—regulating, for example, the expression of genes that encode ECM-degrading enzymes called matrix metalloproteinases (MMPs). The extracellular matrix was more than just a scaffold, Werb realized—a concept...
Over the past few decades, Werb, a cell and molecular biologist, has shown that the extracellular matrix is a dynamic network that greatly influences health and disease. Related to that idea, she has contributed numerous noteworthy discoveries, including the role of MMPs in embryonic implantation, early development, and metastasis. Her work has revealed that cells' surroundings are important to their well-being.
From Europe to New York
Werb was born to Jewish refugee parents during World War II in March 1945. Her parents had been split up before she was born, so when her mother was able to return to their native Poland a month after Werb's birth, she tried to reach Werb's father, with whom her mother had lost contact. When Werb's mother discovered Werb's father was in Italy, she immediately made plans to join him.
It would be half a year before Werb's family reunited. To reach Italy, Werb's mother traveled with her infant both by train and on foot, with very little money. Reaching Austria, she hit a roadblock: Italy would not allow refugees across its border. With the help of a guide who led her on a pathway through the Alps, Werb's mother managed to sneak into the country with her daughter, eventually locating Werb's father. The reunited family spent six months in a displaced persons camp in northern Italy before immigrating to Canada in 1948.
I've always been someone who, when things don't work out, I remember them, but I don't dwell on them. . . . I look for how to go beyond that.
After a year in the prairie province of Saskatchewan, the family settled in southern Ontario, where Werb's parents bought a farm that they worked while she attended classes in a small, one-room rural schoolhouse. "We had terrible teachers," Werb recalls. But her father was passionate about math and physics, which he had studied back in Europe. "So by the age of four," she says, "I had learned Newton's laws."
Under her father's influence, Werb's interest in science grew, and she went on to pursue a bachelor's degree at the University of Toronto. She initially developed a strong interest in geology, and was eager to join a field course investigating geological phenomena in the Rocky Mountains. "Since I was the top student in the class, it should have been no problem getting into it," Werb says. "But I couldn't because they didn't [have] any facilities for women."
The experience taught Werb a valuable lesson: "it was obvious to me that I didn't have a future in this area," she says. She shifted gears and spent the next few years studying biochemistry and biophysics, developing a passion for those subjects that led her to a doctoral program at Rockefeller University in New York City in 1966.
The inner and outer lives of cells
Werb was drawn to Rockefeller in part because of the opportunity to work on X-ray crystallography with Gerald Edelman, the scientist who had uncovered the structure of antibody molecules. But when she rotated through his lab, "I found out that he was an impossible person," Werb recalls. Taking the advice of one of Edelman's former students, she went to work with biologist Zanvil Cohn, whose research focused on macrophages, massive immune cells that stretch out and engulf foreign cells and debris. In Cohn's lab, Werb saw live macrophages under a microscope for the first time. After that, "I was hooked on cell biology," she says.
Cohn was her most important mentor, Werb says. He believed in letting his students be independent and allowed Werb to freely pursue the scientific questions of her choice. "We talked, but he allowed me to be the driver [of my research]." With that academic freedom, she conducted experiments with macrophages that revealed the crucial role they play in regulating cholesterol metabolism (J Exp Med, 135:21–44, 1972).
As a natural extension of this work, Werb wanted to experiment with lipoproteins, soluble proteins that combine with and transport fats through the circulatory system. However, due to the technical challenges associated with obtaining and isolating the molecules from blood, lipoproteins were hard to come by at the time—and Werb wasn't getting much help from the university's faculty. The atherosclerosis expert at Rockefeller would only take an appointment with Werb's thesis advisor, who was a male, and while faculty at New York University were willing to meet with her, she was greeted with an attitude of disinterest. "No one said [they acted this way] explicitly because I was female, but it was obvious," Werb recalls.
Although Werb was unable to pursue that work, she couldn't shake her interest in proteins. So when she started her postdoctoral studies in biologist John Dingle's lab at Strangeways Research Laboratory in Cambridge, UK, she decided to study fibroblasts, cells responsible for producing collagen, one of the main components of the extracellular matrix and the most abundant protein in the body.
It was at Strangeways that Werb began her influential research on ECM-degrading MMPs. Werb stumbled upon these molecules somewhat serendipitously: a postdoc working at the lab bench next to hers was investigating the biochemical properties of MMPs, which were fairly new to science at the time, and Werb wanted to know whether fibroblasts produced them. She discovered that they did, and this jumpstarted a long line of experiments that elucidated the functions these proteins have both inside and outside of the cell.
"MMPs weren't considered all that impressive or interesting," says Valerie Weaver, Werb's University of California, San Francisco (UCSF) colleague and frequent collaborator. "Zena went into that area and made it her own."
Hugo Gonzalez
Professor and Vice-chair, Department of Anatomy, University of California, San Francisco
Faculty Biologist, Cell and Molecular Biology, Lawrence Berkeley National Laboratory
E. B. Wilson Medal, American Society for Cell Biology (2007)
Elected Fellow, American Academy of Arts and Sciences (2003)
Elected Member, Institute of Medicine of the National Academies (2002)
Upon completing her postdoc in Dingle's lab in the mid-1970s, Werb was offered a job at the nearby MRC Laboratory of Molecular Biology. But she wanted to return to North America, so she declined. Soon after, she was offered a temporary assistant professorship at Dartmouth, so in 1975, she moved back across the Atlantic. While at Dartmouth, Werb received yet another job offer, this time from UCSF. A year later, Werb moved to San Francisco to start her own lab, setting up shop in the university's radiobiology department. There, she had the freedom to pursue whatever projects she wanted. Her lab grew, and so did her list of publications.
She did, however, initially face challenges in growing her income. Around a year and a half after Werb arrived at the university, the director of the radiobiology lab, Harvey Patt, was diagnosed with an aggressive form of cancer and passed away. The person who took his place "was another male chauvinist," Werb recalls. "He'd give the male junior faculty increases in salary, but when I [asked] he said, 'Oh, we don't have the money.'"
But Werb never let herself be discouraged. "I've always been someone who, when things don't work out, I remember them, but I don't dwell on them," Werb says. "I look for how to go beyond that." Eventually, Werb received a cross-appointment in the anatomy department—where she was treated equitably—and moved there full-time after the radiobiology lab lost its funding.
Microenvironment and mentorship
As she continued her work on MMPs, Werb and her colleagues revealed that the enzymes were critical regulators of the extracellular microenvironment. As such, the researchers learned, MMPs participate in a variety of processes, including development and cancer. "She has done seminal work in the area of the tumor microenvironment," says Rakesh Jain, a cancer biologist at Massachusetts General Hospital. "Breast cancer is where she focused most of her research, and her work is just phenomenal."
Werb collaborated with Mina Bissell at the Lawrence Berkeley National Laboratory for much of her early work on breast cancer. When the pair met in the 1980s, Bissell's lab was investigating the roles different proteins and hormones played in mammary glands. Together, Werb's and Bissell's labs demonstrated that not only were MMPs expressed in cancer, but that the overproduction of these enzymes could promote tumor formation and drive malignancy (Cell, 98:137–46, 1999).
Another of Werb's key scientific contributions was linking inflammation to cancer. She conducted several of the early studies in this area with Lisa Coussens, a cancer biologist at Oregon Health & Science University. Werb met the young researcher in the 1990s, when Coussens was a postdoc in biologist Douglas Hanahan's lab at UCSF. Due to Coussens's interest in immune cells, she ended up working closely with Werb. Their work laid the foundation for establishing inflammation as a hallmark of cancer. A review that Werb and Coussens coauthored has been cited more than 10,000 times (Nature, 420:860–7, 2002).
Greatest Hits
Revealed that components of the extracellular matrix are involved in signaling, pioneering the view that cellular processes such as gene expression and differentiation are modulated by external cues
Found that metalloproteinases (MMPs) regulate a variety of biological processes, including embryonic implantation, development, and blood vessel formation
Discovered that MMPs are expressed in cancer and that the overproduction of these molecules can promote tumor formation and drive malignancy
Helped elucidate the link between inflammation and cancer
Coussens says that the direction of her career can be traced to her collaboration with Werb. "It was really Zena's encouragement that led me into studying early inflammation," Coussens says. "She's been the most profoundly influencing senior scientist that I've had as a mentor in my life."
Coussens is not alone. Over the years, Werb has mentored countless budding scientists. "She birthed an entire generation of [researchers]," Coussens tells The Scientist. "Many of us lead in our fields, but none of us could have done that without Zena."
Andrew Ewald, a cell biologist at Johns Hopkins University and one of Werb's former postdocs, says that grad students and senior faculty alike often sought Werb's guidance. "She was open to any idea . . . [but] also very critical," Ewald adds. "Her advice was treasured by a huge range of people . . . because she'd tell you whether you had a good idea or a bad one."
Now in her 70s, Werb continues to be actively involved in research and is trying to determine why only some tumors end up metastasizing, even though all cancers have the potential to. One reason, she and colleagues recently reported, might be because some components of the innate immune system can actually prevent cancer's spread. "There's something generic or universal about the problem [of metastasis]," Werb says, "and I want to understand it."
Diana Kwon is a Berlin-based freelance journalist. Follow her on Twitter @DianaMKwon.
Interested in reading more?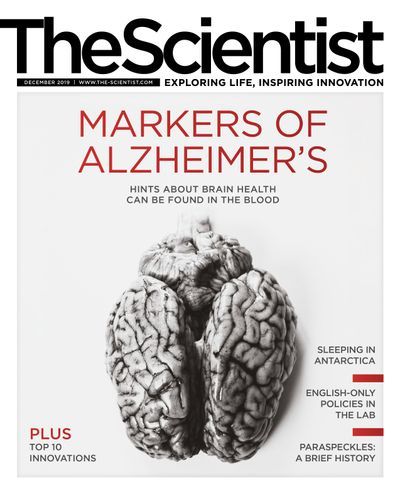 Become a Member of
Receive full access to digital editions of The Scientist, as well as TS Digest, feature stories, more than 35 years of archives, and much more!