Invitrogen hired 1,000 life science PhDs worldwide last year, of whom roughly 30% were new graduates, and it expects to hire 1,000 more by the end of this year, says Rodney Moses, vice president for global talent acquisition for the Carlsbad, Calif.-based company. Fourteen percent of recently graduating PhDs expect to join the industry within two years of their postdocs,1 yet many of these new hires aren't ready to contribute meaningfully to the companies that need them. Invitrogen managers say that "they are great scientists, but when we bring them onboard, will they also understand how we bring our products to our customers?" says Moses. The answer is too often no.
Life science PhD programs are typically geared toward allowing the student to learn enough laboratory skills to produce publishable data for the thesis, says Douglas Amorese, R&D manager for genomics business at...
Other people
"We want people who work well with others," says David Smoller, vice president for R&D at Sigma-Aldrich in St. Louis. This is an absolutely necessary skill for biotech because teams execute all the projects, he says, and it is essential for all team members to work together to accomplish the task at hand. However, he adds that these are not teams of scientists like the ones to which students have become accustomed. Instead, they are multidisciplinary teams composed of scientists, marketing executives, project managers, financial managers, and so forth, with which the new PhD must establish a working relationship.
Some new PhDs also lack a general awareness of how the biotech industry works. "The PhD is very deep and narrow and [does not] have the kind of awareness of some of the broader issues, such as the process of taking a drug from the lab to the market," says Dewey. This lack of awareness can manifest itself when the new PhD is exposed to the tight deadlines characteristic of biotech industry projects. For example, biotech companies may expect a scientist to develop a product within one year. "It's not like a postdoc where you can extend a project another six months or so. These are timelines and commitments that the organization is counting on," says Amorese. Also, new PhDs may not be aware that in biotech their project may change from year to year, says Smoller.
Some biotech executives describe this lack of awareness of the industry as a lack of business acumen. Because business experience or business courses are not required during their training, PhD life scientists are not well known for their business smarts. Although this does not apply to all postdocs, of course, a majority of these new graduates do struggle to understand that biotech projects are not only designed to solve a biological problem, but also to turn a profit for the company, says Amorese. It is equally important, he notes, that new hires be able to convert this understanding quickly into practice within the company.
Not ready for prime time
For new hires adapting to this environment, experience has no substitute. So some companies have initiated internship and fellowship programs in which new PhD life scientists can receive their postdoctoral training in-house. "We have an internship program where the postdocs come in and are either assigned a project or design their own project," says Moses. The program acts as a biotech industry crash course for postdocs and gives the company a steady supply of soon-to-be biotech-savvy scientists. Schering-Plough BioPharma in Palo Alto, Calif., offers another example of this approach with its Postdoctorate Research Fellowship Program (www.spbpostdoc.com/careers/index.html).
In some companies, the hiring managers prefer to hire PhDs who have spent at least some time in the biotech industry. Even if the PhDs have worked in the biotech industry for only a couple of years, says Amorese, they know the goals and objectives of industry. "Sometimes when we get folks right out of graduate school or from a postdoc and they end up not being a perfect match for us, lots of time it is because they are not used to working under tight timelines." So Agilent tends to hire only people with biotech experience.
But how do people obtain this experience if they need an industry-working background to get hired? Invitrogen offers its internship to avoid this potential catch, says Moses. The internship program can help postdocs learn to work under time pressures so that they are prepared for the real thing when they are hired for permanent positions, he says.
To foster the integration of PhDs who lack experience in the industry, some biotech companies have initiated supplemental training. Invitrogen offers management training and other business-oriented courses to train young scientists in the business side of the biotech industry. Although the company has not performed a cost-benefit analysis, says Moses, these courses serve to reinforce an employee's learning map, which helps employees to understand how their job responsibilities fit into the entire business process at Invitrogen.
Industry-sponsored academic programs can also teach business skills to doctoral students. Examples include a joint MBA/PhD program at San Diego State University, and a Master's in Bioscience (MBS) program at Keck Graduate Institute in Claremont, Calif. Other academic programs do exist aacross the US.2 San Diego State's MBA/PhD program produces job candidates who are proficient in both the scientific and business skills needed for biotech jobs, says Moses. Students in Keck's MBS program form teams to work on industry projects such as product development, says Dewey. The industry sponsor assigns a project, provides a research setting, and makes available a company liaison to serve as project advisor.
The sooner the better
Perhaps the answer to biotech's hiring dilemma may be to expose potential scientists to the industry environment extremely early on. Genentech and Invitrogen are cosponsoring a biotech training program in American high schools, where the students have an opportunity to work on a science project on location at a biotech company. The Northwest Biotechnology/Biomedical Education and Careers Consortium also offers a similar program (http://elmo.shore.ctc.edu/NWBBECC/hsprog.html). The goal is to foster an early interest in the biological sciences by encouraging high-school students to eventually pursue a PhD degree and to expose up-and-coming scientists to the environment and business objectives of the biotech industry. From a business perspective, says Moses, the biotech sponsors expect to produce a long-term, steady supply of biotech-ready scientists through the continuous support of these programs.
References
1. T. Agres, "Best Places to Work 2006, Postdocs," The Scientist, 20(3):53-61, March 2006.
2. V. Gewin, "Increase job skills, increase value," The Scientist, 20(3):86-7, March 2006.
Interested in reading more?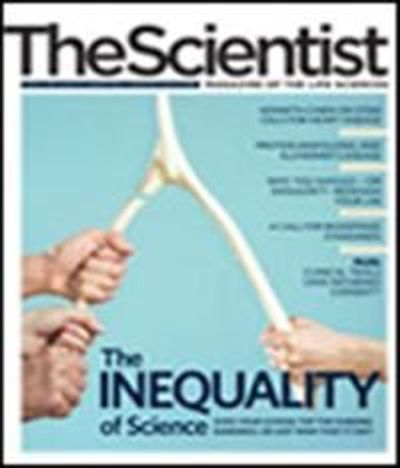 Become a Member of
Receive full access to digital editions of The Scientist, as well as TS Digest, feature stories, more than 35 years of archives, and much more!