George Church, Harvard University professor and genomics pioneer, became a scientific advisor to a biotech company for the first time in 1979 when he was still a PhD student at Harvard. Biorad-Sadtler was trying to develop a general purpose scanner of gel electrophoretic autoradiogram films, and asked Church to discuss the DNA sequencing software he had just written.
Over the next several years, his career blossomed. Church completed the first direct genomic sequencing method, helped launch the Human Genome Project and licensed a slew of technologies during the 1980-1990 biotech boom. In many cases, that technology created a biotech, and he joined another scientific advisory board. Despite his hectic schedule - maintaining a Harvard lab, mentoring students from four universities, and sitting on 11 biotech advisory boards - Church says the extra work is worth it. There's "an obligation for scientists to get things out of the ivory tower," he...
During a typical meeting, Church might give advice on recent scientific advances that could benefit the company, talk about what the company's research and publication priorities should be, suggest good scientific meetings to attend, or mention up-and-coming scientists the company should watch. Church says that most scientific advisory board (SAB) members are tapped for their knowledge of the science within their community rather than their business know-how. It's the chief scientific officer's role to guide discussions towards the company's interests. "They're really the sorts of things you would discuss in a lab meeting," he says.
If a scientist has distinguished him or herself in a particular field by conducting commercially relevant research, the offers to serve on SABs are bound to roll in.
Sound interesting? If so, there are many opportunities: According to a database maintained by Genetic Engineering and Biotechnology News, there are currently about 3,000 biotechnology companies in the United States, and the ones that use SABs typically have between six and 12 members. Membership on most SABs is by invitation only, and biotechs look for the best scientists within a field. But SABs aren't only for superstars like Church. If a scientist has distinguished him or herself in a particular field by conducting commercially relevant research, the offers to serve on SABs are bound to roll in. Below are some of the benefits and drawbacks of serving on an SAB to help you decide if it's right for your career.
Benefits
Gain entry to industry - For young scientists coming out of academic PhD programs or postdoctoral positions, getting into industry without prior experience can be trying. For Church, serving on an SAB was a good introduction to the workings of industry and a way to acquire a reputation in the corporate realm. SABs are "a way to meet the people on the other side of the [academic/industry] gulf," says Steve Roth, CEO of Immune Control and a former University of Pennsylvania biologist. "This is a chance to get out and interact with corporate people."
Collaborate with the best - James Dahlberg, a University of Wisconsin molecular biochemist who has started two of his own biotech companies, says that getting together with fellow SAB members, who share interests and are usually at the top of their field, can lead to fruitful discussions and collaborations that carry on outside the walls of the boardroom. "You can get information, exchange ideas, and get criticism of ideas," Dahlberg says. Leroy Hood, president of the Institute for Systems Biology, who has served on dozens of SABs, says, "I learned almost as much from my interactions with companies as I did from interactions I had at scientific meetings."
Build prestige - Advising for a string of successful companies can look quite impressive on a scientist's resume. Roth says, "If you're a young scientist and you're on the board of a couple biotech companies, that's a good thing." A reputation for participating in fruitful commercial ventures can lead to more offers to serve on SABs and respect among one's colleagues, he adds.
Become a better mentor - Serving on SABs can broaden the intellectual landscape for dyed-in-the-wool academics, showing them that there are outlets for their ideas outside the confines of a campus. "Many of our graduates go on to jobs in industry," says Dahlberg. "It's a good idea for me, if I'm advising these people, to know what might be ahead of them."
Get access to the latest technologies - Companies often ask SAB members to test the cutting-edge products they're developing. This gives SAB members access to software, instruments, reagents and other technologies before they're released to the rest of the scientific community. Researchers "love having access to the things they could never do themselves," says Hood. When Church was on Caliper Technologies' SAB in 1995, he was able to use an early prototype of the company's microfluidics platform when the technology wasn't yet widely available. "This was instrumental in getting us over the material barrier to developing second generation sequencing technology," Church says.
Earn extra income - Compensation can consist of cash stipends that can range from roughly $2,000 to $5,000 plus travel expenses, stock options in the company, or a mixture of both. Roth recommends that, if offered a choice, SAB members should opt for stocks over direct payment. "Company management very much likes people to take an equity position over cash." Having advisors who are invested in their company, Roth says, benefits the corporation and its advisors by creating SABs that are more closely aligned with the success or failure of the company. Harry George of Solstice Capital in Tucson agrees, but says that biotechs developing medical devices and therapeutics are trending towards compensating their SAB members with cash payments rather than stock options to decrease the appearance of conflicts among SAB members conducting clinical trials for the companies.
Downsides
The conflicts - One of the biggest dangers for academics is a conflict of interest that may affect - or at least appear to affect - their university research or their work with other companies. Dahlberg says that he informs "everybody who might have an interest" in a particular area of research or a company's activities when participating in SABs. This includes department chairpersons, deans, colleagues, students, and other companies he advises. He also suggests leaving a paper trail - not just an electronic-trail - of all activities relating to the board. When he founded a biotech company based on technology he licensed from his university, he made sure to enlist the oversight of his supervisors and colleagues. "I just didn't want to get in a messy situation."
The time - Though some SABs only meet once or twice a year, others have more intense schedules. Dahlberg recalled that some of the boards he's served on have met as much as twice a month. This can cut into the already busy schedules of university researchers. "We're working a 60-hour week anyway," Dahlberg says, "so a 10-hour week for the company is on your own time." To make it a wise time investment, Church suggests only accepting offers from biotechs that are closely aligned with your own research interests and goals.
The impermanence - Scientific advisory boards are subject to the same ups and downs of the biotech industry. According to Hood, a typical SAB member's tenure lasts from two to five years. As a company's commercial goals change, so to does the makeup of its advisory group. "[SABs] are evolutionary in nature," he says. "Part of it is natural selection, and part of it is an evolution in the kind of advice the company needs." (See box below.)
The small scope - Church warns that, sometimes, scientific insights gained while participating in corporate SABs cannot be followed up in an academic setting because the company wants to protect its trade secrets. "You can learn something that you might have learned in you own lab anyway," Church says, "and then you're obliged to keep it secret from your students."
Click on The Evolution of an SAB in the Article Extras box to find out about how Steve Roth's science advisory board changed as his biotech matured.
Interested in reading more?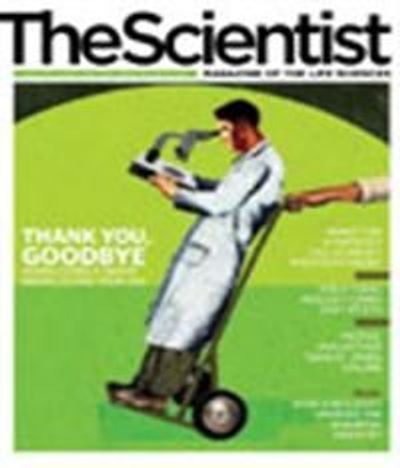 Become a Member of
Receive full access to digital editions of The Scientist, as well as TS Digest, feature stories, more than 35 years of archives, and much more!