Four years ago Kamna Lahoti was working as a microbiologist at a small company, performing quality control by doing endless microbial counts in a laboratory that prepared injections for Indian generic pharmaceutical company Ranbaxy Laboratories. The young scientist, who had just completed her master's degree in microbiology at University of Mumbai, quickly tired of the work and felt she needed something new. "It was very monotonous," she says. In 2004, Lahoti got a job with Quintiles Transnational, a global contract research organization (CRO), with facilities in India. She started as a clinical research assistant (CRA), crafting clinical trial management plans and setting study timelines, monitoring clinical study sites throughout India, and liaising with trial coordinators at hospitals and universities. She quickly advanced through the ranks at Quintiles, and she now works at Quintiles' Houston, Texas, facility as a senior CRA. Lahoti says that aside from the occasional flight delay and...
CROs come in all shapes and sizes, and no two seem to conduct business in exactly the same way. There are full-service CROs like Quintiles, which handle virtually every aspect of a particular clinical trial for a sponsor, and there are niche CROs who might only partake in one small assay that is part of a larger trial. With CROs becoming a bigger and bigger part of drug development, from Big Pharma to small start-ups, companies will be on the lookout for employees.
The Scientist talked to CRO hiring managers and employees to give you a sense of what it's like to work at a CRO, and help you decide if a move into this growing area is right for you.
The Ins and Outs of Working at a CRO
Advantages
1. A hand in major advances - Academics or those in the pharmaceutical industry may study a compound from its discovery or synthesis, but many of these compounds never make it out of the lab. In contrast, CROs often become part of the drug development process when therapies are on the brink of making it to market. "You're on the forefront of the most advanced drugs," says Bill Neese, director of global recruitment at full-service CRO Kendle.
2. Variety's spice - While academics or industry researchers might devote a whole career to working on one project or studying one compound, CRO workers can flit from trial to trial on a regular basis. If variety is an important spice in your working life, this may suit you. "The [clinical research associates] get the opportunity to work on a variety of different products at a variety of different stages," says Dave Cooper, vice president of global staffing at Quintiles.
3. Job mobility - Due to the operational structure at CROs, researchers have virtually limitless opportunities for movement within the company. Scientists can advance through the ranks of clinical research associates - the real workhorses of executing and monitoring trials. Or they can choose to take on administrative roles, to branch out into a particular therapeutic area upon which the CRO focuses, or to move into regulatory or safety affairs positions. "The opportunities are endless," says Neese. "There are many different career ladders."
Salaries
Clinical Research Associate I-III
$50,000-$80,000/year
Senior Associate
$70,000-$120,000/year
Salary ranges from Kendle and Quintiles. These ranges depend on experience and other factors and will differ between companies.
Disadvantages
1. Tight timelines - CROs have very well-defined deadlines for delivering protocols, recruiting study volunteers, and analyzing data, among other deliverables. "We are in a service role in a very timeline driven industry," says Sharyn D'Souza, Kendle's senior director of global late-phase trials. "That certainly can add a lot of stress."
2. Traveling blues - While extensive travel is a major part of working as a clinical research associate at a CRO - from 50-70% of the job in some companies - all those flights can make one weary, says Lahoti. "We traveled from north to south and east to west," Lahoti says of her experience working at Quintiles in India, before coming to work as a senior CRA at the company's Texas facility. "You like it in the beginning, but after a while you get tired."
3. A world of service - The work done at CROs is ultimately the property of the sponsor. Working in a service capacity limits one's ability to pursue personally interesting fields of endeavor. "Although your input is certainly solicited and valued, your decisions are not driving the [research] programs," says D'Souza. "You are more of an enabler really." If you're the type that likes to be in the driver's seat, chasing down topics about which you're passionate, CROs may not be the way to go.
The ideal person for CRO work
• Likes variety
• Curious about multiple drugs/projects
• Wants to have a hand in the end stages of drug development
• Not afraid to communicate with sponsors - "Sometimes you have to deliver messages that a client doesn't want to hear," Sharyn D'Souza says. "You have to be diplomatic."
• Enjoys working in a service capacity as part of a large team - "You have to understand how your decisions affect the rest of the company," says Kendle's Neese
Common Misconceptions
Misconception - At a CRO you'll just be a cog in a clinical trial machine, whose work will never be recognized.
Truth - While it's true that you won't gain recognition through publication, your ability to accomplish tasks is rewarded through the recognition of your company and its sponsors. Remember, the corporate ladder at a CRO is scalable and hard work earns a scientist promotions.
Misconception - CRO personnel are staff-for-hire with no real familiarity or expertise in drug development.
Truth - Many employees of CROs come from backgrounds in academia, industry, or government regulatory agencies. In fact, at many CROs, prior experience with clinical trials or in a university setting makes a candidate very attractive for hiring at a CRO. "We're looking for someone who has an energy and a curiosity around science," says Quintiles' Dave Cooper.
A sampling of some full-service CROs
Quintiles Transnational
www.quintiles.com
Research Triangle Park, NC
PAREXEL International
www.parexel.com
Waltham, MA
Covance
www.covance.com
Princeton, NJ
Kendle
www.kendle.com
Cincinnati, OH
Misconception - CROs get clinical trials done quick and dirty.
Truth - While CROs tend to complete clinical trials rapidly, the quality of the research does not seem to suffer. A 2006 TCSDD study showed that research projects in which sponsors use CROs extensively resulted in faster performance without any diminishment of patient safety or data quality.
Misconception - There is not enough regulatory oversight of CROs.
Truth - CROs are held to the same federal good clinical and good laboratory practices as are pharmaceutical companies and independent researchers. The Food & Drug Administration and other federal agencies regulate clinical trials conducted by CROs to ensure ethical conduct and patient safety. "Essentially, the CRO is as obligated [to following regulatory guidelines] as is the sponsor," says Getz.
Sharyn D'Souza: A CRO Career
Sharyn D'Souza got her PhD in her native England, studying pathogenic mechanisms in connective tissue diseases at the University of Sheffield. After a postdoc at the University of Texas Health Science Center in San Antonio, D'Souza followed the path of many of her fellow researchers and stayed on to take a junior faculty position. Though she secured several grants from the National Institutes of Health, D'Souza realized that tenure would be difficult to achieve at the university. So she and her husband sought opportunities in industry. "We thought there'd be more stability, longer term, because you're not in a 'publish or perish' environment," she says. In 1986 D'Souza and her husband took positions with Procter & Gamble's pharmaceutical arm, Norwich-Eaton Pharmaceuticals, to help the company set up new research labs in upstate New York.
After a few years at P&G, D'Souza realized she was a little bit frustrated with the slow pace of research, and decided on another career change. She recalls, "When you're at the discovery stage, it looks like you're never going to get there."
So when P&G underwent restructuring in 1995 and D'Souza's supervisor went to work at the full-service CRO Kendle and offered D'Souza the short-term, open-ended job of helping to recruit investigators for Kendle's clinical trials of Celebrex, she jumped at the chance. Before she knew it, D'Souza was working for Kendle full time, and managing the very same Celebrex trials for which she recruited investigators when she started.
D'Souza has been at Kendle ever since. In her 12 years at the company, she's risen through the ranks and played several different roles, from project manager to senior director of global late-phase trials and a little therapeutic area director in between. In her first role at Kendle as a project manager, D'Souza managed a multi-functional team of physicians, trial monitors, data managers, document collectors, and others. D'Souza says that she would troubleshoot problems that would crop up, locate resources so that the trial could proceed smoothly, develop budgets and timelines, oversee the regulatory paperwork that goes along with clinical trials, and function as the key point of contact between Kendle and sponsor companies. "Your day to day role is coordinating all the activities of the team," she says.
After two or three years of serving as a project manager, D'Souza transitioned into a therapeutic area director position, where she handled trials of drugs to treat arthritis and skeletal diseases, helping to recruit new research teams and win contracts for the company. D'Souza welcomed the chance to draw on her scientific background to write sections of trial protocols for drugs to treat connective tissue disorders.
When the organization structure at Kendle changed three or four years later, D'Souza found her job evolving into one that involved operational oversight. Her ascension to a top spot in the company was sped by her ability to successfully manage trials. As a director of phase IIIb and IV clinical trials, D'Souza's responsibilities have broadened. Drawing on her initial experience as a project manager, she now oversees several trials going on all over the globe and coordinates several teams working to deliver trial results to corporate sponsors. "It was just a natural progression that seemed appropriate."
As D'Souza responsibilities increased, so did her salary and bonuses. "As you move up, the bonus payouts change as a percentage of your salary," she says. D'Souza still fondly recalls her initial work on the Celebrex trials, however, and says that these stand out as her most memorable accomplishments at Kendle. "It sticks out because the pace was very fast," she remembers. "It was just very exciting to be part of something that went so smoothly."
Interested in reading more?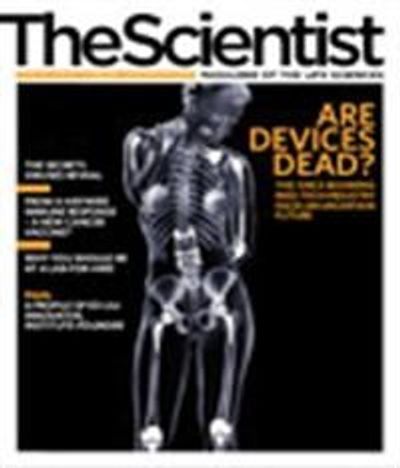 Become a Member of
Receive full access to digital editions of The Scientist, as well as TS Digest, feature stories, more than 35 years of archives, and much more!