In 2006, Dan Eckert considered buying a small company. As the CEO of a medical manufacturing company called PolyRemedy, he thought that going into the home entertainment and automation sector might be a fun and rewarding change of pace. Before he made a purchase, he wanted input from people in the know who could give him an idea of what he might be getting into.
"By definition, the CEO doesn't have any peers at his company," says Thomas Hong, a former CEO and present owner of a networking group, Board of CEOs. Advice can be hard to come by, but several companies and organizations are filling that niche with networks of executives at the ready to support members with advice and information.
Three years ago, Eckert's former boss put him in contact with...
Industry-specific or industry-diverse?
Groups such as Vistage and Board of CEOs are not market-specific in their membership. Just 70 Vistage members belong to the biomedical sector. At the level of senior executives, "it doesn't really matter the industry," says Mitchell Levy, owner of CXOnetworking. Many management, business, and strategy issues are common to all CEOs. Levy adds, however, that two industries have unique experiences with issues that not every CEO can relate to: semiconductors and the life sciences.
Both these industries have much upfront investment with long lag times until products hit the market. Levy says that CEOs from other industries with faster product turnover would not understand a three- to five-year timeline. That difference is good reason "to put likeminded people together," says Levy, whose company caters to C-level executives at Silicon Valley companies.
Earlier this year, Ken Trevett, the CEO of Los Angeles Biomedical Research Institute, faced a financial dilemma. The indirect costs at his institution were increasing. After consulting with his chief financial officer, Trevett decided that $3,000 to $5,000 taken from each principal investigator's budget each year would cover the cost increase for things like building maintenance. The scientists, however, were not pleased with the news.
Even with 25 years of experience working in biomedical research, Trevett, like other CEOs, still had things to learn. He stepped back from the situation to consult with his peers who belong to the Association of Independent Research Institutes (AIRI). Annually, AIRI puts together a networking meeting that focuses on improving business practices and developing peer support. Trevett's peers advised strongly against applying the increase to researchers, saying that drawing from their funds would be "demoralizing to investigators," Trevett says.
Because the advice came from executives at research institutes like his, it carried a great deal of weight. He decided not to implement the change, and instead found the funds elsewhere.
Choosing a network: big or small?
Large annual meetings often provide fodder for ideas and a chance to build a support network. At the 2007 AIRI meeting, attended by dozens of executives, topics included preparing for an audit, fundraising, technology transfer, and indirect cost rates. For those in for-profit biomedical companies, the Tufts Center for the Study of Drug Development hosts an annual roundtable event in Boston for pharmaceutical and biotechnology executives, which approximately 30 people attend.
Similar annual events bring together people who otherwise might be widely dispersed geographically, and also offer them the opportunity to get a broad range of opinions. The spread of groups such as Vistage helped Eckert find advice from CEOs hundreds of miles away. While Vistage's diverse membership is valuable, it's the face-to-face interactions of the monthly meetings that Eckert appreciates most.
The small monthly groups allow time for members to get individual floor time. Hong's group, Board of CEOs, is what he calls a "boutique" organization, with just 15 members who meet with Hong and another former CEO once a month for about four hours. "Because my organization is very tiny and it's kind of a hobby, then [my partners and I] can afford to sit around and give advice," Hong says.
In addition to AIRI, Trevett belongs to a California networking group called Adaptive Business Leaders, which caters to technology, healthcare, and life sciences companies. "Our founding members really felt that they could learn more from each other in an environment where they all were in the same business," says Mimi Grant, the organization's president. Moreover, one of the advantages of being in the same business is the potential for more business.
A recent benefit of Trevett's membership in Adaptive Business Leaders was collaboration between researchers in his psychiatry department and another member who spoke at one of the monthly meetings about a new drug for addiction treatment. Though not the primary intention of such networking groups, collaborations are an important secondary benefit of life science-specific networks.
Some organizations, such as the Biotechnology Industry Organization (BIO), organize online and in-person partnering networks specifically to introduce potential collaborators. "Our industry is unique. We compete, but we also support each other," says Pennsylvania BIO's president, Mickey Flynn.
Sharing the table with competitors
While partnerships can spring from networking support groups, Grant points out that all attendants must sign a nondisclosure agreement. Information shared at meetings is considered insider information, and networking organizations have rules about trading stock in one another's companies or raiding each other for prime employees. "In 24 years, we've never had a problem," Grant says.
Flynn says that breaches of confidentiality are not really an issue at networking events. Members should feel secure that what they say remains safe among the group participants. "No one wants to go to jail," he says. As for information that is proprietary, members get around any potential problems by speaking in general terms.
Cultivating a small network can help foster the trust needed to discuss issues that one might not share with just any CEO. Hong says one of his members was divorcing her husband, who was a co-owner in their marketing service business, and she needed advice on how to separate the company. Hong says she "felt we could be trusted to share a confidential and sensitive subject and not disclose the details."
"I think really top executives are open to advice," Trevett says. "To the extent you're closed off, you're heading for trouble."
Interested in reading more?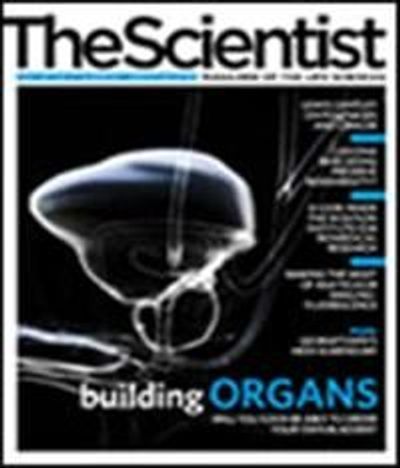 Become a Member of
Receive full access to digital editions of The Scientist, as well as TS Digest, feature stories, more than 35 years of archives, and much more!